Everyone Is Getting Some on 'Masters of Sex'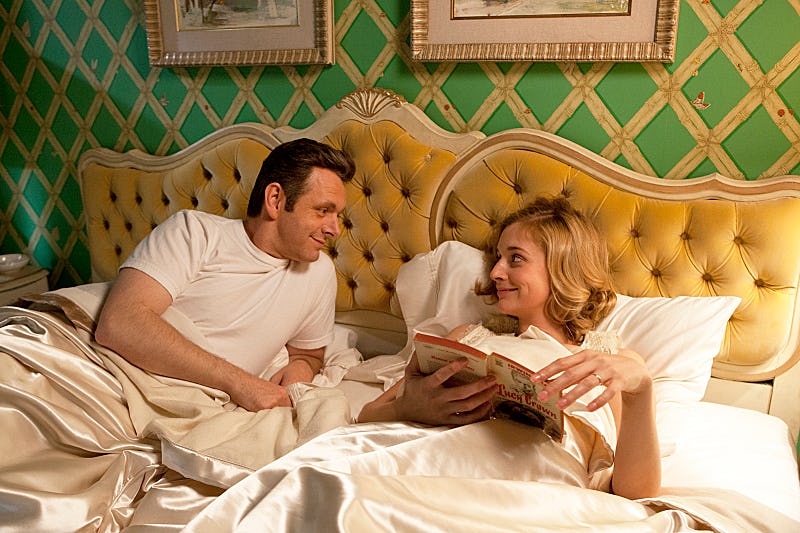 Lots of people are getting laid on Masters of Sex, and not just the ones you expect. (Though Lizzy Caplan's breasts do make a cameo in Sunday's episode.) Masters and lovely Libby go on a Miami retreat trying to take her mind off the miscarriage. They are not among the people getting some. And you can imagine why. He spends most of his time sitting around with argyle socks up his calves and his pants off reading — and not Fifty Shades of Grey.
But while the doctor is away, plenty of findings are still happening, and most of them orgasmic. It's really like that scene in Amelie where Audrey Tautou imagines how many people are orgasming at the time. But, this time, it's for a solid hour. So let's get down to business:
Here are this week's most pressing questions:
Do girls just wanna have fun? (In the name of science!)
Anna Freud shows up on campus talking about immature and mature orgasms (clitoral and vaginal, respectively) and all the frigid women out there who can't have mature orgasms. So Virginia and Jane decide it is time to debunk, debunk, debunk with lines from the straight-out-of-the-porn version of Masters of Sex like: "Do you think he'll be okay with us doing this while he's out of town?"; "Alright, stud. Dr. Freud's reputation is depending on you." (Jane to the light-up dildo Ulysses); "Don't put too much pressure on him, we all know how that turns out."
The findings? All of Jane's physiological responses between clitoral and vaginal were equal, except there was a slight uptick in clitoral intensity. "My clitoris beat my vagina? That's crazy!"
Did people really have that much sex in the back of the car?
Sex in the back of a car isn't just for teenagers or horny residents. The Provost gets it on with a male prostitute who's a solid business man and then goes home to sleep in a separate room from his wife.
And then later on, his wife finds the joy of the backseat too…
How old is too old to be interested in sex?
While Libby and Bill Masters barely touch each other, the elderly couple next door are having loud sex in the other room three times a day. "You'd think they'd die of exhaustion. They must be 70 years old," Masters says. "It's like something out of Ripley's."
And being the Cassanova that he isn't, when Libby says: "We could give them a run for their money. Try to drown them out," Masters's response is to not take off his argyles, but to stare at the clock timing the couple's plateau state. It's this kind of thing that gets him kicked out of heaven (or, more precisely, Miami) and sent back to work. And after Libby meets the couple next door, the man puts the moves on her at night — believe it or not.
Is Dr. Lillian DePaul the only person who doesn't love Virginia Johnson?
DePaul on Virginia: "Small, brunette, ambitious." Aside from being icy in response to Johnson's attempts to be friends or close colleagues, she approaches Masters and is pissed off that patients are calling her Dr. Johnson. She accuses Masters' closeness and reliance on Johnson to be ruled by a part of his body other than his brain.
This all seems to backfire. Virginia ends the episode with a new title and the promise to have some of her secretarial duties relieved. She's a research assistant now!
Does Libby really wish Masters were dead?
We all know that Libby wants the babies, all the babies, but does she also resent her marriage to Masters? It's easy to see why she would (he's not exactly cuddly or supportive), but it manifests in dramatic fashion after Libby sits to have drinks with the very sexually active couple next door. She lies to them that she has two kids (a boy and a girl), as well as a husband who died in a plane crash. "When it first happened, I kept thinking I would wake up and realize it was all a dream ... then I realized, it was up to me to decide what to make of my life," she says.
What's it like to be over 40 and to never have had an orgasm?
Super sad face for Allison Janney's Margaret Scully, who goes to Masters' study, only to be turned away because she has never had an orgasm. Her responses are the saddest: Sex once a year, "or less." And her physical response during intercourse? "Not really painful … rubbing sensation that can feel protracted." "There is a certain tension." "When it's over? Tremendous relief."
But her orgasm-less existence doesn't last for long. After running into horn-dog #1 with an erection problem at a showing of Peyton Place, Margaret ends up with him in her car. And just when it starts appearing as though she no longer find sex protracted, the scene cuts away to a woman in the study's test room having an orgasm. Hallelujah!
Can women have orgasms by just having their breasts touched?
Jane tells Virginia she can. Virginia tells Masters about what Jane said. And Masters says, "Orgasming from having your breasts touched — I'd have to see proof of that."
So, since this is all in the name of science, Virginia sits on the exam table and takes off her top and puts on the sensors. She takes Masters' hand and massages her breasts. Yep, science.
Image: Showtime.