5 Non Maternity Outfits To Wear While Pregnant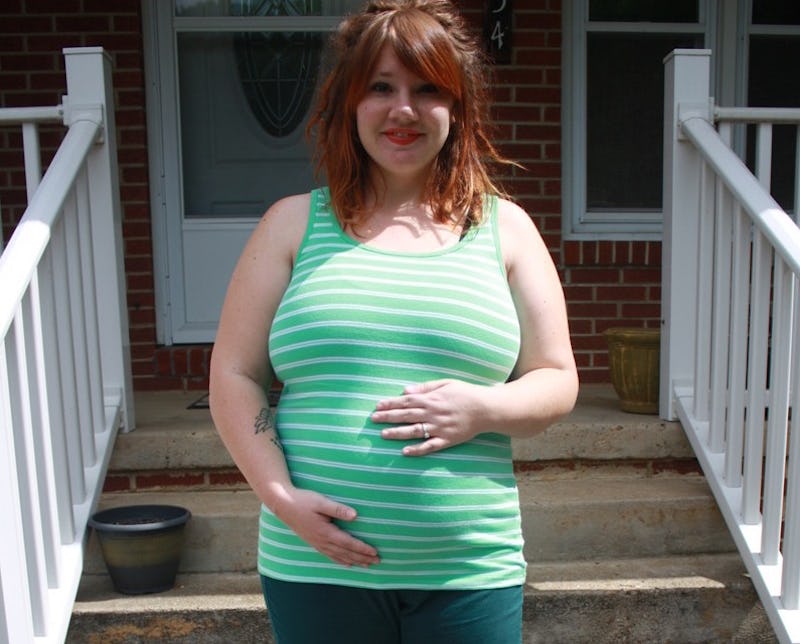 When I found out I was pregnant, I was excited to buy new clothes and see what the latest maternity-wear trends actually were, but I still wanted to see how I could make my regular items of clothing work as non maternity pregnancy clothes.
Even though buying a new wardrobe is super fun, I still love my regular outfits as much as I did pre-pregnancy, and I wanted to make those items last as long as I could. Plus, I feel especially motherly in that thrifty and productive kind of way when finding creative ways to put some of my money to use for the baby instead of my own clothes.
I found out in January that we — my husband and I — had finally conceived, and was subsequently pretty proud of myself for making a few good shopping decisions right after Christmas, and just before I found out we were expecting. Since I was planning on getting pregnant but really needed some new pairs of jeans and pants, I bought a size or two up, so that even when my tummy did begin stretching, I'd still be able to get wear out of my newly purchased bottoms.
At 23 weeks pregnant (and because it's summer), those jeans are becoming progressively more uncomfortable now, but I am nonetheless pleased that I had six months of getting to wear them. (And hey, they'll still be waiting for me later this autumn!)
I have, however, been able to successfully pair items from my pre-preggers wardrobe with a few new things I've bought (but that still aren't maternity pieces) to create cute looks that let the world know I'm carrying my first child, without having to sacrifice my love for my older clothes.
If you're also newly pregnant or even around the same week as me, I hope some of my outfits remind you of items you have in your own closet that deserve a little breathing time this summer. Obviously, some of my clothes are no longer available for purchase, but for the ones that are, you can follow the links!
1. Tee & Leggings Combo
Très Chic Tee-Plus, $7, Cato FashionsCotton-Blend Cami, $3, Forever 21Palm Tree Slip-On Shoes, $5, Cato Fashions
I'm one of those women who totally wears leggings like pants — even before I was pregnant! IMO, if you're shirt falls below your booty, you're fine, and you can guarantee I'm going to be wearing these leggings for as long as I can in this pregnancy.
Because I love wearing oversized tees and leggings, I have a few good outfits that are super casual but still able to be dressed up that'll continue to last me throughout the summer.
2. Flowing Day Dress
Women's Striped Easy Waist Dress Merona, $20, TargetClassic Chuck Taylor Shoes in White, $50, Converse
You'd never know this dress wasn't a maternity piece, right? I absolutely love how my bump pops out under the waistline, which basically becomes an A-line on my body even when I'm not pregnant. If you're like me, summer dresses are just the best while pregnant — I feel the most comfortable and cute in this one.
3. Open Button-Up
Faded Glory Women's Burn-out Tank, $6, WalmartThunderbird Boat Moccasins, $43, Minnetonka
OK. So I may have gotten to the point where my denim button-up won't actually button up any longer. But that's when I knew I could still make it look fresh with a tank (or tee) underneath. That thing has basically been a fashion life-saver to me the past few months!
And like my basic black, navy, brown, and burgundy leggings I have from Primark, these cute patterned ones I got last summer at Target will be hugging my legs to the very end, my friends. You just can't go wrong!
4. T-Shirt Dress
Wide-Brim Canvas Fedora, $17, Forever 21Plus-Size Short Sleeve Denim Top, $28, Target
This Ava & Viv tunic from Target actually comes with a figure-shaping self belt, but I usually choose to wear it without it because I like the casual look (though it is nice to have in case I want to dress up the thrown-on piece that I love it for).
Again, I can't get enough of summer dresses, and the jersey fabric this one is made of makes carrying around a little baby that much easier.
5. Skinny Pants & Tank Combo
Women's Favorite Tank Merona, $10, Target
Those pants you're looking at? They were actually from the after-Christmas shopping spree I mentioned, and they are size 18 at H&M. They fit comfortably before I was pregnant and are still fitting now! And because there's no button or zip, they are pretty much the only pair of pants I want to wear at the moment. In fact, they are probably my proudest piece of clothing that's not maternity wear.
So there you have it: My favorite non-maternity outfits that are still totally ideal for pregnancy! Special thanks to my mom and hubby for taking the photos of me.
Images: Christie Drozdowski; Giphy