4 Nickelodeon Gameshow Classics That Ryan Seacrest's New Series Must Live Up To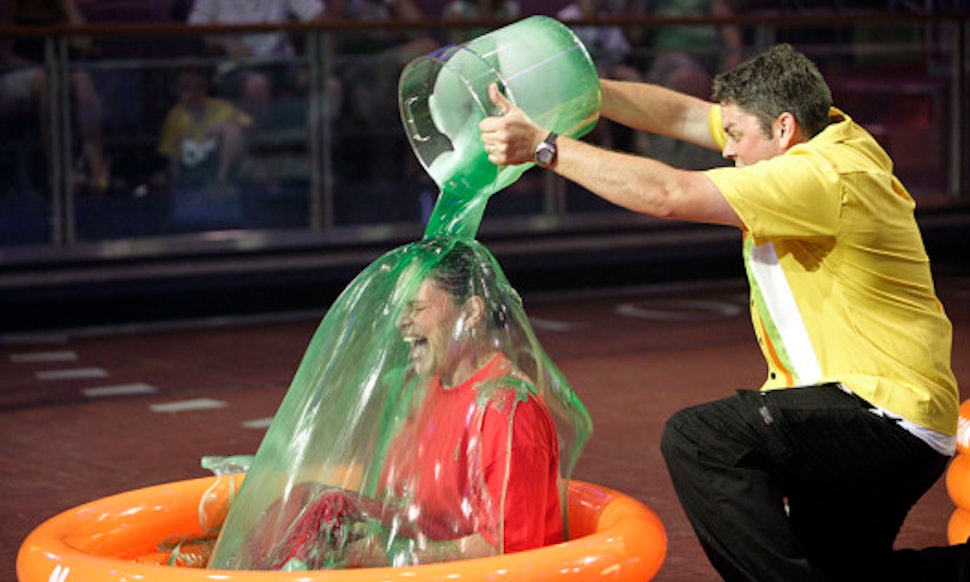 Does this guy ever sleep? Ryan Seacrest, the media mogul/American Idol host/radio personality/Kardashian exec, can now add a new job to his insanely long resume — kids' game show producer. On Nov. 13, it was announced that Ryan Seacrest Productions has sold 40 episodes of Go Viral, a game show for kids set to air on Nickelodeon in 2014.
Go Viral will feature young contestants testing their knowledge of viral videos by competing in challenges ranging from guessing the videos' popularity to predicting their outcomes. A half-hour, studio-based show, Go Viral will see its contestants eliminated each round until a victor is crowned.
If you ignore the fact that a game show based on 10-year-olds' knowledge of YouTube basically signifies the end of the world, Go Viral definitely has promise. As any '90s kid can attest, Nickelodeon knows its game shows. Hopefully, Go Viral will live up to its predecessors, shows that are etched in the memory of every scrunchie-wearing, Fresh Prince-loving now-20 something in America, but it's doubtful. Old Nickelodeon game shows were just too good. Seacrest can try his hardest, but it's unlikely Go Viral or any other show will ever compare to these five Nick game show classics.
Image: Nickelodeon
4

'Figure It Out'
Hosted by Summer Sanders, Figure It Out had a pretty great concept: a panel of celebrities had to guess what talents or skills the kid contestants possessed. The game was the epitome of Nickelodeon's Golden Age, with its leftover Legends props as prizes, panels that included Amanda Bynes and a CGI-rendered CatDog, and an occasional "Secret Slime" for the panelists. The show, which ran for six seasons, was revived in 2012 as part of Nick's The '90s Are All That rerun block — perhaps if you looked closely enough, you might've seen a 6-year-old Hunter Hayes, who appeared on the show as a contestant with the secret talent of playing the accordion. Aww.
Image: Nickelodeon
3

'Nickelodeon Guts'
Guts was the ultimate physical challenge, due to its sports-focused events that ranged from hitting a bullseye to climbing a "mountain" in the final and biggest event, the Aggro Crag. Everyone knew that getting to take home a piece of the Crag (a fake one, but whatever) was worth the effort, though, and would lead to bragging rights for the rest of one's life. Also, fun fact: Guts was hosted by Mike O'Malley, who '90s kids would go on to know as Kurt's dad on Glee. Who knew?
Image: Nickeloden
2

'Legends of the Hidden Temple'
As every '90s kid knows, Legends of the Hidden Temple was perfect. Some elements of its plot: a temple protected by Mayan guards. A talking Olmec Head. An Indiana Jones set design. A team called the Purple Parrots. The show may only have aired for three seasons back in the mid-'90s, but it'll last forever in the memories of Gen Y kids everywhere.
Image: Nickeloden
1

'Slime Time Live'
The most famous and best Nickelodeon game show of all time, Slime Time Live was the epitome of all things early 2000s — pies to the face, "celebrity guests" consisting of Aaron Carter and A-Teens, and, of course, green slime. For some strange reason, kid contestants would happily agree to strap themselves into a chair, put on safety goggles, and encourage the show to pour as much slime on them as possible. The show ran for eight years, ending with a series finale that saw the largest group ever to be slimed at one time — 762. People be crazy.
Image: Nickelodeon