12 Rainbow Doughnuts To Celebrate LGBT Pride Month In The Sweetest Way Possible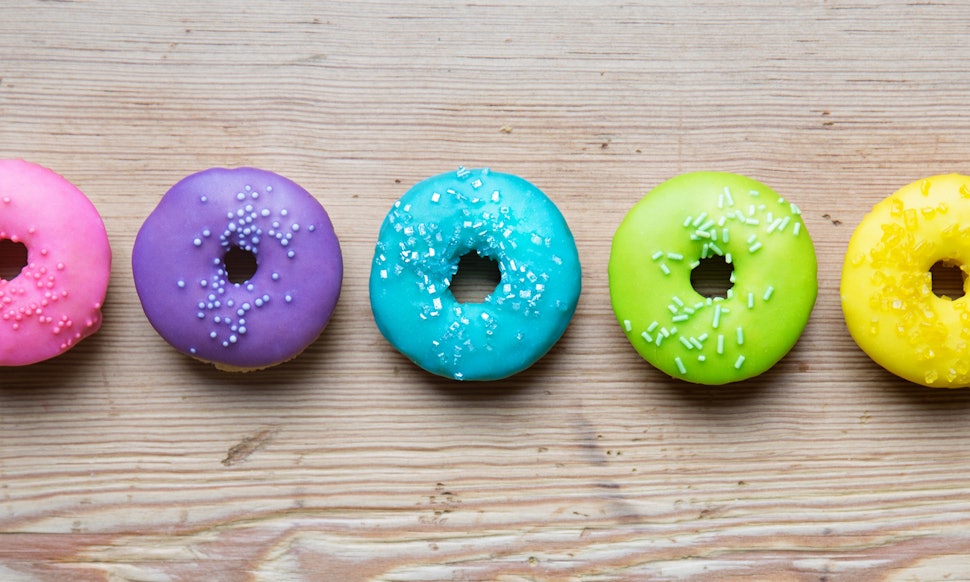 June is LGBT Pride Month, which means you need to check out this gallery of rainbow doughnuts for Pride Month. Why? Because pride and doughnuts are two of the best things in the world. From rainbow glazes and sprinkles to rainbow doughnut attire for you and your phone, these 12 pics will get you excited about two things: standing up for gay rights, and of course, fresh, fluffy doughnuts. Eat one, wear one, give one to a friend — you really can do no wrong here.
Image: Fotolia
Rainbow Glaze Doughnut
An ombre rainbow glazed doughnut… dreams really do come true!
Image: Fotolia
Rainbow Doughnut Earrings
Rainbow doughnut earrings? Um…. heck yes these are making our list.
Image: Fotolia
Rainbow Sprinkles Doughnut
Classic, easy to find, and the perfect treat to have for breakfast during Pride Month.
Image: Fotolia
Rainbow Doughnut Pinback Button
Pin this little guy to your backpack or purse to add a little character to your wardrobe… and pride!
Image: FrantasticButtons /Etsy
Psychedelic Doughnut
Yup, a little trippy, but oh so delicious.
Image: Fotolia
Rainbow Frosted Doughnut Ring
I'm just imagining eight of these per person. Rainbow doughnut knuckles, anyone?
Image: WelshDragonDesigns/Etsy
Rainbow Sprinkle Doughnut On A Stick
Doughnut on a stick? Don't mind if I do.
Image: Fotolia
Rainbow Sprinkled Doughnut T-Shirt
Perfect Sprinkled Doughnut
Oh nothing — just the world's most perfect, sprinkled doughnut.
Image: Fotolia
Rainbow Doughnut Leggings
Rainbow Sprinkle Doughnut Hole
Sometimes, bite-sized is better.
Rainbow Sprinkles iPhone Case
Get your iPhone sprinkle on — rainbow style.
Image: hhprint/Etsy