'Space Jam' Gets Its Own '30 for 30:' What Other Fictional Games Deserve One?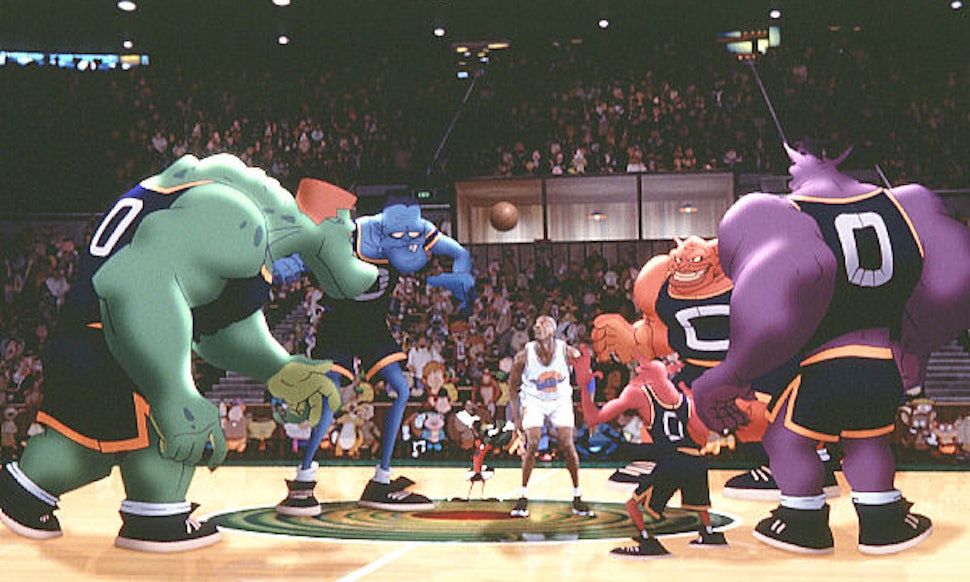 The world may still be waiting for a Space Jam sequel or remake, but at least for now we have a semi-documentary. In case you haven't seen it yet, Yahoo! Screen's online comedy series Sketchy posted their own take on ESPN's 30 for 30 , highlighting the epic aliens versus Michael Jordan and Looney Tunes basketball game from Space Jam.
The real short film series chooses a person or event from sports history, and different people talk about what happened and its legacy. The five-minute Space Jam parody is hilarious because it feels exactly like a real 30 for 30, with tons of seemingly sincere commentary.
But Space Jam isn't the only sports movie that makes for a good mini-30 for 30. There have been tons of films and TV shows with games so epic they would've made some of the best documentaries ever. These are just some of our top picks of fictional sport games that should be given the 30 for 30: The Space Jam Game treatment.
Image: Warner Bros.
'Teen Wolf'
Any basketball game featuring Michael J. Fox's Scott Howard as a werewolf could be a 30 for 30. They proved that werewolves aren't monsters, they're teenage boys with some extra scruff and amazing basketball skills. Oh, and that ladies love werewolves, apparently.
Image: MGM
'Little Giants'
It's the ultimate underdog story with an exciting final game, and actually lets a girl in on the action for once.
Image: Warner Brothers
'Friday Night Lights,' "Mud Bowl"
Name one other team that has built a football field when their own was damaged, played on it in the middle of a storm, and won. I'm pretty sure only the Dillon Panthers can claim that, and for that and so many other reasons, they need a 30 for 30.
Image: NBC
'Friday Night Lights,' "Always"
We can't forget about East Dillon, and the amazing game from the series finale that made the Lions Texas state champs should be chronicled. We all know quarterback Vince went on to be a pro, making that game even more memorable.
Image: NBC
'Air Bud'
It's a dog that plays basketball, and if you count the sequels, every other sport. If that's not worthy of a documentary, I don't know what is.
Image: Disney
'The Sandlot'
Because who cares if ESPN would never actually make a 30 for 30 about a group of kids playing baseball, it's The Sandlot. We'd all tear up watching commentators talk about Benny, Smalls, and the rest of the team.
Image: 20th Century Fox
'White Men Can't Jump'
Revisiting the early '90s clothes is enough of a reason to give White Men Can't Jump a 30 for 30, but it being one of the few films to actually let amateur players remain amateurs is another.
Image: 20th Century Fox
'The Luck of the Irish'
Not many basketball games have the fate of a whole family's future hanging over them, especially those played by high school leprechauns, however, this 30 for 30 would be riddled with unfortunate Irish stereotypes.
Image: Disney
'Angels in the Outfield'
Even as a parody, it would be hilarious to watch people try to comment on a game that was assisted by angels and a young Joseph Gordon-Levitt.
Image: Disney