Recommended Fiction for Literary Heroines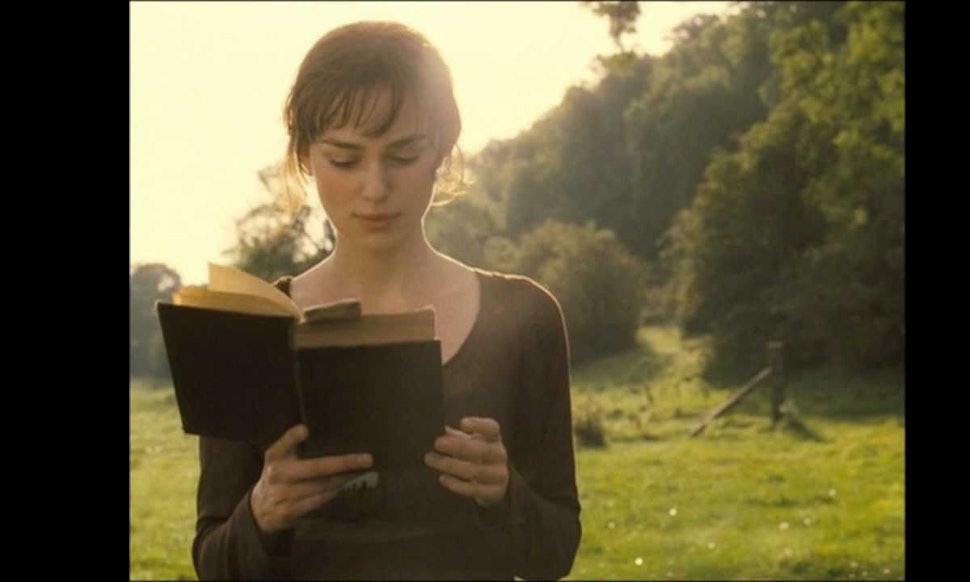 We know that Jane Austen's Lizzie Bennet was a reader, but what did she read? And what would she read today? I often notice that the books that mean the most to me are the ones that bear the most congruity in my life — it's sort of the reading version of looking like your dog. A book that can offer insights into your own life is a book worth reading. So yes, Catherine Earnshaw does need to read Fifty Shades of Grey, and Anna Karenina needs to read a whole bunch of books, but we'll have her start with Revolutionary Road and then continue to work her way down the list. Here we've put together a list of recommended fiction for our favorite literary protagonistas. Who cares that these women are neither time travelers nor exist in real life? Let's give them a library card and let them have at it.
Image: YouTube
Catherine Earnshaw - 'Fifty Shades of Grey'
Something tells me that Wuthering Heights' Catherine may be interested in the relationship between Anastasia Steele and Christian Gray. In fact, her own passionate sociopath Heathcliff is so 'bad-boy sexy,' there should truly be a complex named after him. No doubt Catherine would appreciate this Heathcliff Uncensored.
Jo March - 'The Marriage Plot'
Jo, of Louisa May Alcott's Little Women, is, for her time, quite the forward-thinker in the arenas of love and marriage. For her I recommend Jeffrey Eugenides' latest, The Marriage Plot. Madeleine, the novel's protagonist, is writing her senior thesis on the use of the marriage plot in English literature, and the way her own love story ends may surprise even the progressive Jo March.
Elizabeth Bennet - 'Silver Linings Playbook'
It's clear Lizzie Bennet likes for a man to challenge her — as evidenced by her love for the proud Mr. Darcy. Pat and Tiffany in Silver Linings Playbook have a similar dynamic, and it's just as confusing and just as wonderful. Oh, also: dancing! Lizzie would definitely be keen on that.
Anna Karenina - 'Revolutionary Road'
Tolstoy's Anna learns the hard way that the decisions we make are irrevocable, and she suffers for it in the end. For her I recommend Richard Yates' Revolutionary Road. Things get equally messy for Yates' April Wheeler, a character with a similar story. I sort of wish these two women could just sit down and have a glass of wine together. Emma Bovary can come, too.
Lady Orlando - 'Middlesex'
Virginia Woolf's eponymous Orlando is born a man, magically transforms into a woman — Lady Orlando — and then spends the remainder of the novel doing a bit of cross-dressing back-and-forth between the two. Lady Orlando would likely be interested in the complexities of this intersex coming-of-age story by Jeffrey Eugenides.
Scout Finch - 'Tell the Wolves I'm Home'
Scout of Harper Lee's To Kill A Mockingbird spends a lot of time in pursuit of her mysterious recluse neighbor, the appropriately-named 'Boo' Radley. When the going gets tough for her family and their Alabama community, Scout learns a lot about unexpected friendships. To build on that knowledge, I would recommend to her this page-turner by Carol Rifka Brunt.
Becky Sharpe - 'The Hunger Games' trilogy
Becky Sharpe of Thackery's novel Vanity Fair is the definitive 'hungry tiger' of 19th century Britain. Her survival skills, which she employs in the social arena, are rivaled only by those of Katniss in The Hunger Games. 'Kill or be killed' is a theme that is right up Becky's alley, and there's no doubt she would nerd out to this read — just like everybody else.
Nora Helmer - 'Gone Girl'
Nora, the leading lady in Ibsen's frequently-performed play, A Doll's House, rejects her marriage and its related confinement. Amy of Gillian Flynn's Gone Girl rejects hers, too — though in a slightly more dramatic and startling way. Nora should add this pick to her to-read list ASAP.
Catherine Morland - 'The Shining'
Jane Austen's 'Gothic parody' Northanger Abbey sends Catherine Morland careening along a series of locked doors, mysterious passages, dark towers, and ghostly figures. And she is very into it. Chances are she would also be into Stephen King's 'spooky house' classic The Shining. Just don't see the movie, Catherine. Nightmares.