10 of Africa Fashion Week 2013's Best Looks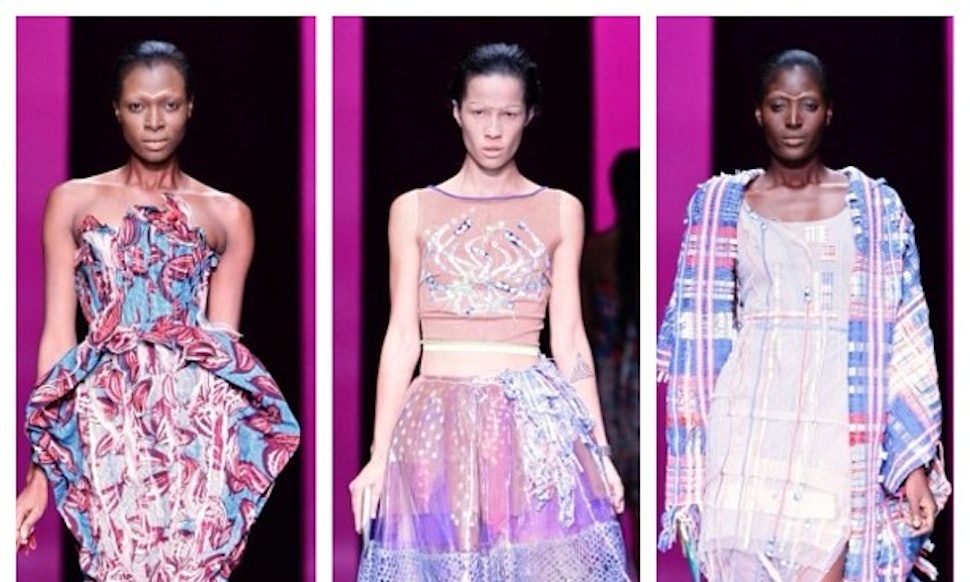 Mercedes-Benz Fashion Week Africa simply doesn't get the press that a lot of other fashion weeks do. There's a dearth of information about the event online, it's named after the entire continent, for goodness sake, and it definitely flew under my radar (I don't even want to tell you when it actually happened — fine, October 26-November 2).
But at least it happened. And it's definitely happening (as in, "That's a really happening sweater, dude!"). As with other less-lauded fashion weeks (Russia Fashion Week comes to mind), the lack of publicity certainly doesn't mean a lack of talent. From purposefully misplaced necklaces to flapper gowns covered in butterflies, Africa Fashion Week 2013 is primed for the big time.
Image: @fashionmist1/Instagram
Taibo Bacar
That top could hardly be slinkier, but it's the leather midi-length pencil skirt — and the severe center part — that give this look a serious edge.
Image: @mstrose/Instagram
Sophie Zinga
An ethereal rose-print gown that just wants to float off the runway.
Image: @annatourepr/Instagram
David Tlale
I love a severe suit in a crazy pattern. Also, those slightly cropped sleeves are hip.
Image: @africanstylista/Instagram
Mustafa Hassanali
In a world of slinky, extreme volume is always cool, but can we talk about those snaky shoulder necklaces?!
Image: @fashionmist1/Instagram
Mina Evans
Butterflies on a flapper gown — I cannot deal with this dress. Guarantee you'll be seeing this on the red carpet somewhere.
Image: @mina_evans/Instagram
Bongiwe Walaza
Not-quite-50 shades of orange. How stunning is that orange peplum top with the bright blue trousers?
Image: @fashionmist1/Instagram
Black Coffee
A new way of wearing the fedora: pulled low over the eyes. And who says you have to limit yourself to one set of feathers?
Image: @mstrose/Instagram
Gavin Rajah
Bias-cut, tiger-print silk is pushed even farther with a scary mask.
Image: @gavinrajah/Instagram
Marianne Fassler
As they say, style is in the details — and in the slouchiest of fabrics.
Image: @africannaissance/Instagram
Kibonen NY
Blue and pink pastels equal baby showers, blue and pink neon equal bad '80s montages, but these shades fall into the bright in-between, and they were made for each other.
Image: @tshepotothet/Instagram