Winona Ryder Might Be in 'Beetlejuice 2' So Let's Talk About Why Lydia Deetz Would've Been Your BFF in High School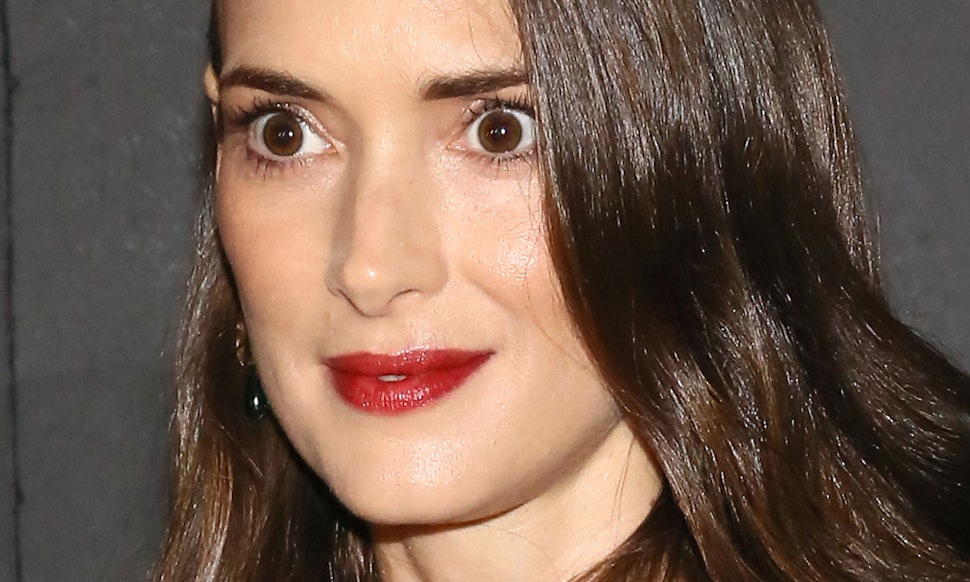 Astrid Stawiarz/Getty Images Entertainment/Getty Images
Be still my angsty teen heart! It looks like Winona Ryder might be signed on for the cast of Beetlejuice 2 — the long-awaited sequel to Tim Burton's 1988 dark comedy. She joins Burton and star Michael Keaton (the Beetlegeist himself) who are already tied to the project. In the original, Rider played Lydia Deetz, the goth teenage photographer with an interest in the macabre. When her house is "haunted" by its previous tenants, the Maitlands (played by Alec Baldwin and Geena Davis), Lydia is the only one who can communicate with them. She befriends the ghosts and lives out every Hot Topic-clad-kid's fantasy.
In an interview with the Daily Beast, Rider hinted, "I'm kind of sworn to secrecy... But it sounds like it might be happening." And I'm kind of bouncing at my desk because that's AMAZING news! Don't toy with us so! C'mon, it has to be true, it just has to be.
Rider also gave a little scoop on the sequel and what fans can expect for the re-boot, "It's 27 years later. And I have to say, I love Lydia so much. She was such a huge part of me. I would be really interested in what she is doing 27 years later." As we all are! In fact, there are a whole slew of reasons why in many ways, Lydia stole the whole show. She was so moody, poetic, and deep.
In fewer words, I wish Lydia Deetz was my BFF in high school. Here's why:
She's loyal.
Lydia was super protective of Adam and Barbara Maitland. When her mom Delia brings in decorator/exorcisor Otho into the house, Lydia jumps in to keep them from exploiting her undead best friends.
She's self-aware.
So much less drama when your BFF knows who she is and doesn't try to hide from it. I'm strange and unusual too, Lydia! OMG WE HAVE SO MUCH IN COMMON.
She's real.
She's totally "I'm so scared right now and I'm not afraid to show it." Everyone needs that in a BFF, everyone.
Her taste in music and movies will make you cooler.
Lydia was obviously into the Smiths and probably cult-ish kung-fu movies. Hang with her and by freshman year of college, you'll be so ahead of the cool-yet-aloof game.
Her dry sense of humor.
You know that friend who just gets you and how messed up your own family can be sometimes? The best part is she'll find a way to make you laugh about it, without even knowing she's funny.
She cares.
Sure, Lydia might be a bit cerebral at times, but at the root of her, she's got a great big heart.
She's healthy.
Who needs friends with bad habits? Vitamin C has so many benefits! Lydia, you're the best.
She'll help you with your homework.
It's really obvious Lydia is an intellectual. Having troubles with Psych or English? She's got your back.
You can talk to her about anything.
She doesn't shy away from much and rarely thinks any subject is taboo. If you need to talk about your body, weird dreams, boy troubles, girl troubles, parents, and everything in between, Lydia will listen.
Girl's got MOVES.
Sometimes you just need to let loose and dance around with your BFF. Lydia has you covered.
All Images: WiffleGif