Don't Bleach Your Eyebrows & 13 Other Lessons from the Year in Entertainment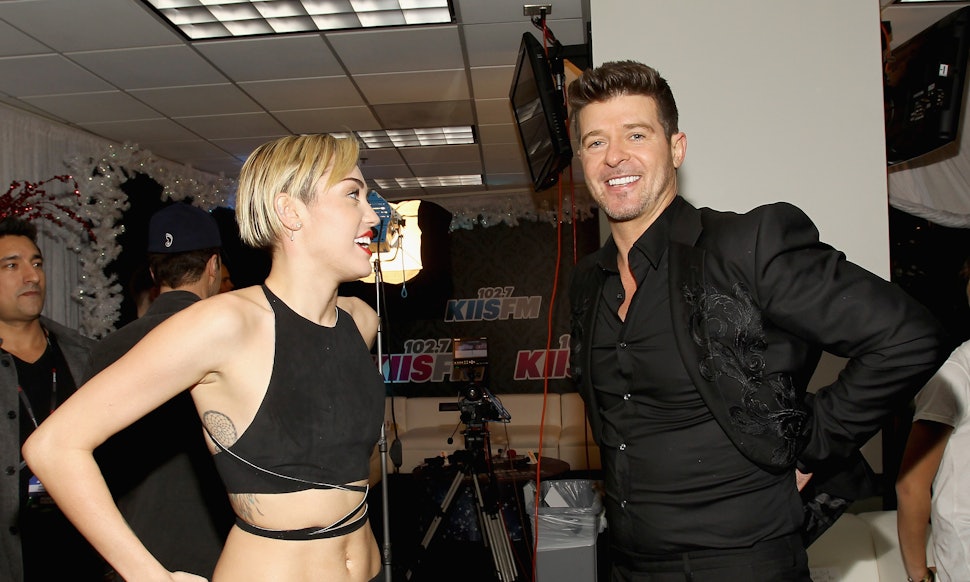 Rich Polk/Getty Images Entertainment/Getty Images
What would we do without our entertainment news? 2013 has been a year of crazy celebrity antics, but for every publicity stunt and red carpet disaster there is a lesson to be learned. From Kim Kardashian and Kanye West to Miley Cyrus, Justin Bieber, and Oprah (duh), here are some of the lessons that we learned from this year's biggest entertainers, and entertainment stories.
Love Can Make You Do Crazy Things
And when the object of your affection is a Kardashian, things better be the craziest. Though Kanye West has made numerous claims that he hates the fame game (he's an "artist", not a "celebrity") he has pulled more than a few stunts in 2013. Most notable? His proposal to girlfriend Kim Kardashian, in which he rented out a baseball stadium and proposed to her on the big screen in front of their family and friends. Kanye, Kanye, Kanye. Don't you know it's stuff like this that makes us think you want us to pay attention to you?
Joining a Cult is Super Scary
While we already knew that Scientology was a pretty intense "religion," but even we were surprised by the drama that unfolded as King of Queens star, Leah Remini, attempted to leave the organization. After being threatened by the head of the Church, Remini decided to sever her 30-plus year relationship with Scientology only to be torn down by former friends and current Scientologists like Kirstie Alley. But it wasn't just Remini who made headlines for her connection with Scientology — allegedly, the organization was also looking to handpick a wife for Tom Cruise post-divorce.
Sometimes It's Better to Not Try So Hard
Poor Anne Hathaway. Though she may have scored a Best Supporting Actress Oscar for her role in Les Miserables, the criticism for her acceptance speech wasn't nearly as praised as her performance. "It came truuuuue!", a teary Hathaway cried as she held up her Academy Award, while everyone watching at home collectively rolled their eyes. Ironically, Jennifer Lawrence — everyone's celeb BFF — tripped on her way to accept her Best Actress Oscar, and everyone just ended up liking her even more for it.
Don't Be a Jerk
Uh, yeah. We get it, Justin — you're growing up really fast. Sure, you may have a swoon-worthy voice, but that doesn't mean that we're going to put up with your lame celebrity antics, like peeing in public or hiring prostitutes in Brazil. This year we all collectively eye-rolled at Justin Bieber's lame attempts to break out of his nice-guy image.
When Things Get Bad, Call Oprah
At least, that's what Lindsay Lohan is resorting to. The former Mean Girls star attempted a comeback with the Bret Easton Ellis-penned indie The Canyons but ended up in the same place where she has been for most of her career: rehab. Luckily for Lindsay, Oprah was there to save the day. Lindsay Lohan is currently filming a show for Oprah's network, OWN, and apparently the 24-hour cameras are helping her stay sober. We really wish we had Oprah as our fairy godmother, too.
Don't Try to Change the Eternal Bachelor
Sorry, Stacy Keibler. You gave it a good run, but George Clooney is not one to be tamed. Though Clooney and Keibler gave it a two-year go of it, their "conflicting work schedules" made them call it quits. (Yeah, sure.) While we really thought that Stacy Keibler might be the woman to make this star settle down, we clearly forgot the biggest rule of dating: don't try to change your man.
Sometimes It's Okay to Give a Spin-Off a Chance
As is the case with The CW's spin-off of The Vampire Diaries, the Klaus-centric The Originals. Set in New Orleans, Klaus and his OV's (original vamps) get into some serious power struggles with the other really attractive supernatural creatures who have made the French Quarter their home. 2013 has been the year of the spin-off, and while some have done better than others (I don't know if I'll really miss Once Upon a Time in Wonderland) it's good to know that we can give some spin-offs a fair shot in the future. I'm already missing the Pretty Little Liars' spin-off, Ravenswood, and kind of love the younger Sam Jones on The Carrie Diaries.
Image: The CW
The Sequel Can Be Better than the Original
Seriously, have you seen Catching Fire yet? Because it's great. The sequel to The Hunger Games has broken box office records and has been touted as not only better than the first movie, but even better than the book on which it was based. So when you're asked that question about which sequel is actually better than the first film, cite this trilogy (and, okay, maybe The Godfather: Part II).
You Can Create a Comeback With A Seriously Problematic Song
At least, Robin Thicke can. While we all admit that we bopped along to "Blurred Lines" this summer (mainly because it was the only thing on the radio at any given point during July 2013) there's no question that some of the lyrics were questionable at best. ("I know you want it" is still pretty creepy). And then there was that video, with the naked models parading around with balloons spelling out "Robin Thicke has a Big D", which made it really, really creepy. Thicke rose to the top of the charts, but not before we got a bunch of awesome parody videos criticizing his lame schtick.
Celebrities Who Can't Dance Should Totally Dance
So Jon Bon Jovi, Taylor Swift, and Prince William walk onto a stage… No, this isn't the start of a joke, but the start of one of the most bizarre moments in music history. The celebrities united at the Winter Whites Gala to raise money for the homeless youth organization Centrepoint. Jon Bon Jovi entertained the crowd with a rendition of "Livin' on a Prayer", strangely accompanied by Taylor Swift and Prince William. Swift and the Prince rocked out to the song with bizarre hand gestures that are reminiscent of a truly terrible night at the karaoke bar. But you really should watch the video in order to see the train wreck for yourself...
Don't Start a Fight With the Cop Arresting You
Reese Witherspoon may be America's sweetheart (whatever that actually means) but even Reese has her bad days. It happened this past April, when her husband was pulled over after a night of drinking. Reese intervened with the sobriety test and got herself arrested in the process. Even worse? Her arrest video ended up on TMZ, and featured the star saying things like "I have a right to stand on American ground!" and, worse, "Do you know my name? You're about to find out who I am." The actress apologized for her actions, stating that she was "scared" for her husband. Still, she's definitely a good example of why you don't want to fight with the cop arresting your significant other.
Not All Love Lasts
We thought that the love between Kris and Bruce Jenner would have lasted longer than their family's reality show, but it seems that their marriage was just one more part of the Kardashian empire to crumble. According to reports, the couple will finalize their divorce after Keeping Up With the Kardashians ends. Because of course.
Don't Bleach Your Eyebrows
Fans Do Have the Power to Bring Back a Beloved Series
Well, sort of. When Rob Thomas — creator of the amazing-but-sadly-short-lived Veronica Mars — called upon fans to help fund his Kickstarter campaign to create the long-awaited Veronica Mars Movie, he expected to raise $2 million dollars from backers. Instead, Thomas raised $5.7 million dollars for the film (yay!). The film is currently in its last leg of post-production and already has a trailer out. But all of this means nothing if Logan and Veronica don't wind up together at the end of the film. (LoVe FOREVER.)