So, Are Fur Coats And Bikinis Really A Thing Now?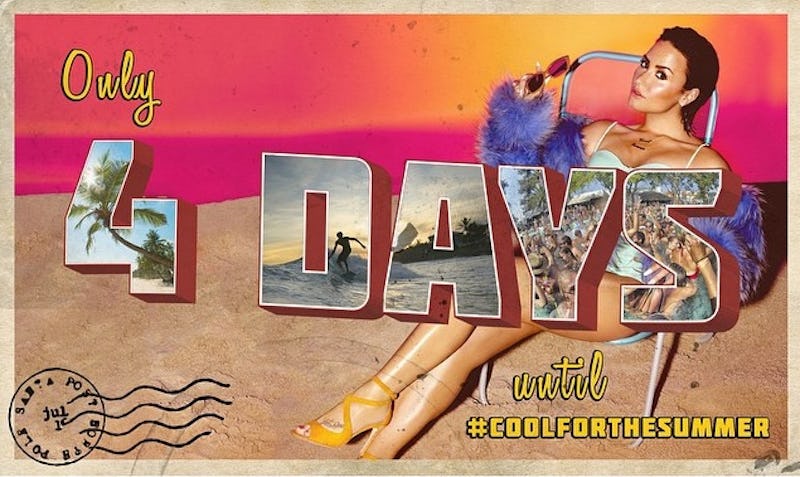 OK, you've got all your summer pool party must-haves and now you're wondering what to wear. A fur coat and bikini, perhaps, to channel Nicki and Bey's "Feeling Myself" looks? Maybe it's not the most practical summer beachwear or poolside attire, but Nicki and Bey are nothing if not trendsetters and are truly the only ones who could inspire babes to adopt this trend. Proof? Demi Lovato's new single cover art features a pastel, Miami Vice-esque vibe and that exact same outfit. Could wearing a bikini with a cropped fur coat really be the summer 2015 trend?
Lovato looks amazing and painfully chic in her new promo shots, but I don't think that this is something that's going to catch on in the mainstream. Even though Twitter was freaking the heck out over the look after the "Feeling Myself" video came out. We've all adopted some pretty ridiculous beachwear trends: We put up with tan lines from belly chains and monokinis with so many metal rings that sunburns took on whole new meanings. I do think that we're going to see it in a few more music videos, photo shoots, and Instagrams this summer, though. (I'm still waiting for Rihanna to bless us with her version.)
Unless you're a celeb who can afford to risk having super expensive coats near chlorine or who is regularly attending enough luxe pool parties where no actual swimming happens: It's not really gonna fly IRL.
Images: @ddlovato/Instagram; @harpersbazaarus/Twitter