Rebecca Sedwick's Bully Speaks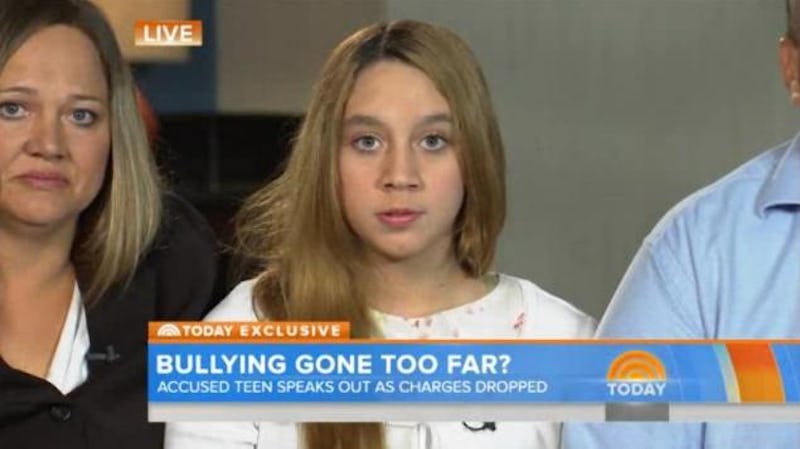 The two young Florida girls arrested for stalking and tormenting Rebecca Sedwick, their 12-year-old classmate who killed herself Sept. 9 after months of alleged abuse, saw the charges against them dropped Wednesday. The girls, now aged 13 and 14, had previously been named and shamed by county sheriff Grady Judd, who has since been criticized for his apparent bias in the case. After Sedwick's suicide, investigators and the 12-year-old's mother told press that Sedwick had been severely bullied, both online and in school, by a gaggle of schoolmates.
Ultimately, Sedwick jumped off an abandoned concrete plant in September. Judd promptly arrested two of Sedwick's classmates, released their mugshots to the public, labeled them "felons," and openly expressed his disgust for the girls' alleged crimes.
This case has been marked by its complexity. Investigators and analysts have struggled to figure out who, exactly, is responsible for Sedwick's death: Judd brought charges of aggravated stalking against the two young girls, and openly threatened to hold their parents legally responsible. The older girl's stepmother was later arrested, not in relation to the Sedwick case, but for child abuse and neglect, which could speak to the older girl's upbringing. It's also emerged that up to 15 girls were involved in the bullying.Later, a male classmate told press that he felt he was responsible, since his relationship with Sedwick and another one of the girls had prompted some of the bullying.
The parents of the younger girl, who appeared with their daughter on NBC's Today Show Wednesday, say that the extent of the bullying was vastly exaggerated. Their daughter, for her part, said that she did nothing wrong.
Sheriff Judd has said that the older girl "forced" an arrest in a Facebook post after Sedwick's suicide was made public.
The girl and her family maintained that her Facebook account was hacked into, which further incensed Judd. "I'm aggravated that the parents are not doing what parents should do: after she is questioned and involved in this, why does she even have a device?" he told press. "Parents, who instead of taking that device and smashing it into a thousand pieces in front of that child, say her account was hacked!"
The case has reignited increasing fears about cyberbullying. As Bustle reported in October:
Sedwick's case has reignited the issue of cyber-bullying, which seems to grow as the Internet does, even though reports of bullying in schools has steadily decreased over the last decade. High-profile suicides as a response to bullying, like that of Phoebe Prince,Tyler Clementi, and Amanda Todd have marked a sharp rise in authorities demanding increased funding for anti-bullying programs.
Except, that doesn't seem to work. Longterm research has shown that schools that implement anti-bullying programs actually see more bullying. Of course, it may not be that the programs inspire a spike in bullying, but that schools with a higher incidence of the problem are more likely to implement it. Either way, the findings suggest that these programs might not be the most effective way to combat bullying.