Rick Santorum's Christian Movie-Making Future: What Other Products Are Marketed Towards Christians?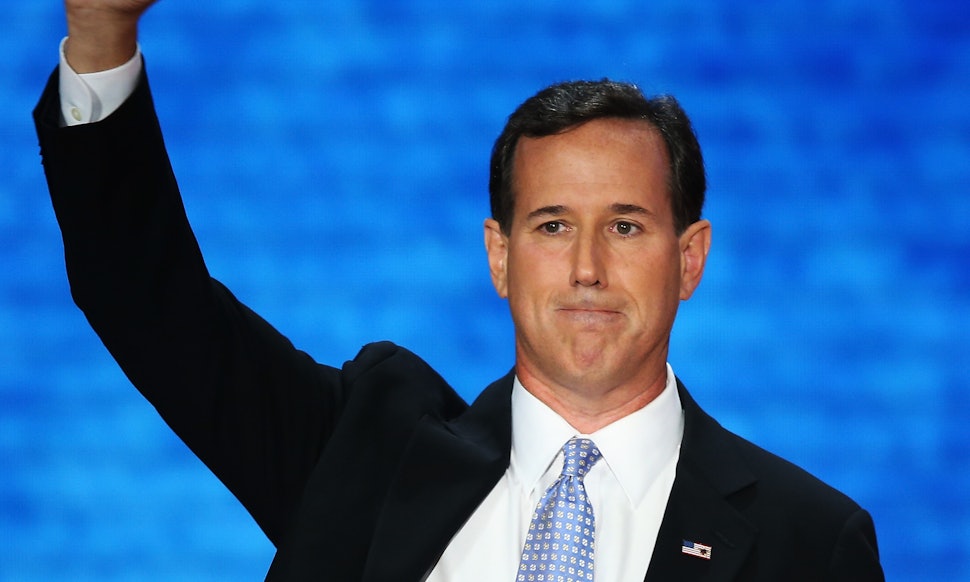 Mark Wilson/Getty Images News/Getty Images
Theoretically speaking, the average layman might assume the more religious among us don't need religion-specific items like golfballs or candy, right? WRONG. Unbeknownst to the rest of us, Christian products are a huge and still burgeoning market — just see Rick Santorum's foray into Christian cinema. Buckle down, because we're going for a ride through the Lord's household, y'all!
Christian Music
This shouldn't come as a surprise — one wouldn't want little Jane and Johnny listening to songs about sippin' on gin and juice or bitches and hos when they're learning the ways of God, would they? Well, don't worry — there's gospel rap, Christian rock, instrumental, and good old-fashioned gospel. Hallelujah, Christian ears will not go wanting!
Christian Movies
Santorum is just the latest to get into the Christian cinema game. Just Google "Christian Movies" and you'll find hits like Amazing Love: The Story of Hosea and The Book of Esther. The list goes on — there are thousands upon thousands of alternate viewing choices for the religiously inclined. Thank God for that.
Christian Dolls
If you ever looked down at your American Girl doll as a child and thought she's just too risqué, then you're in luck: There's a Christian version! They're called Life of Faith dolls, and they're essentially American Girl dolls, but they come with a cute little Bible and looks of pure virtue on their pretty painted faces.
Christian Magazines
Christian magazines cover a range of age groups and interest, and doubtlessly have more subscribers than you might think. If ever you're in need of Bible study tips or general guidance, there's more than one publication that's ready to help you out.
Christian Shoes
Yup, this is real: Your feet can be laced with Scripture! These shoes are essentially sneakers — and pretty cute ones at that, coming complete with little religious accents. To boot (heh), the style names are pretty hilarious: the blue low-tops are called Walk on Water, and you can imagine the rest yourself.
Christian Video Games
Since video games are sometimes violent and sexual, and always a huge waste of time, kids might as well be learning about the Savior while they play. Besides, Christian video games also have excellent names, like Captain Bible and the Dome of Darkness. Hell, I'm Jewish but that title won me over. I'm in!
Gospel Golf Balls
See, I would've thought that purposely smacking something with God's divine commands written on it might be blasphemy, but apparently not. With Gospel Golf Balls, you can spread the word of God… through golf! Soldiers of God gonna keep on soldiering on golf courses, and more power to 'em.
Christian Chocolate
Chocolate might seem sinful, but companies like Scripture Candy aim to produce high-quality chocolate with Scripture on the package. A little bit of holy wrapped around a little bit of sin = perfection.
Christian Perfume
As of yet, there is only one brand of Christian perfume called Virtuous Woman, but the business plan is simple: Make such a great perfume that when people inevitably ask what you're wearing, you can ease into a discussion of belief that ends in spreading God's Word. Virtuous Woman indeed!
Christian Books
This has been a wildly successful area of Christian merchandising. After all, the Bible is the top-selling book in the entire world, right? No explanation needed.
Image: Ryk Neethling/Flickr