'Inside Amy Schumer' Ended On A Cute Crew Proposal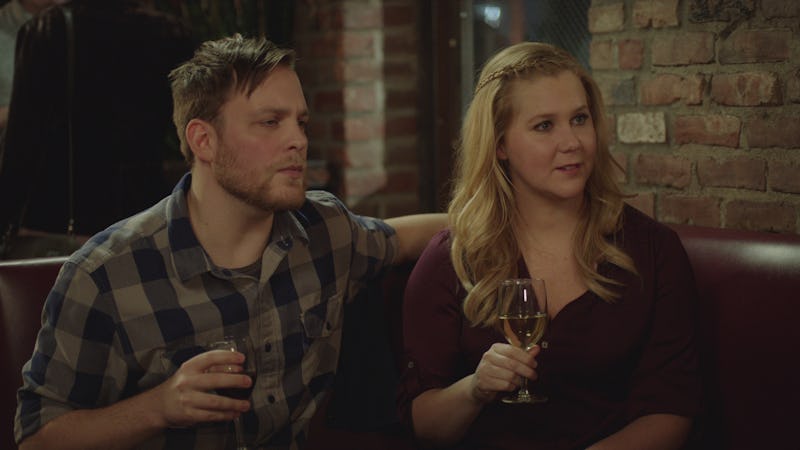 Tuesday night marked the season finale of Inside Amy Schumer,and the Trainwreck star took us out on an unexpected note. Instead of a final sketch or even an interview, the episode ended with a variety of delightful surprises. First we were treated to a series of bloopers from her "man on the street interviews," then Bridget Everett gave a musical performance to her stand-up audience, and then while Amy Schumer was thanking everyone on the last day set for Season 3, an Inside Amy Schumer crew marriage proposal was caught on camera! As the star of the series was walking away from the set, already emotional after giving her own speech, the room was quieted for a second announcement and a crew member got a televised surprise.
The bride to be is Carolyn Pender, the first assistant camera on the series who has been working on the crew since 2013. Kudos to Inside Amy Schumer for hiring female camera operators and cinematographers for this show. That's an area in Hollywood that desperately needs more women. Trust a feminist show to have a feminist crew, right?
Plus, what a nice way to end a comedy show that can get a little cynical sometimes. Inside Amy Schumer has mocked several aspects of dating, gender expectations, hook-ups, and the very concept of happy endings. However, love won out in the season finale. This moment wasn't scripted, but it couldn't have been written better. I love that Season 3 ended on such a sincere, joyful, human moment that had nothing to do with comedy or Amy Schumer or any particular message. Even the interview outtakes were a fun way to look behind the scenes of the Comedy Central program.
Still, nothing beats a surprise proposal and it's important to remember the people who make the shows you love. Congratulations!
Image: Ali Goldstein/Comedy Central