Watch 100 Years Of Men's Fashion In Three Minutes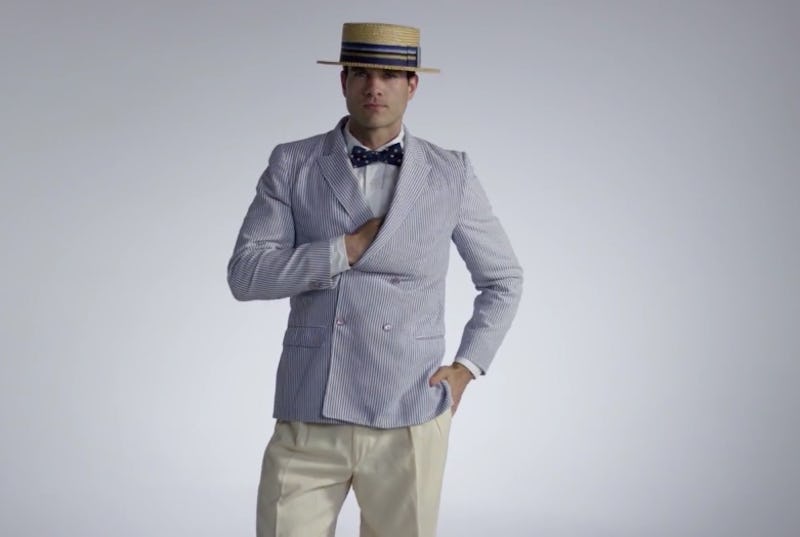 It's amazing to see how trendy fashion has significantly evolved over the course of the past century. Fashion has come a long ways since the paperboy-dapper looks of the '40s and Mode Glam's YouTube video, 100 Years of Men's Fashion in Three Minutes shows exactly that. Starting from 1915 and going all the way to 2015, Mode Glam shows the popular looks from each decade.
The video begins with the model dressed in a plaid blazer, bow tie, and a flat cap — or more widely known as a newsboy cap. It fast forwards into the roaring '20s where the stylish 1925 man is wearing a Panama straw hat, pin-striped blazer, and white oxfords.
Seeing each decade flash through the video made it very interesting to see what fabrics or pieces have circulated and changed over the years. I loved the leather moto style of the '50s greaser looks and couldn't help but to chuckle at the deep vs of the funky '70s disco decade. I also couldn't help but to feel super nostalgic when I saw the '90s. It definitely took me back to those boy band days and reminded me a lot of Tribe NYC and their sick vision for '80s and '90s fashion.
I feel like what really put the icing on the cake for the video was the fact that the music matched each of the decades along with each signature pose that the model acted out.
Can you guess which outfit belongs to each decade?
Did the hat give it away?
High-waisted jeans were everything during this decade.
Looks like we brought back the style of cuffed jeans from this time period.
This one might be tough, but let the sweater vest do the talking.
Check to see if your guesses were right in the full video below:
Images: Mode/YouTube (6)