Mom & Daughter Craft High-Fashion Newspaper Gowns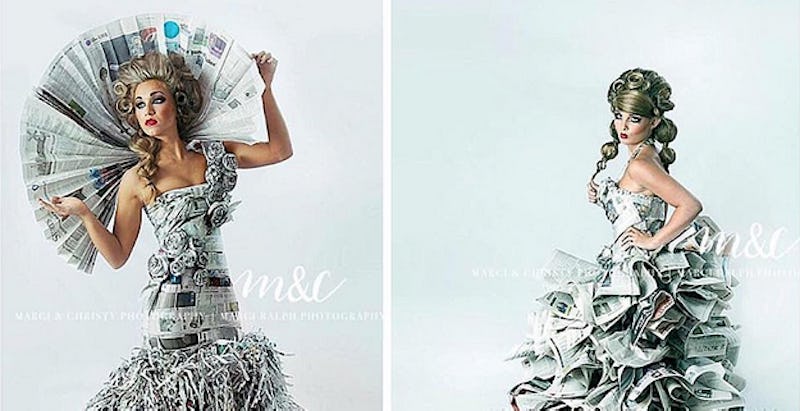 If you're thoroughly impressed by the annual duct taped prom contest, then you're going to love the dresses that an mother and daughter made from newspapers. The Duck Tape contests are undoubtedly jaw-dropping every year, with student contestants creating some of the craziest and most creative prom gowns from the packing staple. Taking that same type of creativity and drive, Marci Ralph and her daughter Christy Maiquez created two high-fashion dresses out of only newspapers and duct tape.
Ralph and Maiquez run a photo studio that specializes in taking senior photos. Ralph got the idea of creating a dress with unconventional materials and having their senior models wear the gowns in a photoshoot in hopes to draw more traffic to their studio. After going through cutting, crumpling, and shredding 50 newspapers over the course of four hours, the dresses were finished. Two hours per dress may not seem like very long, considering how detailed and intricate they look, but according to Ralph, the process felt a whole lot longer because of an obstacle that hit. A two-inch flood began seeping into their garage studio and, "that is where I started to throw it in at one point," Ralph told ABC News, "but we just carried everything upstairs and carried on."
And it's a good thing they stayed motivated otherwise all this detailing might've gone to waste!
The end products were absolutely beautiful. No word, however, on how comfortable the dresses actually were.
Images: marciandchristy/Instagram (3)