Jaja & Jim Bring The Emotions On 'SYTYCD'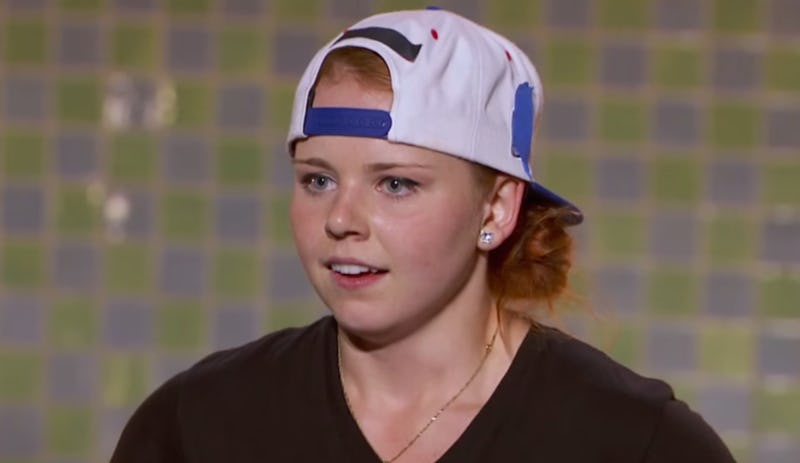 It's been a while since I've seen the normally rather rigid, critical Nigel Lythgoe really get emotional about a routine outside of the contemporary genre on So You Think You Can Dance. Monday night's Season 12 episode finally made it happen when Jaja and Jim performed a Christopher Scott Hip Hop routine that almost made Nigel Lythgoe start crying. I wasn't expecting this kind of reaction from the judge about Jaja and Jim's routine, but it's easy to understand why. I admit whole heartedly that it was one of my favorite routines of the night, and deserved all kinds of love, thanks to a combined effort from Christopher Scott and the dancers. But it's also hard not to single out the amazingly talented Jaja.
Maybe I'm biased because she's in the same Hip Hop group — I.aM.mE — as one of my favorite So You Think You Can Dance alums Phillip Chbeeb, and because she's a fierce as Hell girl Krumper from the Czech Republic, but I think Jaja is definitely a frontrunner for America's Favorite Dancer. She has an incredible mix of skill, passion and performance. Sure, we haven't seen her do a real "stage" routine yet, but I have faith that she can do it because she made it to the Green Mile in So You Think You Can Dance Season 11, which means that she had to be good enough to make it through several rounds of choreography.
But it's not all thanks to Jaja that the Hip hop number worked so much. Jim was quite wonderful himself, and what's really impressive is that he was able to get out of his ballet mindset as the number progressed. By the middle of the routine, we were seeing a whole new Jim, one who was really enjoying the routine and the music. He became so much more than a ballet dancer, and had a great connection with Jaja. Both of these dancers have a great potential to make it all the way and I can't wait to see their journey.
Images: Screenshot/FOX