Woman's Last Wish Is For Us To Hear These 3 Words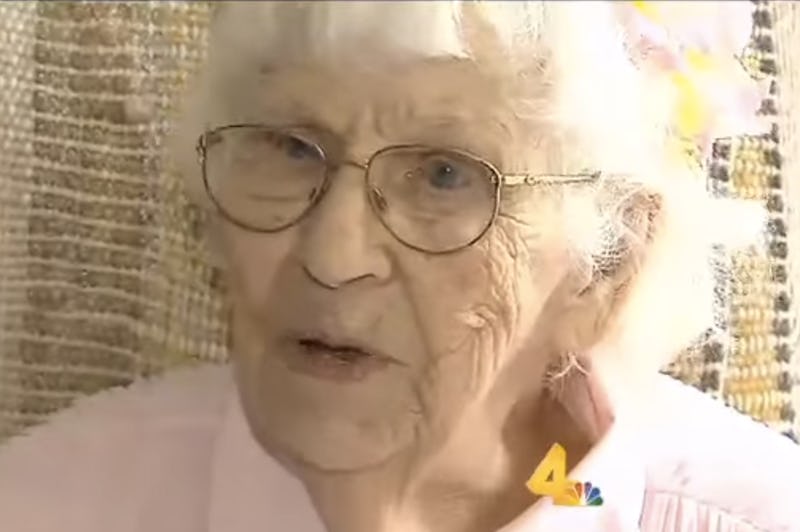 What's on your bucket list? Is there a travel destination you're desperate to visit? Do you want to run a marathon? Or make it the moon? Or are you just content to make it through this week and call that an accomplishment? (Because, honestly, that's kinda where I'm at.) This woman has quite a bucket list — and as old as she is, she's still very set on completing every entry on that list. Shirley, a 94-year-old woman, paid for a three word ad to air on television so she could do just that. She only had five seconds of air time, and the message she delivered is, quite frankly, the most important message you'll ever hear.
I won't give her words away here, because you should really hear it coming from Shirley herself. I will say, though, that she said it can mean whatever you want it to mean for each person who sees it. And she also said that if you need another message, just walk in the front door of the senior center she lives at (in Franklin, Tennessee) and ask for Shirley. There's only one Shirley there.
Seeing her in action is a treat for everyone around her:
In Shirley's spare time, she runs game time at Steeple Chase Manor retirement. They play bingo and several other games, and Shirley hands out prizes and even gets her inspiration from various game show hosts. Shirley is lucky enough to have three children and many grandchildren who visit her often.
Watch the whole video to fully appreciate Shirley's beautiful message:
Images: YouTube(2)