David Tennant, Stanley Tucci, & Lydia West Will Star In A New BBC Drama
Inside Man will tie together the stories of a prisoner, a vicar, and a maths teacher.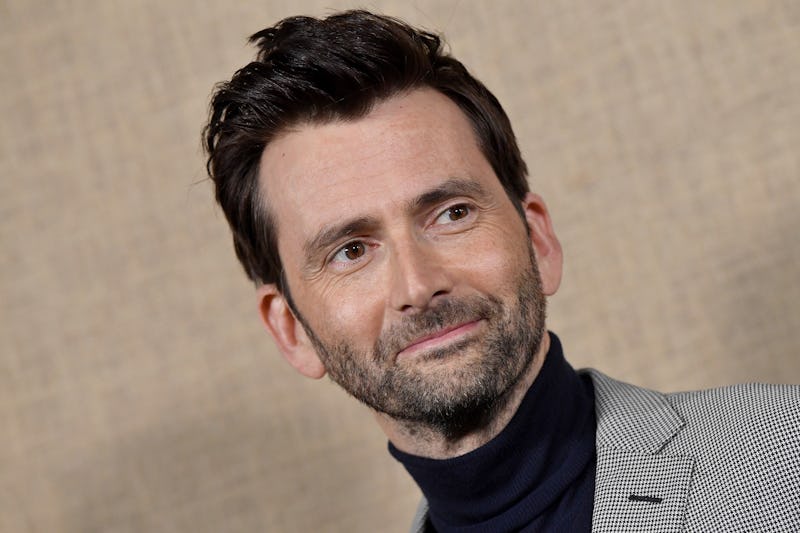 Axelle/Bauer-Griffin/FilmMagic/Getty Images
The BBC and Netflix's latest collaboration arrives in the form of Inside Man. Penned by a BAFTA- and Emmy-award-winning writer, and featuring an impressive all-star cast, the series is likely to become the next must-watch TV drama. If you'd like to discover more about the hotly anticipated release, here's everything you need to know about Inside Man.
When does Inside Man air?
A release date for Inside Man is yet to be confirmed. However, the series will air on BBC One and BBC iPlayer in the UK, with filming scheduled to begin later in 2021.
What's the plot of Inside Man?
Per Deadline, details of the show's plot remain tightly guarded by writer Steven Moffat, known previously for his work on Doctor Who and Sherlock. However, it has been confirmed the four-part drama will revolve around a prisoner on death row in the U.S., a Vicar in a quiet English town, and a maths teacher trapped in a cellar, all of whom cross paths in the most unexpected way.
Who's in the cast of Inside Man?
Leading the show's all-star cast is Doctor Who's David Tennant, The Devil Wears Prada's Stanley Tucci, Dracula's Dolly Wells, and It's a Sin's Lydia West.
Anthony Harvey/Shutterstock
James Gourley/Shutterstock
Commenting on the forthcoming series, Director of BBC drama Piers Wenger praised the "fantastic" Inside Man cast, teasing viewers can expect to be "gripped" by the Moffat-penned drama. "BBC One viewers will already know the television magic created when Steven Moffat writes for David, Dolly and Lydia." Wenger continued, "With the fantastic Stanley Tucci alongside them as our Inside Man, everything is in place for a series that will have the nation gripped."
Shutterstock
Stephen Lovekin/Shutterstock
What else is there to know about Inside Man?
As mentioned, production on the series is set to begin later this year, and the husband and wife duo, Moffat and Sue Verture (the Executive Producer for Hartswood Film), revealed they "can't wait" to begin work on Inside Man. As Deadline reports, the pair commented, "We're a bit stunned, and very excited, at the acting talent we're managing to assemble for this show. Can't wait to crawl out of our lockdown bunker and get to work."
Elsewhere, the Director of Independent Drama at BBC Studios Caroline Stone said the broadcaster is "very excited" to "bring another fantastic series from Steven Moffat to audiences around the world."
"Inside Man is set to be an unmissable drama with a hugely talented line-up both on and off-screen. From the very successful partnerships we've had in the past with Netflix, we are optimistic it will be another hit globally," Stone concluded.