Gordon, Gino, & Fred Headed To Lapland For A Special Christmas Road Trip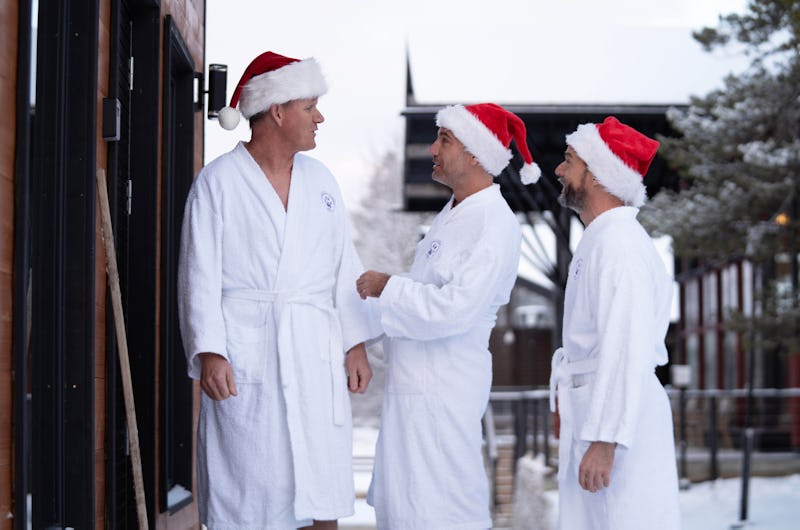 ITV / Tony Ward
Gordon Ramsay, Gino D'Acampo and Fred Sirieix are coming back for another TV road trip and this time they'll experience an "extraordinary culinary Christmas adventure."
Following their successful European adventure, during which the threesome travelled across the continent to their home countries, and their 2019 road trip throughout the United States, Gordon, Gino and Fred: Desperately Seeking Santa will see the trio venture to Winter Wonderland, Lapland.
Available to watch on ITV Hub, the three amigos have three very festive missions to accomplish on the trip — which is bound to see some hilarious mayhem. For this year's Christmas special, Gino has a letter he wants to hand deliver to Santa from his daughter Mia, Fred gets to witness the once in a lifetime wonder of the Northern Lights and, naturally, master chef Gordon is eager to try all culinary delights of the country.
The Christmas capers come after ITV confirmed another three seasons of the boys and their bants. Per Radio Times, Gordon, Gino and Fred will be getting two newly commissioned series, and two more Christmas specials.
"Another three years with Gino and Fred, are you kidding me? Just joking," said Gordon, following the announcement. "Who knew, when we headed out to Italy in the summer of 2018, I would find friends for life in Gino and Fred? We have already shared some incredible adventures, amazing food and plenty of hilarious disasters and pranks as we've road-tripped across Europe, America and this winter in Lapland, and I seriously cannot wait to do it all over again and again and again!"
Though they really enjoy making fun of each other (and the odd fart joke) it seems like the trio really get on but how do Gordon, Gino and Fred know each other?
Well, the origins of the trio's relationships isn't exactly clear, however, I have reached out to the Road Trip stars representatives for comment, and will update with any information once it becomes available.
Despite the minimal amount of information surrounding how the group actually met, it's safe to assume that chefs Ramsay and D'Acampo have crossed paths at some point during their successful TV careers, and along with First Dates Maître'D Fred, the threesome previously appeared on an ITV Christmas special back in 2017.
Prior to the debut of Gordon, Gino and Fred: Road Trip, which as The Sun reports, first began airing in 2018, Kitchen Nightmares star Ramsay and I'm a Celebrity Get Me Out of Here's D'Acampo also took part in a hilarious blind taste test on Ramsay's official Youtube channel, which could indicate the TV chefs were somewhat well acquainted. Either way, Gordon, Gino and Fred have become very familiar with one another over the past few years, and as their ITV series approaches its third series, fans can look forward to yet more hijinks from their upcoming Christmas road trip.
The second instalment of Gordon, Gino and Fred: Road Trip aired on ITV last year, and the boys hit the road across the United States for "the ultimate boys' road trip,". Speaking on ITV's This Morning, D'Acampo discussed the show's "hardcore" filming process, and revealed that production took place non-stop for an entire month.
The first series of Gordon, Gino and Fred: Road Trip followed the threesome as they set out in their camper van on a European adventure. Throughout their journey across the continent, the TV personalities took viewers on a tour of their beloved home countries, where they were each tasked with organising a special ceremony.
Gordon, Gino and Fred: Desperately Seeking Santa aired on ITV on Wednesday December 16. If you missed the group's road trip shenanigans first time around, you can catch up with the latest and previous series on ITV Hub — and I couldn't think of a better way to prepare for what promises to be yet another fantastic watch.