Taylor Swift's Cat Olivia Benson Is Worth $97 Million
The feline, reportedly the third wealthiest pet in the world, is almost as rich as the real Olivia Benson.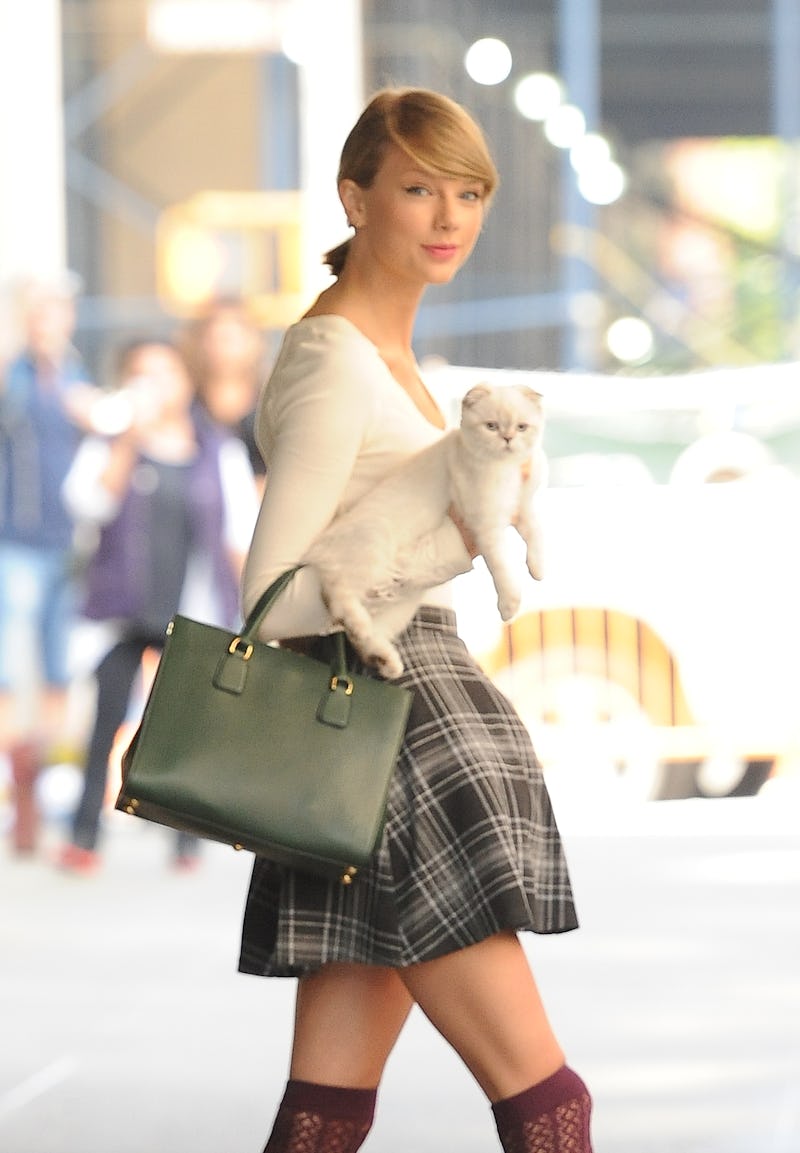 Raymond Hall/GC Images/Getty Images
Taylor Swift is richer than most of us will ever be, but that wealth apparently also extends to her beloved felines — or at least one in particular. Swift's cat Olivia Benson is the third richest pet in the world, according to AllAboutCats.com, who assembled a Forbes-style list of the world's wealthiest pets using data that estimated each pet's net worth through Instagram posts, hereditary earnings, and other known financial endeavors.
The cat, named after the Law and Order: SVU character played by Mariska Hargitay, is reportedly worth $97 million, which is an astounding total that still pales in comparison to her owner's $570 million net worth. Impressively, the cat is almost as rich as Hargitay, who has a reported $100 million net worth according to Parade. Unlike many of the pets on the list, Swift does not operate an Instagram page for Olivia or any of her cats, who only make occasional appearances on her social media, meaning the cat has amassed her wealth through other avenues.
Instead, the Scottish Fold cat's net worth comes from starring in several of Swift's music videos, like "Blank Space," as well as making "cameos in many big-budget ads, including for the likes of Diet Coke and Ned Sneakers." The singer has also previously sold merchandise featuring her cats on her online store, profits of which would apparently benefit Olivia.
When it comes to rich cats, Olivia is second to Nala Cat, who holds the Guinness World Record as the cat with the most Instagram followers and is worth a reported $100 million. However, much to their likely disgust, both felines have been beaten out by a dog. German shepherd Gunther VI is reportedly the wealthiest pet in the world with a net worth that almost matches Swift. The dog's grandfather Gunther III inherited an $80 million fortune from his owner, German Countess Karlotta Leibenstein, and his net worth has grown to $500 million thanks to investments made by the Gunther Corporation (yes, the dog has his own estate).
Swift's other two cats, Meredith Grey (named after the Grey's Anatomy character) and Benjamin Button (inspired by Brad Pitt's film), do not appear on the list, meaning their net worths remain unknown. However, given how Swift only adopted Benjamin in 2019 after he starred in her music video for "ME!" and Meredith is notoriously reluctant to do, well, anything, it's likely that Olivia is indeed the richest feline in her family.