Everything We Know About You Season 4
There's just one more month to go.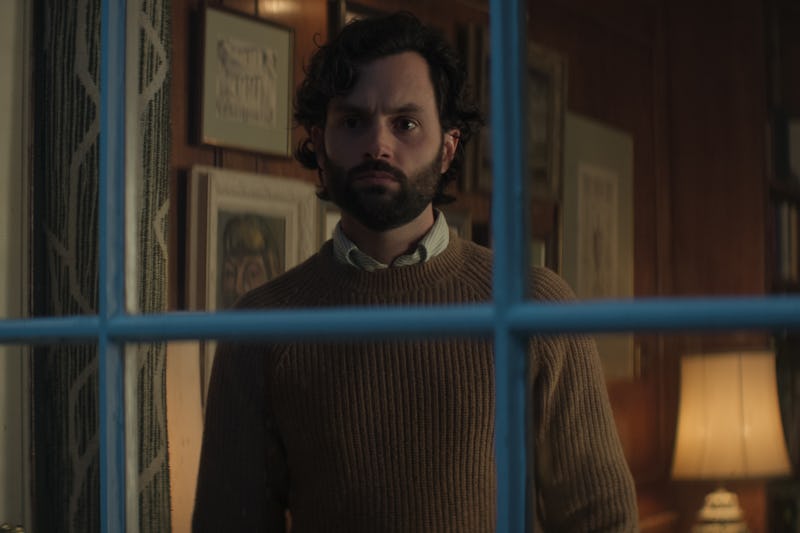 Netflix
Spoilers for the end of You Season 3. At the end of You Season 3, love is, quite literally, dead. After Love tries to temporarily paralyze Joe with aconite so that they can talk out their marital issues, Joe stabs her with a full syringe of the poison, killing her. Joe has already moved on to his next "true" love: Marienne, the librarian who stole his heart and is now the only woman he could possibly see himself with. But, to be with her, he has to leave behind his son and kill his wife, which definitely doesn't seem that romantic.
However, it does set up quite a pickle for Joe in the fourth season, which will see him once again in hiding, chasing a woman who wants nothing to do with him around the world. Having faked his death and moved to Paris, Season 4 will likely be a big shift from his stalking of past seasons. Here's everything we know so far.
The You Season 4 Premiere Date
Netflix announced it had renewed You for a fourth season on Oct. 13, 2021, two days ahead of the third season premiere. About six months after production got underway in March 2022, Netflix announced during their Tudum global fan event on Sept. 24 that Season 4 will air in two parts in 2023. The streamer initially announced that the first installment would drop on Feb. 10 and the second half on March 10, but — in the first plot twist of the season — later announced new dates. You's official Twitter account unveiled the info on Nov. 24, writing that "Part 1 lands early" on Feb. 9, with Part 2 following on March 9.
The You Season 4 Plot
Season 3 seemed to have set up the next chapter of Joe's journey pretty clearly: Having fled Madre Linda, Joe is searching for Marienne in Paris, a place she always imagined running away to. Unlike his past stalking victims, Marienne knows that Joe is bad news because Love warned her in the Season 3 finale; however, she doesn't know exactly how bad.
"There's more [story] to tell — by the way, no one [is] more surprised than me," You showrunner Sera Gamble tells Bustle. "The show starts to tell you what it is and what it's about [as you make it] … And it turns out that I wasn't thinking expansively enough about love and its obsession. I've realized as we go that that's a bigger subject."
Initially confusing things, though, was Season 4 casting information that didn't necessarily point to Paris as the setting. Descriptions of new characters — many of whom are played by British actors — revealed that Joe will stir up an upper-crust social circle with ties to the UK. Filming took place in London, where it was later revealed the Season 4 action will take place as Joe adopts a new identity as Professor Jonathan Moore.
Per the official Netflix synopsis, "Joe soon finds himself in the strange new role of reluctant detective as he discovers he may not be the only killer in London. Now, his future depends on identifying and stopping whoever's targeting his new friend group of uber-wealthy socialites."
The move across the pond could usher in more changes, too. "The tone is similar but it's shifting in that there is a different format," Badgley told Entertainment Tonight in June 2022. "We're using a different format. It's almost like we're shifting the genre slightly. And I think it works."
Meanwhile, at least one thing will remain the same about Joe, as the actor added to ET: "But the problem is in him, it's not so much outside of him, so he's trying to change. He is always trying — failing trying."
The series has deviated wildly from the book series it's based on, but a fourth book from author Caroline Kepnes is in the works and could provide more fodder for future exploits.
The You Season 4 Cast
Penn Badgley will return as Joe Goldberg (or, newly, Jonathan Moore), along with Tati Gabrielle reprising her role as Marienne, though it remains unclear if and how Joe was able to track her down. But Gamble says no matter what happens between the two, it won't work out well. "When [Joe is] around a woman and he sees something that isn't working in her life, he sort of thinks there's an implicit — not even just permission but an expectation that he'll just take care of that for her," Gamble says. "That relationship just can't possibly work because of what Joe is doing."
One new woman who will definitely end up with Joe in her orbit is a smart, independent art gallery director named Kate. The character is played by British actor Charlotte Ritchie, who is currently starring in the UK series Ghosts and will also share the screen with Timothée Chalamet in the upcoming Wonka film. Kate moves in a privileged world, and when Joe is shepherded into it, she is immediately suspicious — as she should be. His arrival will, of course, shake things up.
Prior to Ritchie's casting, Lukas Gage (The White Lotus) was announced as another new series regular in mid-February. He portrays an American expat named Adam with "a trove of secrets" and a habit of manipulating his friends.
Netflix later announced a whopping 14 more new cast members on April 1, including three series regulars, per Variety. The three are Tilly Keeper as Lady Phoebe, an aristocratic socialite and "wild card" whose "true colors show when she's alone with her friends"; Amy Leigh Hickman as an aspiring author named Nadia, who has "made some mistakes" and will "need help, even if it's from the wrong people"; and Ed Speleers as author-turned-politician Rhys, a man with a "troubled" childhood who "moves easily in any social circle, while also seeing through those around him."
Other newcomers include Niccy Lin, Aidan Cheng, Stephen Hagan, Ben Wiggins, Eve Austin, Ozioma Whenu, Dario Coates, Sean Pertwee, Brad Alexander, Alison Pargeter, and Adam James. Lin and Cheng play wealthy siblings Sophie and Simon, an entrepreneur with a big social media following and an artist, respectively. Meanwhile, Hagan's Malcolm is a "drug-loving bon vivant" and literature professor, who is (non-exclusively) dating Kate and is responsible for bringing Joe into the fold.
Wiggins' Roald is another character with aristocratic roots, and both Austin's Gemma and Coates' Connie are part of Kate and Phoebe's group of friends because of their Oxford ties. Whenu's character, Blessing, is a Nigerian princess and investor, and Alexander's Edward is a university student who has a rivalry with Nadia and a media heavy-hitter as a father. Meanwhile, Pertwee plays Adam's driver/dealer/security Vic, Pargeter plays paparazzi photographer Dawn, and James plays the frequently-traveling Elliot, who has a powerful employer.
The You Season 4 Trailer
Netflix dropped a first-look teaser at the Sept. 24 Tudum event. After playing the roles of a "lovable bookstore manager" in New York City, a shop clerk in Los Angeles, and a "doting husband in the suburbs" throughout the show's first three seasons, Badgley's anti-hero, Joe, is ready to take on a new identity. "Allow me to introduce myself," the character, who's now living in the UK under the pseudonym of Professor Jonathan Moore, explains. "I've gone through a bit of refinement upon crossing the pond, and living in London has allowed me to bury the past, if you will."
After showing Gabrielle's Marienne, the sneak peek also gives glimpses at such Season 4 characters as Nadia, Kate, Rhys, Lady Phoebe, Adam, Sophie, Simon, Gemma, Connie, and Blessing — though there's no telling which, if any of them, will make it out alive.
Insisting that he's "focusing on academia and instruction" and keeping his "typical extracurricular activities strictly professional" this time around, Joe ominously adds, "Unfortunately with friends in high places, there usually come others attempting to climb that social ladder. Some may end up falling — or, shall I say, pushed — to their social death. The question is: By whom?"
Then, on Jan. 9 (a month away from the next season premiere) Netflix released the official You Season 4 trailer.
This post will be updated with additional details as more information on You Season 4 becomes available.
Reporting by Zosha Millman, Radhika Menon, Stephanie Topacio Long, Brad Witter, and Grace Wehniainen.
This article was originally published on