The 3 Best Blenders For Protein Shakes
We only recommend products we love and that we think you will, too. We may receive a portion of sales from products purchased from this article, which was written by our Commerce team.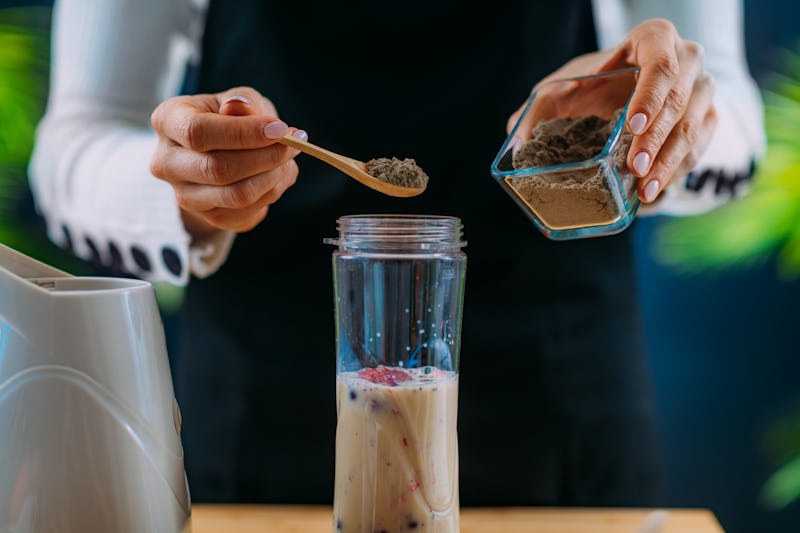 Shutterstock/Microgen
Fans of protein shakes know that protein powder is one of the most challenging ingredients to blend. Shaker bottles can leave chalky, unblended bits behind, and many blenders just blast the powder around, leaving it stuck inside the jar and not your glass. The best blenders for protein shakes efficiently incorporate dry ingredients like protein powder, as well as any other add-ins you like to make smooth, completely blended shakes.
Personal blenders are a convenient choice for making protein shakes because the blender jar pulls double duty as a cup. This means you'll have one less thing to clean, and you can take it with you if you're heading out the door. Personal blenders also tend to have flat blades that are great for breaking down dry ingredients, and the blades can often go right into the dishwasher for easy cleanup.
If you opt for a full-size blender to make your protein shakes, be sure to look for one that has speeds that are easy to control. A variable-speed dial is ideal, because it lets you start blending slowly to contain any possible splatter or blasting the protein powder, so it doesn't get stuck to the sides of your blender, or cause a big powdery mess. Most blender jars are dishwasher safe, but they're also easy to clean by blending some warm water and a drop of dish soap.
If you're ready to upgrade your blender, the three best blenders for protein shakes are detailed below.
1. The Overall Best Blender For Protein Shakes
This personal blender from NutriBullet comes with two large 32-ounce blending cups that can blend generously sized shakes and much more. NutriBullet's flat blades do a great job of emulsifying dry ingredients like protein powders so they're smooth and not chalky, and since the motor has 900 watts of power, the NutriBullet can power through tough ingredients like greens, fruits, ice, and frozen ingredients to make thick, creamy shakes, too. While this lacks a variable-speed button, it's easy to start and stop the blender simply by applying more or less pressure, so you can ensure you're integrating the protein powder properly. If you want to take your shake on the go, simply attach the included handle to the blending cup, and bring it with you to the gym or the office. The wide-mouth cups are dishwasher safe, but are also easy to clean by hand with a brush or sponge.
According to one reviewer: "I needed a blender for protein shakes. I add crushed ice, add my liquid and my protein powder. It makes the perfect protein shake in under a minute crushing the ice entirely. There is no need for a more expensive or more powerful blender for my needs."
2. The Best Full-Size Blender For Protein Shakes
Vitamix sells a range of terrific high-speed blenders, but for protein shakes and other beverages, you don't need to spend top dollar on one of their premium models. This refurbished blender is from the brand's Explorian line, and, while not exactly cheap, it is one of the most affordable Vitamix blenders you'll find. In fact, it won the title of best Vitamix blender in our side-by-side comparison of the blenders. The variable-speed dial on the powerful 1,500-watt motor base allows you to start slow and ramp up speed, so protein powder and other dry ingredients won't explode over the sides of the jar or under the lid. Once things get moving, the Vitamix's stainless steel blades liquify ingredients, leaving you with smooth and creamy results. This blender has a 64-ounce capacity, so you can make a few shakes for multiple people.
According to one reviewer: "Best shakes you'll ever taste. Smooth with no [chunks] at the bottom. I make protein shakes along with frozen fruits and nuts. Wow! This blender makes the best shakes ever."
3. The Best Portable Blender For Protein Shakes
Nobody wants to drink a protein shake that's been sitting in your bag for hours, but few of us have constant access to a blender and power source. This clever portable blender from OBERLY solves both of those problems, because the motor is powered by a rechargeable battery. This means no matter if you're traveling or leaving a yoga class, you can make your favorite protein shake wherever you are without the amenities of your home kitchen. Like the NutriBullet, the OBERLY's 13-ounce blending jar doubles as a to-go cup, and has a wide mouth for easy cleaning. The battery charges via an included USB cable, and if you decide to use the OBERLY in your kitchen as well as on the go, you can freeze mini ice cubes for frozen drinks using the bonus ice cube tray.
According to one reviewer: "It's a really compact and portable blender which is why I wanted to purchase another one for travel purposes. This has been perfect for blending up fresh fruit for a quick protein shake."