The 4 Best Breville Juicers
We only recommend products we love and that we think you will, too. We may receive a portion of sales from products purchased from this article, which was written by our Commerce team.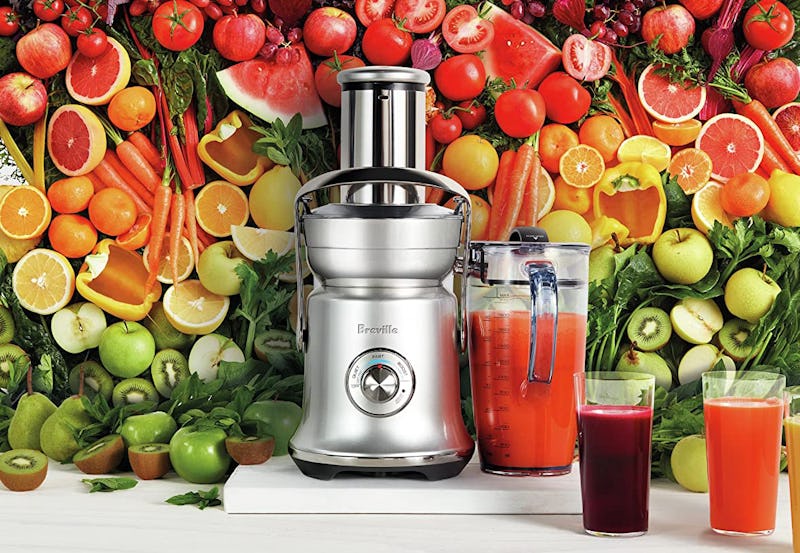 Amazon
If you love to make your own juice at home, investing in a high-quality juicer is a great decision. So if your research has led you to Breville and the brand's line of all-star juicers, you're looking at some of the best of the best. But, since Breville makes a few different models in both slow and fast styles, ultimately the best Breville juicer for you will come down to how much juice you're looking to make and your budget.
In general, when shopping for juicers, the first decision you'll need to make is between a centrifugal juicer and a masticating juicer. How do you know which one to buy? High-speed, centrifugal juicers work by grinding ingredients to a pulp, then separating the juice by spinning it through a mesh filter. They can process large volumes quickly and are great for big households or people who drink a lot of juice. Because the fruit and greens are spun quickly, high-speed juicers tend to produce a foamy, frothy juice. While there's a well-circulated rumor that high-speed juicers produce less nutritious juice due to oxidation, this has not been scientifically proven. One drawback to centrifugal juicers is that they tend be louder than slow juicers.
In contrast, slow or masticating juicers work by processing ingredients through an auger, thus separating the fiber from the liquid completely. These produce "cold-press" juice, or juice made without the heat that is given off by a high-speed, centrifugal juicer. Slow juicers take a little bit longer to produce juice, but they also tend to be quieter, and tend to be the best juicers for leafy greens or soft fruits, thanks to their slow operation. This may be implied by the name, but one drawback to slow juicers is that they take longer to operate, which is something that might be a deal-breaker if you're making big batches of juice, or are often in a hurry.
Depending on your budget and preferences, you have a few great options below. But whichever of the best Breville juicers you choose, you'll be able to make juice bar-quality creations anytime in your own kitchen.