16 Punny Instagram Captions To Post For The Spring Equinox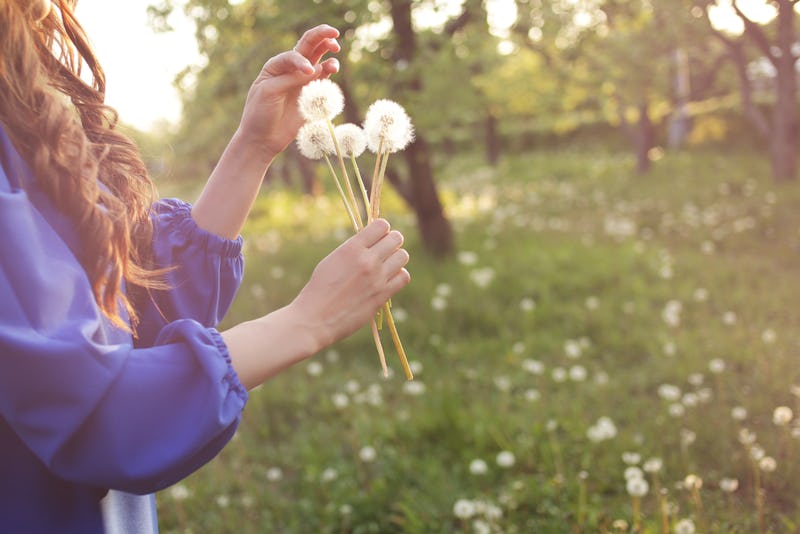 ShutterStock
If you feel like winter has been going on forever, you're certainly not alone — every year, as we approach the beginning of spring, most people start to feel like the colder weather is a never-ending burden that will just stick around for good. But, like every other year, a new season will come. This year, the Spring Equinox happens on Mar. 20, marking the first official day of spring... although likely not the first official day of spring weather (unless you live somewhere that is warm year round!). Still, the promise of warmer, longer days are better than nothing, and it's an exciting time. So, it's probably something you're going to want to post about on social media. If you're looking to post a photo on Instagram to celebrate the new season, you'll need the right caption to go with it, and you can't go wrong with some punny Spring Equinox Instagram caption ideas.
Instagram captions that are puns are basically the best captions out there, because they're amusing and silly and break up anything else on someone's feed. And puns for spring feel especially appropriate, as this is usually a happy day full of joy and hope for something new to take place. After all, the Spring Equinox is associated with change and new beginnings, as well as light and sunshine.
There are tons of jokes and puns out there about the beginning of spring that you can turn into a cute caption, and we've compiled a list of some of the best ones. Take a spring-inspired photo (or just post a throwback, it doesn't matter), and get in the mood for the warmer weather to come upon us. Oh, and, of course, pick a caption and get ready for the likes to roll in.