16 Trump GIFs From His First Year As President That Are Just Straight-Up Bonkers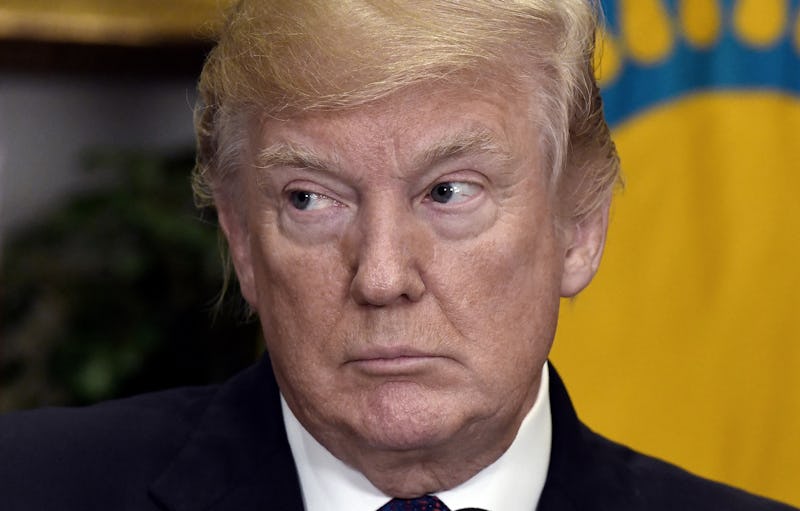 Pool/Getty Images News/Getty Images
The first year of Donald Trump's presidency has been a rather tumultuous one, to say the least. Divisions along partisan lines are stark, and Trump will end his first year with his lowest average approval rating — 39 percent — since taking office. But amid the political chaos in the past year, 2017 has also produced many remarkable moments involving Trump that have been immortalized as GIFs.
To start, here's a recap of just a few of the things that happened during Trump's first year: He pulled the United States out of the Paris climate agreement and called climate change a hoax. His Republican Party tried and failed (repeatedly) to repeal Obamacare. Trump hired and fired a bunch of people, although some quit on their own. He ostensibly sided with white supremacists in the aftermath a deadly, violent rally in Charlottesville.
And the administration is facing several issues of its own, too. Special counsel Robert Mueller is investigating a possible Trump collusion with Russia. The inflammatory rhetoric between Trump and North Korea's leader, Kim Jong Un, has escalated to a disturbing point. And in the first month of 2018, journalist Michael Wolff dropped his explosive book Fire and Fury that shed light on internal feuding in the Trump administration.
Does that sound like a lot? Here are some GIFs to help you relieve all the best moments of Trump's first year.