19 Movies To Stream During Black History Month, From 'Dear White People' To 'Selma'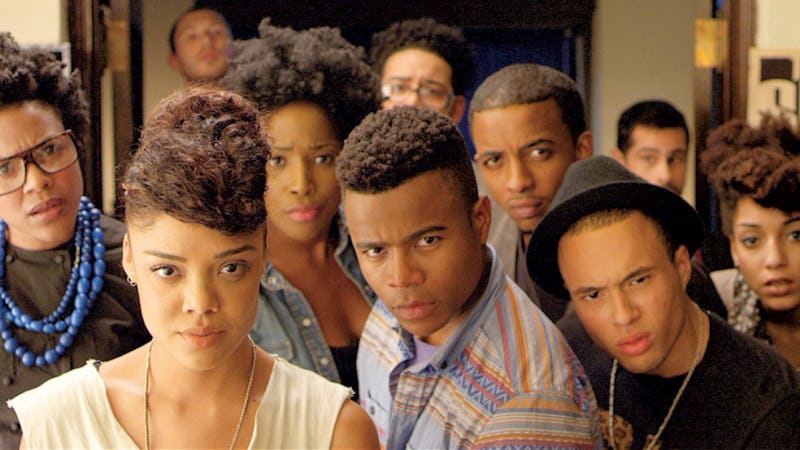 Lionsgate
It's February, so that means it's time to celebrate Black History Month by giving attention to Black art, culture, and history. Maybe for you that means researching facts about iconic figures like Rosa Parks, Percy Julian, Gordon Parks and Dr. Martin Luther King Jr., or perhaps it means watching compelling films like Ava Duvernay's 13th or Malcolm X. Activism, culture, struggle community — all of these topics can be explored through Black movies. It's is important to educate yourself about historical Black figures and events that have shaped the community, and watching these movies during Black History Month is a great way to do so..
Checking out films that honor Black accomplishments and legacies will not only inform you, but empower you and keep a much-needed conversation going about Black history. Every film on the list of 19 movies below will help you stay connected to what has shaped our past and the events and dialogues that are currently happening in Black culture, all of which will shape our future. Here are 19 Black movies that tell stories about trailblazers in Black history and the narratives of the Black community, to keep you educated and invested during Black History Month.
1. 13th
If you've never watched 13th, brace yourself for some hard-hitting truths about the America's prison system. Director Ava DuVernay takes this documentary to a new level by showing the economic and systematic racism the Black community is going through by the way of "modern day slavery".
Available on Netflix.
2. Dark Girls & Light Girls
Colorism has been a major topic of discussion amongst the Black community for years, due to the discrimination some people face for their skin tones. In the documentaries Dark Girls and Light Girls, director Bill Duke attempts to get to the root of why there is such a divide when it comes to skin tones in the Black community.
Available on YouTube.
3. Malcolm X
Some historians categorize Malcolm X's theories as radicalism, but no matter how different his theories may have been from those of people like Dr. King or Rosa Parks, there's no denying that his rhetoric changed the Civil Rights Movement. Directed by Spike Lee, Malcolm X is a celebration of one of the most controversial activists in Black liberation.
Available on YouTube.
4. Selma
Honoring the legacy of Dr. Martin Luther King Jr., Selma shows King's efforts to hold peaceful protests that furthered the rights of Black people during the Civil Rights Movement. The movie's message of peaceful action will motivate and inspire you.
Available on Amazon.
5. Time: The Kalief Browder Story
16 year-old Kalief Browder spent three years in Rikers Island jail awaiting trial, two of them in solitary confinement, after he was arrested for allegedly stealing a backpack. The case was never prosecuted and the charges were dropped, but tragically, Browder committed suicide after his release. This documentary sheds light on Browder's harrowing journey.
Available on Netflix.
6. Fruitvale Station
Fruitvale Station details the events that led up to Oscar Grant's unfortunate death at the hands of law enforcement. The movie showcases sides of Black men not often displayed in popular culture, especially in situations that involve both Black men and police.
Available on Netflix.
7. Free Angela And All Political Prisoners
This documentary follows the early life of Angela Davis, focusing on the social activism that ultimately put her on the FBI's Most Wanted list.
Available on Amazon.
8. For Colored Girls
This movie touches on topics like rape, STDs, infertility, and abuse in a powerful way, emphasizing how many Black women face these issues in their daily lives.
Available on YouTube.
9. Dear White People
Dear White People tackles modern-day racism and the microaggressions Black people experience in a witty way. It's the ultimate clapback movie that'll have you ready to give all the shade to racist remarks.
Available on Amazon.
10. 42
This biopic of baseball legend Jackie Robinson follows his historic rookie season and his 1947 integration into the Major Leagues. It's a story of perseverance through injustice that you definitely should have on queue.
Available on Amazon.
11. The Great Debaters
The Great Debaters is based on the true story of a professor who, in 1935, created his school's first student debate team — which ultimately made history by going to Harvard's national championship. This movie is a must watch because it highlights the extra work that many Black college students have had to do because of discrimination and unfair barriers.
Available on Amazon.
12. The Pursuit Of Happyness
The Pursuit of Happyness will remind you that the power of your dreams is bigger than you think. This movie is based on the true story of Chris Gardner and his fight to keep a job and his son during homelessness.
Available on Amazon.
13. The Black Power Mixtape
The Black Power Mixtape is a documentary about the Black Power Movement in the 1960s. Deepened by raw footage and interviews from Black activists and Black Power members, this film is an important piece about what the movement stood for in their time.
Available on YouTube.
14. The Black Jacket
The Black Jacket follows a former member of the Black Panther Party who teaches rival gang members and community workers at South Central Los Angeles how to de-escalate local gang-related violence.
Available on Netflix.
15. Mandela: Long Walk To Freedom
Nelson Mandela left a legacy that shaped the way the world looks at South Africa. Mandela: Long Walk to Freedom chronicles his life, from childhood to his time as president of South Africa and ultimately the leader of the anti-apartheid movement.
Available on Amazon.
16. Mudbound
Mudbound takes place in a post-World War II, Jim Crow world where two families, one black and one white, struggle to keep their farms and lives intact in a racist Mississippi town.
Available on Netflix.
17. Detroit
Based on a true story, Detroit shows the summer riots and civil unrest in 1967 that tore the city apart. During a two day period, reports of gunshots prompted the Detroit Police Department, the Michigan State Police, and the Michigan Army National Guard to search and seize an annex of the Algiers Motel where several policemen forcefully interrogated and brutally beat unarmed Black men.
Available on YouTube.
18. I Am Not Your Negro
This documentary follows the work of James Baldwin, who, at the time of his death in 1987, left behind a 30-page manuscript about the lives of his close friends: Medgar Evers, Malcolm X, and Martin Luther King, Jr. This film, by Raoul Peck, is an attempt to put together the pieces that Baldwin didn't get to finish.
Available on Amazon.
19. Moonlight
Moonlight challenges the perception many people in the Black community have on sexuality by talking about a subject that is deemed taboo. The movie covers the childhood, adolescence, and adulthood of a Black man named Chiron who finds truth in his queer identity.
Available on Amazon.
Here's to a glorious Black History Month filled with must-see films.