5 Sentimental Gifts To Get For Your Childhood BFF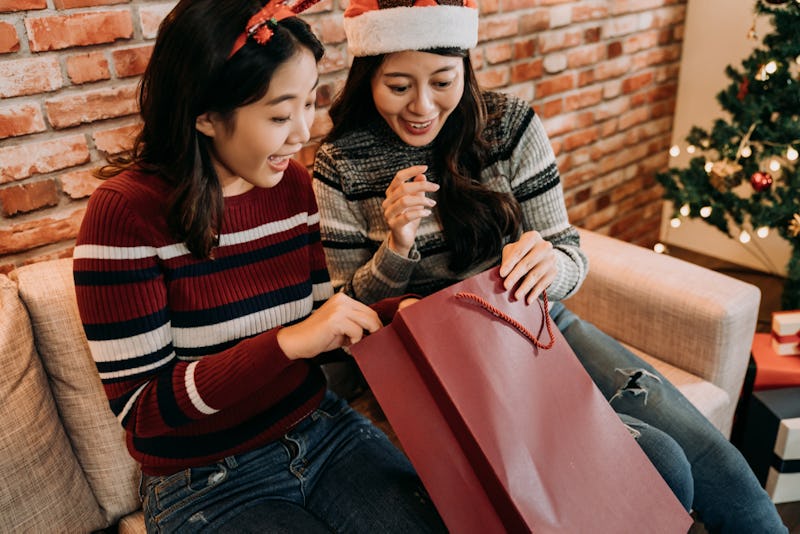 PR Image Factory
We've all heard it a million times before: The true meaning of the holidays has less to do with gifts, and more to do with spending time with loved ones and living in the moment.
Sure, but that doesn't mean we don't also want to get the perfect gift for everyone on our list. Whether it's your mom, a sibling, or a significant other, being able to select something that truly brings joy to your loved one is a very special feeling.
And when it comes to shopping for your ride-or-die lifelong BFF, the pressure's even higher to find the perfect gift. That's because, despite your years of shared experiences, volumes of inside jokes, and impressive knowledge of each other's likes and dislikes, it's one of life's greatest conundrums that the closest people to you are usually the most difficult to buy for.
In hopes of solving this shopping dilemma once and for all, we teamed up with Hallmark to bring you the ultimate guide to gifting when it comes to your bestie. We searched high and low for gifts that'll make your friend smile, laugh, and maybe even shed some happy tears. So read on, do a little shopping, and click here for wrapping inspo.
Warning: Giving these gifts may induce some SERIOUS reminiscing.
Here are 5 sentimental gifts that your BFF will love.
OK, major throwback alert.
Remember the grade school days when you didn't have bills to pay, adult problems to worry about, and relationships were defined by how much matching jewelry you and your friend were sporting? Take your bestie back to that formative era by gifting her (half of) this fun necklace set.
She'll be touched by the sentiment, and you both can get excited to bring back this never-should-have-gone-out-of-style trend.
When it comes to gifting, you can NEVER go wrong with a handwritten, heartfelt note. And even though that's totally enough on its own, writing it on one of Hallmark's intricately designed Paper Wonder cards will turn your sweet letter into something that your friend will want to display throughout the holidays and beyond
There are a ton of styles to choose from, so you're sure to find one that perfectly fits your bestie's personality.
We saw them on plenty of walls while growing up — the picture frames that display kids' school pictures over the years. Why not take this same cute idea and apply it to your BFF's gift?
Wipe the dust off your photo albums and source some amazing pics of you and your friend throughout the years. Fill the frame, then save the *biggest* spot for a current photo of the two of you.
Seeing how much you've shared over the years is sure to tug at your friend's heartstrings, and it'll double as a constant reminder of the longevity of your friendship.
Did you even celebrate the holidays if you didn't watch A Charlie Brown Christmas over and over again with your friends? To us, it's required watching for the month of December, and we'll STILL use any opportunity to turn it on.
Remind your BFF of this childhood tradition by giving her one of Hallmark's iconic Peanuts Keepsake ornaments. She'll think of you every time she displays it, and bonus: when she opens it, you'll have an excuse to rewatch your favorite holiday movie (not that you need one).
No matter how much you care about a person, sometimes it can be challenging to express how you feel.
In these instances, this journal makes the perfect gift — it's comprised of fill-in-the-blanks that make it easier than ever to tell your bestie exactly what it is that you love about her.
Say it with us: awwww!
This post is sponsored by Hallmark.