5 Sneaky Ways You May Be Damaging Your Hair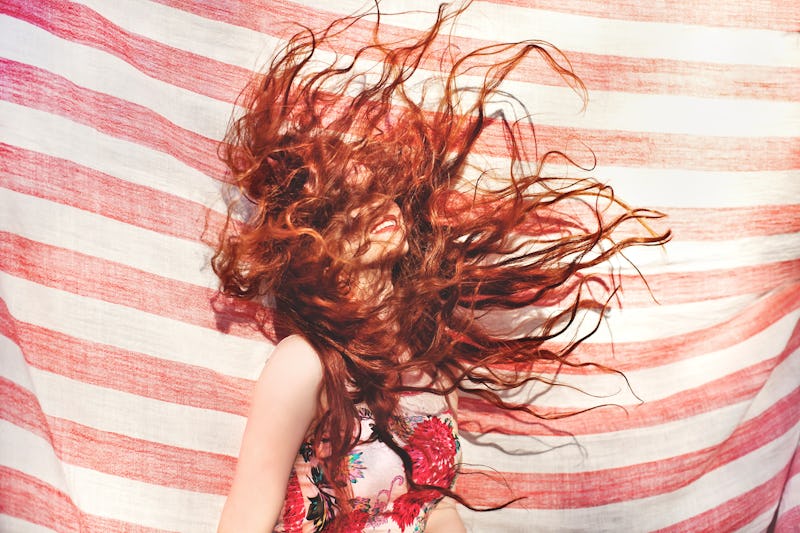 Shestock, Blend/Offset
We could give you a long list of pointers you've probably already heard that miiight make your hair healthier, shinier, stronger. But, TBH, filling you in on what you're unknowingly doing to cause hair damage is far more useful and will help ward off breakage, dryness, and split ends in the long run. And they're probably not what you'd expect. Sure, the obvious things like thrice-weekly blowouts and monthly dye jobs are recipes for havoc on your strands, but it's the little stuff you wouldn't expect — like the kind of towel you're using post-shower — that are the worst offenders.
Not to worry! As they say, for every problem there's a solution, and we're here to offer you really, really great ones in partnership with Sexy Hair. Your best hair is just a few small tweaks away.
You're Using Your Regular Bath Towel On It
Your hair is extra elastic and most vulnerable to damage when it's wet. Throwing it up in a cotton towel tends to be rough on strands and sets the stage for breakage, friction, and frizz. Reach for a more gentle microfiber towel (a super soft old t-shirt works, too) instead, and blot to soak up excess water.
You're Not Applying A Leave-In Conditioner
Just like a sponge, your hair soaks up anything you layer on top of it while it's damp. So if you're not applying a leave-in conditioner, your strands are missing out on moisture that's likely already being stripped by things like the environment, water, and heat styling. Choose a lightweight, nourishing and strengthening formula like Sexy Hair Healthy Sexy Hair Tri-Wheat Leave In Conditioner, which keeps hair soft and frayed ends at bay. Mist some from the mid-lengths to the ends (it helps detangle, too!), and then finger-comb to distribute.
You're Brushing Wet Hair From The Roots
Remember what we said about your hair being vulnerable when it's wet? Well, brushing soaked strands with your regular hair brush (or one of those old school fine-tooth combs) is a big damage offender, too, as it can stretch and snap hair fibers. Instead, choose a wide-tooth comb or a brush with flexible bristles specifically designed for use on wet hair. Start at your ends —not your roots — and gently work your way up to your crown in short, gentle strokes. It may feel weird at first, but you'll get used to it. No yanking allowed!
You're Not Protecting Your Hair When You Heat Style
Blow-drying, straightening, or curling your hair without a heat protectant is like using your hand to remove a pan from the oven without an oven mitt — you're going to burn the heck out of it. "Heat damage is irreversible, even after only one time," says Megan Robinson, senior stylist at White Rose Collective salon in NYC. "That's why a heat protectant is imperative." Choose a formula with hydrating properties, and run a dime size amount through damp hair before blow-drying. If you're going in with a flat iron or curling iron, smooth a few drops on dry hair, too. We love Sexy Hair Healthy Sexy Hair Love Oil Moisturizing Oil, which contains nourishing mimosa flower extract and also tames frizz.
You're Using An Ancient Blow Dryer
"The motors in old blow dryers are slow and can overheat so much that the hot air will scorch your hair," says Robinson. "Plus, if you're not putting the concentrator attachment on your blow dryer, the metal parts at the end of the nozzle will also burn strands." Eek! Do yourself a favor and upgrade to a model with ionic technology. It'll help your hair dry faster (so less heat exposure) and lock in moisture.
This post is sponsored by Sexy Hair.