6 Things You Need To Know About The Founder Of LA's Coolest Ice Cream Brand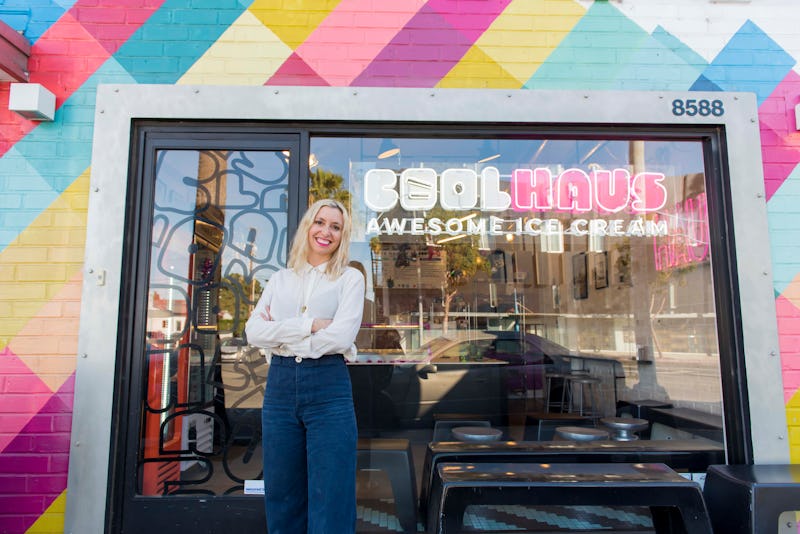 Here at Bustle, we believe that in order to truly live your best life, you have to begin by learning about — and learning from — the women who paved the way. That's why we teamed up with Lexus to highlight some incredible women who are pioneering their industries, their careers, and most importantly, their communities.
Food is a language that everyone understands. So when Natasha Case wanted to share her love for architecture with people who found the topic unapproachable, she made it more accessible through her passion for cuisine. Through a concept she calls "farchitechure" today (a wordplay on "food" and "architecture"), she discovered she could make the industry fun and accessible for everyone.
"As part of the 'farchitecture' concept, I started baking cookies and making ice cream from scratch and naming the combinations after architects," Case explains. Her creations made people smile, prompting what started out as a hobby to morph into a business idea. After meeting Freya Estreller (who would later become her wife), the pair co-founded a business concept for what they hoped would become the pioneering ice cream truck of the millennial generation.
Literally putting the wheels of their vision in motion, the duo bought a beat-up postal van on Craigslist. They scored permission to sell their unique ice cream sandwiches and custom flavors out at Coachella Music Festival, debuting Coolhaus, the first gourmet food truck in the festival's history.
Since introducing the brand to the festival crowd, the Los Angeles-based company hasn't stopped growing. Today, Coolhaus has a fleet of trucks and scoop shops in Los Angeles, New York, and Dallas, plus a grocery business that brings Coolhaus sammies (ice cream sandwiches) and pints to every state.
So, what's Case's recipe for success? Read on to find out more about what inspires Case, how she incorporates community into every bite of the Coolhaus brand, and why "fun" is a part of her business model.
1. Much Of The Inspiration For Coolhaus Comes From Los Angeles
Ice cream, of course, can be bought anywhere. But Coolhaus — from its colorful packaging to its one-of-a-kind flavors (think: "Street Cart Churro" and "Avocado Sea Salt") — oozes the adventurous, playful vibes of its home base in Los Angeles.
"Los Angeles is so much about breaking the rules, being edgy, taking risks," Case says. "At Coolhaus, we love taking risks and doing things outside the box with our aesthetics, flavors, and team."
2. She's An Advocate For Women In Entrepreneurship
As an empowered, female-led startup, Case recognizes the opportunity that Coolhaus has to set an example. All Coolhaus packaging and collateral notes that the company was founded and is led by women, and Case is active in the women in business community. She speaks on panels, helps sponsor events, and provides mentorship to other women.
"We really communicate how we are empowered, women leaders," Case says. "We're proud to be a voice for our generation of brands and professionals, and to inspire the next."
3. Her Brand Is Fueled By The Local Community
Spatially, Los Angeles as a city is still very much evolving. This was ideal when it came to launching Coolhaus with trucks instead of brick-and-mortar shops.
"The trucks could reactivate dead urban space, and bring it back to life with delicious food and community," Case says. "Folks really see the cars as an expression of our personal brand."
The weather also lends itself well to an incredible supply of locally-sourced ingredients, including hormone-free cows that provide high-quality dairy.
4. She Believes In The Power Of Taking Risks
Case emphasizes that, to her, being a pioneer means fearlessly thinking of what's coming next, rather than responding reactively to trends.
"Sometimes as women we tend to overanalyze and talk ourselves out of taking a risk," Case says. "If you're feeling passionate and have carefully created a concept, you must execute! It's truly the only way to know if something will pan out."
5. She Still Has A Deep Love For Design
Though Case has shifted her focus away from architecture, she still holds a deep love for design. To support the architecture and design community, Coolhaus developed a special sammie that honors and raises money for Habitat for Humanity.
6. Fun Is Part Of Her Business Model
Coolhaus is definitely a unique brand, but Case believes two qualities have been essential to the company's success: authenticity, and an emphasis on fun.
"We believe you can work your ass off and still have a blast," Case says. "We take what we do seriously, but I think we are having the most fun scooping ice cream, and it shows."
This post is sponsored by the first-ever Lexus UX.