7 Wedding Trends That Need To Die — And What To Replace Them With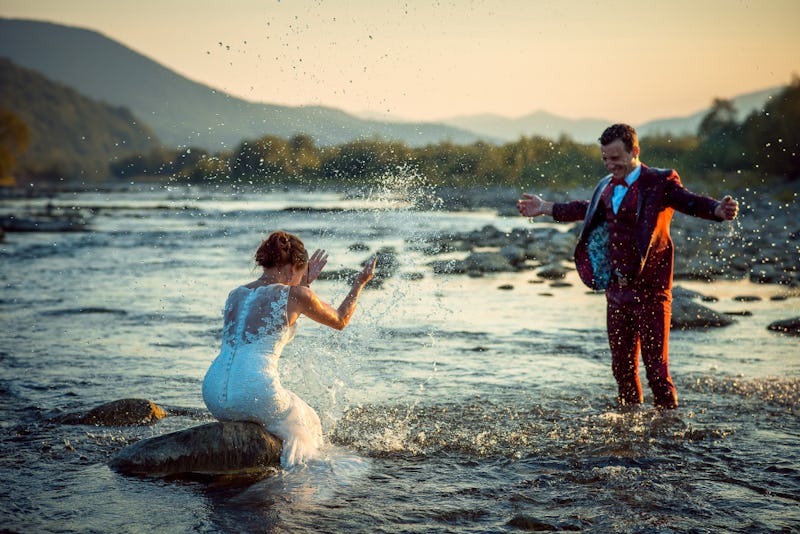 Andrii Kobryn
Weddings — they're joyous celebrations that signify the lifelong union of two lucky people. We love them, we attend (a lot of) them, but if we're being real, there are a few things that we think need to change when it comes to these blessed occasions.
Because weddings are such a pivotal part of the human experience, it's no wonder that certain trends, traditions, and pastimes are starting to feel a little, shall we say, redundant.
Don't get us wrong — we've got a whole lot of respect for the trailblazers that paved the way for modern matrimony. All we're saying is, even the classics could use a little updating now and then.
That's why we partnered with Lovepop — a company revolutionizing the wedding industry with their beautifully unique designs — to create a list of wedding trends that need to be replaced (or at the very least, re-imagined).
Here are 7 wedding trends that need to be retired, like, now.
1. Forcing Your Wedding Party to Wear Outfits They Hate
No one wants to think of herself as a bridezilla. And yet, so often, brides dictate every part of their bridesmaids' looks, from their dresses, to their updos, down to what color nail polish they're wearing.
Instead of forcing your wedding party to dress like clones, give them some room for self expression, allowing your BFFs to choose a style of dress that they feel most comfortable in, or a hairstyle that makes them feel gorgeous.
2. Overly Formal Invitations
Everyone loves receiving a thick envelope in the mail, but that excitement melts away when you open it up and discover that it's a stuffy wedding invitation, written in unreadable cursive, looking like it's been mass produced.
Instead of generic printouts on flat card stock, opt for one of Lovepop's custom invitation designs. Your invitation will jump right off the page (both figuratively and literally), and set the stage for a celebration that's as unique as the couple throwing it.
3. Traditional Guest Books
Guest books are a lovely tradition — having a record of who attended your wedding is a great way to remember a day that will inevitably fly by.
But instead of a leather bound book that will collect dust on your bookshelf for years to come, have guests leave well-wishes in a more non-traditional way. We love the idea of notes written on the back of Polaroid selfies, or on a beautiful serving tray that can be used again and again.
4. Never-Ending Speeches
Let's get something straight: No matter how heartfelt your wedding party's speeches are, no guest wants to endure an hour-plus of childhood stories and tearful reminiscing (especially after sitting through your entire ceremony).
Keep the speeches to one or two max, and let the rest of your wedding party write out their memories and well-wishes prior to the event. Throw the letters in some cute frames and set them out during cocktail hour so everyone (who wants to) can still get the full speech experience.
5. Bouquet Tosses
The bouquet toss — a staple of every wedding rom-com ever — feels a bit archaic in today's world. Not to mention, your single female friends probably don't *love* being rounded up like cattle and forced to stand in the middle of the dance floor.
Skip the toss altogether, and encourage guests to help themselves to the flower arrangements at the end of the night. That way, everyone can be a lucky winner and no one is singled out.
6. Strict Dress Codes
Real talk: Black tie weddings, or worse — theme weddings — can end up being an unnecessary source of stress for your guests. While we're definitely on board with being fully transparent with guests about the setting of the wedding for logistical purposes (beach wedding, etc.), leave it up to them to dictate what to wear.
Trust us — it won't matter in the long run if Aunt Vicky rocks a pantsuit or a muumuu.
7. Elaborate Cake Cutting Ceremonies
We hate to break it to you, but there's no actual significance to cutting the cake. Save your guests the awkward head-craning and don't put the party on pause for the cake cutting.
Give your guests options by providing a selection of different desserts, and save your silly cake-in-the-face antics for your first anniversary.
This post is sponsored by Lovepop Weddings.