North Korea & Russia's Friendly Relationship Goes Way Back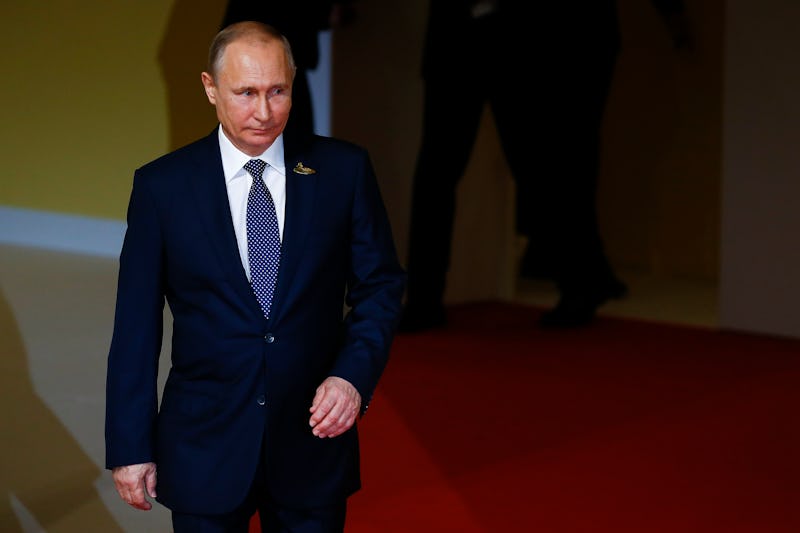 Morris MacMatzen/Getty Images News/Getty Images
With escalating rhetoric from both U.S. President Donald Trump and North Korean leader Kim Jong-un on Tuesday, international relations with North Korea are at the forefront of the collective American mind. Given the nature of Russia's role in American politics over the last year, it's fair to wonder if North Korea and Russia are allies.
As North Korea shares a border with Russia on the northeastern side, the two nations have been considered allies since the Cold War. Since the rise of Russian President Vladimir Putin, relations between the two — on both the economic and political levels — are closer than ever.
As USA Today reported, trade between Russia and North Korea increased by 73 percent in the first two months of 2017, mostly due to coal deliveries from the former. Meanwhile, as The Washington Post noted in late July, Russia has regularly argued to maintain positive relationships with both North and South Korea and has condemned the United States' approach to conflicts in the region.
Following U.S. allegations that North Korea launched a ballistic missile against Japan in early July, as The Diplomat reported, Russian officials denied them. Russia insisted instead that it was an intermediate-ranged rocket, and opposed proposals from the United Nations for sanctions against North Korea.
Later, Putin emphasized that Russia opposes North Korea's nuclear tests but continued to call upon other nations to "stop intimidating" North Korea.
We need to go back to dialogue with the Korean People's Democratic Republic, stop intimidating it and find peaceful ways of resolving these issues.
While Russia has stood firmly against all statements that threaten nuclear strikes, it has also spoken out against American and South Korean joint military exercises following North Korean intercontinental ballistic missiles tests. After a 2016 test, Russian officials argued that the display put "unprecedented ... military and political pressure on Pyongyang"; in July 2017, Putin told a press conference held with Chinese President Xi Jinping:
It is very important to push forward our joint initiative on settling the Korean problem with a view of immediately freezing the ballistic missile strikes and also dealing with the U.S. deployment of weapons in South Korea.
But Russia's attitude towards North Korea didn't come out of nowhere. Its intent to forge stronger relations has been clear since 2015 when, as The Guardian reported, Russia and North Korea declared a "year of friendship."
As North Korean state media outlet reported, the celebration was introduced to honor the 70th anniversary of the end of World War II; the two nations each stated that they would work to deepen relations "in the political, economic, humanitarian and other areas to a new level" during that time. At the time of its announcement a visit from Kim was planned for sometime in May 2015 (which would've been his first trip outside North Korea since he took power), although it was later cancelled.
Following the latest threats against Guam, Russia and North Korea's relationship is definitely one to watch.