'Bachelor' Star Jasmine Used To Be A Disney Star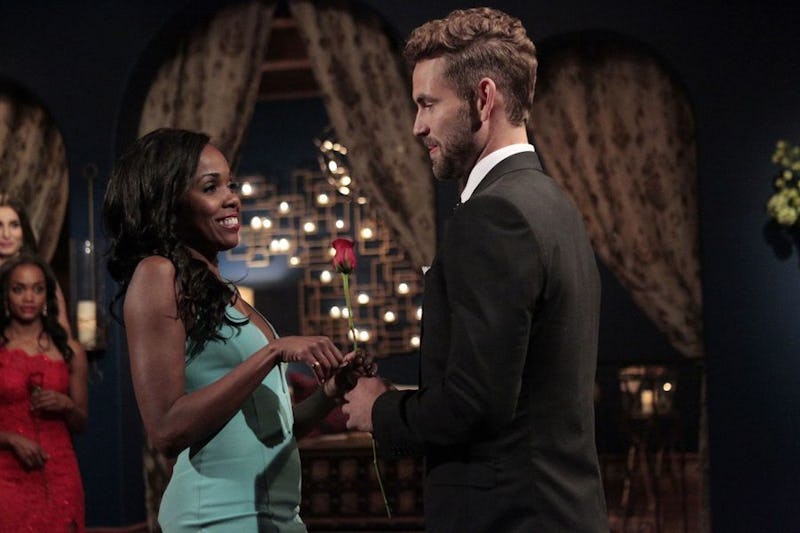 Rick Rowell/ABC
Every season, The Bachelor always introduces us to so many interesting women, but between all the drama and the fact that there are so many contestants (especially early on), there isn't that long to devote to each woman's backstory. And that's a shame, because one of the women competing for Nick Viall's heart definitely has an interesting past that I'd love to hear more about. Bachelor star Jasmine G. used to play Princess Tiana on the Disney Cruise Line, and I'm super jealous that she got to live the dream of being an actual Disney princess.
And to think that I was already amazed by Jasmine's other jobs, cheering for the Dallas Cowboys and dancing for the Golden State Warriors. Although to be 100 percent clear, the correct term to use is that Jasmine was "friends" with Tiana, because as all Disney fans know, our girl from Princess and The Frog is real. And, fortunately, Jasmine isn't shy about sharing her experience, because not too long ago, she shared one of the cutest photos ever on her Instagram. She's on the cruise ship, all decked out in Tiana's green gown, kneeling down to talk to a little girl in pigtails, and it's ridiculously adorable.
I mean, just look at this:
And clearly she still has a love of Disney, because she visited the California park recently.
I have no idea how this hasn't come up on the show yet, because she has to have so many awesome stories to share from this time in her life. Here's hoping she decides to open up about it later this season. I have so many questions I need answered! And also, I need her to get me a job.