Betsy DeVos Will Just Flat-Out Ignore You If Your Bathroom Doesn't Match Your Gender Identity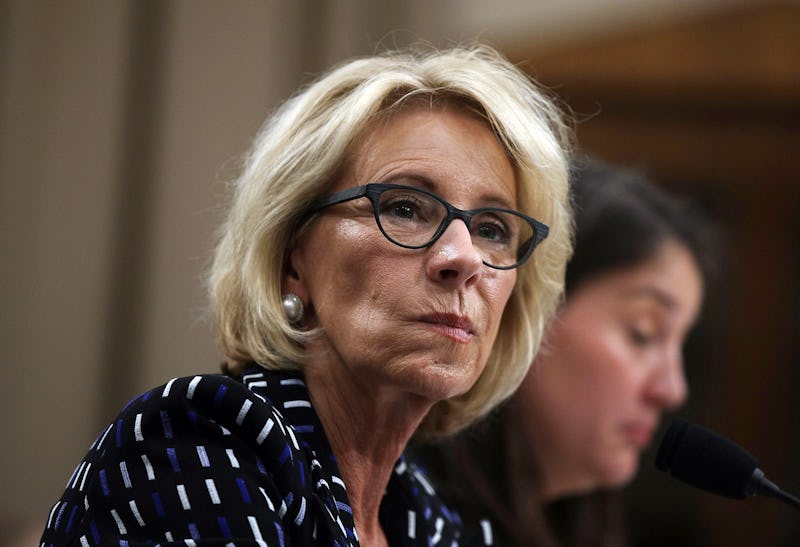 Alex Wong/Getty Images News/Getty Images
According to BuzzFeed, it's been trying to reach out to the Department of Education for the past month, hoping to receive a definitive statement on transgender students' access to gender-appropriate bathrooms. On Thursday, an official for the Education Department said it will reject transgender bathroom complaints, according to the website.
According to Liz Hill, a spokesperson for the Department of Education, the agenda on the issue of transgender complaints regarding the availability of access to school bathrooms is now more definitive. When asked by BuzzFeed if the the Department of Education will no longer address complaints from transgender students about bathroom accessibility under the federal civil rights law Title IX, Hill said, "Yes, that's what the law says."
On Friday, Hill also told BuzzFeed that "Title IX prohibits discrimination on the basis of sex, not gender identity." She told the website that complaints unrelated to bathroom access might be looked into.
"Where students, including transgender students, are penalized or harassed for failing to conform to sex-based stereotypes, that is sex discrimination prohibited by Title IX. In the case of bathrooms, however, long-standing regulations provide that separating facilities on the basis of sex is not a form of discrimination prohibited by Title IX," she said.
Donald Trump's administration's stance on transgender complaints regarding their access into gender-relevant bathrooms has been criticized by activists and advocates across the country. Previous administration officials, such as Catherine Lhamon who worked under Barack Obama's presidency and led the Department of Education's Office for Civil Rights, said that the Trump administration's stance is legally questionable.
"Until now, the official position of the Department has been that Title IX protects all students and that they were evaluating how that protection applies to the issue of bathroom access. This new categorical bar of civil rights protection for transgender children required to attend schools every day ignores the text of the law, courts' interpretation of the law, the stated position of the Department to date, and human decency," Lhamon told BuzzFeed.
She also added, "That interpretation represents an appalling abdication of federal enforcement responsibility, inconsistent with the law and with courts' interpretation of the law." But most importantly, according to Lhamon, the department's response was "totally lacking in human compassion for children in school, whom the Department is charged to protect."
As BuzzFeed explained, Hill's answer - "the law says" so - is not exactly accurate as far Title IX is concerned. Title IX, which was declared in 1972 as a federal law, protects students from being subjected to "discrimination under any education program or activity receiving federal financial assistance." In this legal text, the discrimination is against any act "on the basis of sex" and not gender identity. Some federal judges have pointed out this easily forgettable distinction as well.
BuzzFeed mentioned one particular court case from last year that appears to shed doubt on Hills' belief in "the law." In May 2017, a panel with three judges weighing in on the Whitaker v. Kenosha Unified School District case noted that school-based and school-sanctioned discrimination causing transgender students lack of access to their gender-apt bathrooms was indeed a breach of Title IX. The panel said that a "policy that requires an individual to use a bathroom that does not conform with his or her gender identity punishes that individual for his or her gender non‐conformance, which in turn violates Title IX."
Hill's response is not exactly out of the blue; the Department of Education took the issue of transgender students and school restroom into its notice as early as February, 2017. But with the spokesperson's response to BuzzFeed, it is now clear where the department stands on transgender students' right to access gender-appropriate school bathrooms.