These Details About A Fan Storming The Stage At Beyoncé & JAY-Z's Concert Are So Scary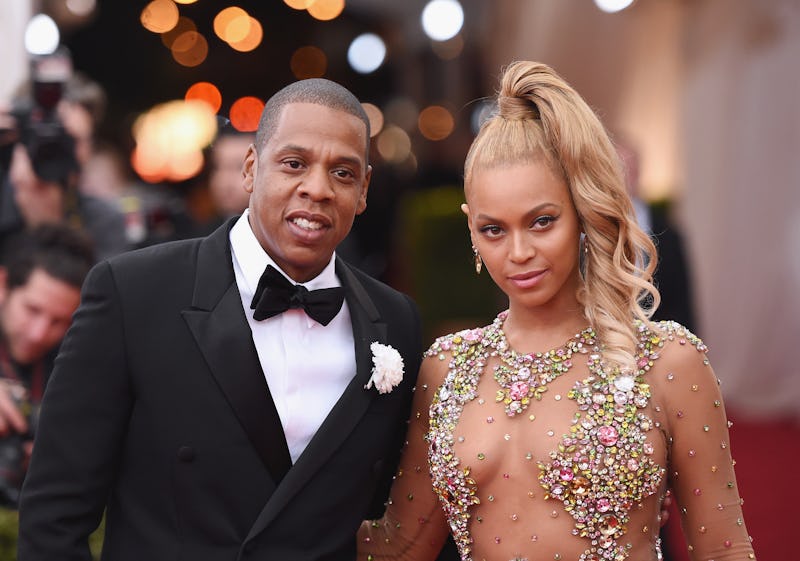 Mike Coppola/Getty Images Entertainment/Getty Images
The On The Run II tour is well underway, and one of the concerts over the weekend included a very unexpected event. At Saturday night's Atlanta stop on the tour, a fan reportedly chased after Beyoncé and JAY-Z while they were performing, according to The Hollywood Reporter. And although it appears that the couple was safe from harm, the man — 26-year-old Anthony Charles Thomas Maxwell — is now facing legal charges, according to the Associated Press. (Bustle reached out to Beyoncé and JAY-Z's reps for comment on the incident, but did not receive an immediate response.)
As seen in videos caught and shared by concertgoers, Beyoncé and JAY-Z had just performed "APESH*T" and were walking off stage when Maxwell, who was wearing a white T-shirt and black shorts, appears to run up the stairs to the stage and follow them. The Carters' dancers immediately ran after him, although the videos don't show what happened next.
Atlanta Police Officer Lisa Bender confirmed to the Associated Press that Maxwell made contact with JAY-Z before he was stopped by security, and although he was originally given a citation for disorderly conduct and released, he was later changed with simple battery as well. Bender also said that Maxwell was treated for minor injuries related to the incident, but there were no other injuries to report.
And although it obviously had to be an unnerving experience for Beyoncé and JAY-Z, an Atlanta police spokesperson released a statement to E! News confirming that no one had been hurt in the scuffle.
The statement to E! News read:
As the Jay-Z and Beyonce concert was ending late Saturday night, a man later identified as Anthony Charles Thomas Maxwell (age 26) ran onto the stage and approached Jay-Z. He was quickly stopped by people who were with the performer. Atlanta Police arrived and issued the man a citation for disorderly conduct and released him. At the time, there was no evidence Maxwell had made contact with Jay-Z. Upon later investigation, officers were able to gather evidence showing Maxwell had, in fact, made contact with Jay-Z. Maxwell was treated for minor injuries on scene sustained when people around Jay-Z stopped him from further contact with the performer. No one else was injured as a result of this incident.
The spokesperson also said that while Maxwell is not currently in custody, the upgraded simple battery charge has reportedly allowed police to secure warrants against him.
On Instagram on Sunday, Beyoncé's rep, Yvette Noel-Schure, also shared a photo of the singer and JAY-Z on stage in Atlanta on Instagram, noting that the tour would continue and that the couple is "fine."
"Thank you to all the fans for your concern," she wrote in the caption of the photo. "They are fine and looking forward to the show tomorrow."
Having a man storm the stage while you're performing has to be scary, but it's good to hear that no one was hurt. So far, Beyoncé and JAY-Z have yet to speak out about the incident themselves, but as Noel-Schure wrote, the tour is still happening. Hopefully, the rest of the tour — which began in June and ends in October with a stop in Seattle — will be much less eventful than Saturday night's concert.