Bill de Blasio Tells Trump To Stop Vilifying Immigrants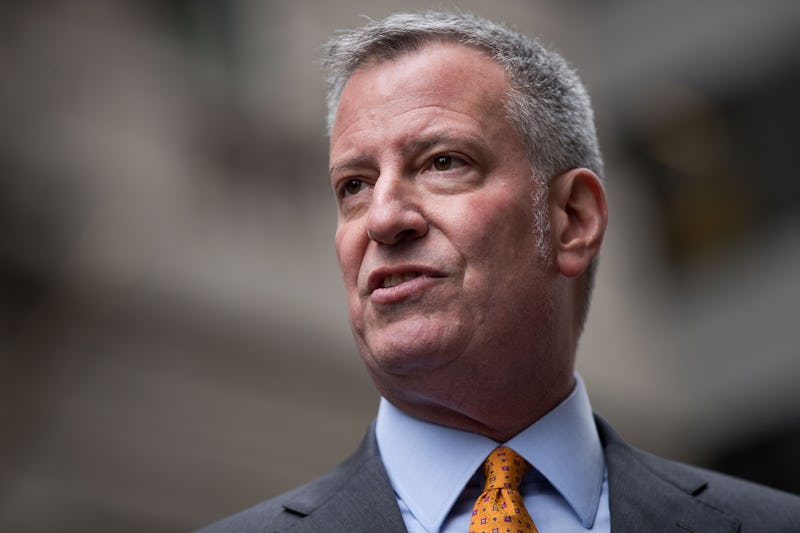 Drew Angerer/Getty Images News/Getty Images
New York City is often said to be the capital of immigrant America. If you live in the city, you must be familiar with the diversity that paints the Big Apple. From the old immigrant Italian and Jewish history of southern Brooklyn and the Latinx communities in The Bronx to the lively South Asian neighborhoods in Queens and West African community in Harlem, New York City is no stranger to immigrant populations. To make this point just a bit clearer, Bill de Blasio sent Trump a tweet on behalf of New York City, reminding him the city has become safer.
The tweet arrives at a remarkably tense moment in America's political history, given the fact that Trump's administration vowed to aggressively up its deportation efforts. Trump has justified these efforts by claiming they will keep America safer. However, as de Blasio pointed out, that reasoning is incorrect.
In a statement to the press, de Blasio said that New York City has been the safest it's ever been in modern history. While tweeting to his followers, de Blasio shared how index crimes, murders, and shootings in the city all have fallen by considerable percents. And to further counter the stereotyping of immigrants as somehow "dangerous," research shared by the American Immigration Council shows that immigrant communities actually have lesser crime rates than U.S.-born Americans.
Though some say de Blasio needs to do more to protect undocumented immigrants in New York City from ICE, it is still worth something that de Blasio is speaking up. This is especially the case considering that Trump has consistently demonized immigrants, from referring to some undocumented immigrants from Mexico as "rapists" and "criminals," to saying he would target "bad hombres."
This is not the first time de Blasio has spoken against Trump's rhetoric on immigration either. In January while responding to Trump's executive order withholding grants from sanctuary cities, de Blasio told the press, "The stroke of a pen in Washington does not change the people of New York City or our values."
New York City, like Los Angeles and San Diego, remains a sanctuary for immigrants. This, however, could change since Pennsylvania Rep. Lou Barletta has called for the elimination of federal funding for cities like New York City that refuse to adhere to Trump's immigration policies. And he's not the only one: Jeff Sessions has also called upon sanctuary cities to cooperate with ICE's deportation efforts.
In a political landscape where language carries far-reaching consequences, de Blasio's tweet to Trump is a positive step forward in, at the very least, dispelling the false notion that immigrants are somehow criminals.