These Crazy Unicorn-Inspired Makeup Looks Will Blow Your Mind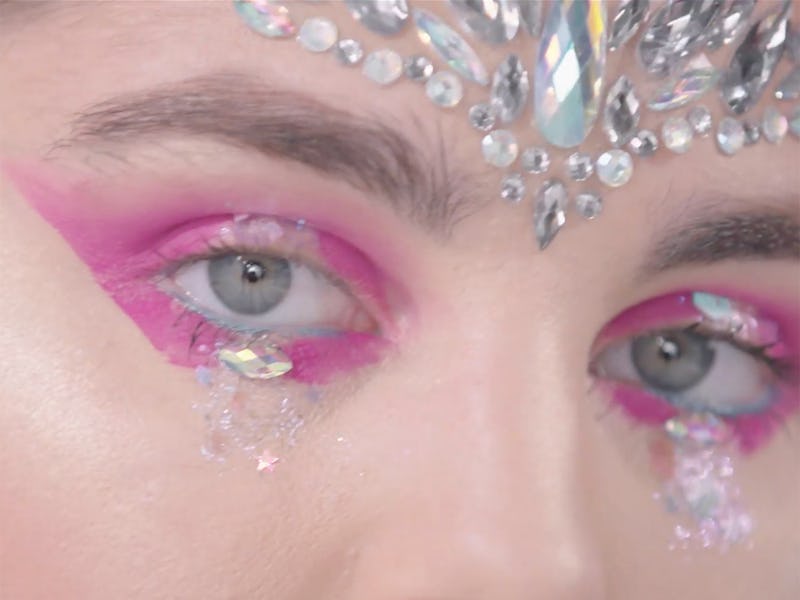 What's better than a Double Dare-esque game show involving silly, but challenging obstacles and brain-stumping trivia? One that involves your favorite makeup products, like glittery liquid lipsticks and colorful metallic eyeliners, of course. That's exactly what's going down on episode 4 of Bustle's Race 2 Face, an epic competition show for beauty lovers.
On this week's episode, the contestants are professional makeup artists Will Doughty and Gisele Cuadrado. This week's challenge focuses on a trend that was huge in 2017 — "rainbows and unicorns." The contestants will be put to the test to see who can create the best mystical-inspired makeup look. But before they get to that point of the show, they first must get through the rather difficult question and "Hide and Sleek" rounds first.
Race 2 Face host (and celebrated New York City drag queen) Ruby Woo starts the show by quizzing Doughty and Cuadrado on their rainbow and unicorn knowledge. The topics? Lisa Frank, Wizard of Oz, and Starbucks frappuccinos.
Doughty gets the first question right, which earns him a chance to collect makeup products that can be used in the final round — creating the aforementioned mythical makeup look on their models. Doughty does an impressive job getting his elbows (yes, elbows) on a few essentials during "Foundation Dip," an obstacle that requires its contestant to fish products out of a pool of foundation.
Cuadrado nails the next question and the her "Hide and Sleek" obstacle, "Lipstick Crawl." Cuadrado successfully collects all five possible makeup products for her final round.
Doughty beats Cuadrado to the last question and finds himself face to face with a giant hairbrush. In "Hairbrush Dig," Doughty attempts to get as many product pods out of the bristles. Of course, it's not that easy — Doughty will have to be blindfolded while dodging shampoo being squirted from above. He is still able to come out triumphant, earning a few more products for his makeup kit.
Finally, Cuadrado and Doughty make it to the final face-off — the mythical creature-inspired challenge! Their beauty stations are filled with all of the makeup essentials, from NYX foundations to a Sephora Collection contour palette. While all of the products will come in handy, what they'll really be relying on are the colorful, glittery products that they earned in the "Hide and Sleek" challenges.
During the challenge, Ruby Roo asks Doughty and Cuadrado what the inspiration behind their looks is. For Cuadrado, it's Ruby Woo! She says she's going for "bright and bold and beautiful" while Doughty shares that he's going for a "cotton candy glitter sprite" look.
Doughty wasn't able to get many eyeshadow products, so to create a pink statement eye on his model, he's using lip products instead. Cuadrado's focus is on her model's brows — instead of choosing one color, she creates a glittery gradient, starting with green on the front part and a purple-y pink hue at the end.
Both of the contestants' final looks are incredible and as a result, the judges — Bustle Deputy Fashion and Beauty Editor Kara McGrath, Bustle Director of Editorial Operations Rosanne Salvatore, and Bustle Fashion and Beauty Editor Amanda Richards — are very impressed. Both Doughty and Cuadrado nail the "rainbows and unicorns" challenge, but sadly, only one of them can be crowned the Race 2 Face champion and walk away a winner.
So, who will it be? Be sure to watch the episode in its entirety to find out.
Bustle's Race 2 Face is the ultimate competition show for beauty lovers, with new episodes airing on Facebook every Monday. You can watch Race 2 Face Episode 1 and Episode 2 now. Ready, set, GLOW!