Carrie Underwood's Interview On Suffering 3 Miscarriages Is Both Candid & Powerful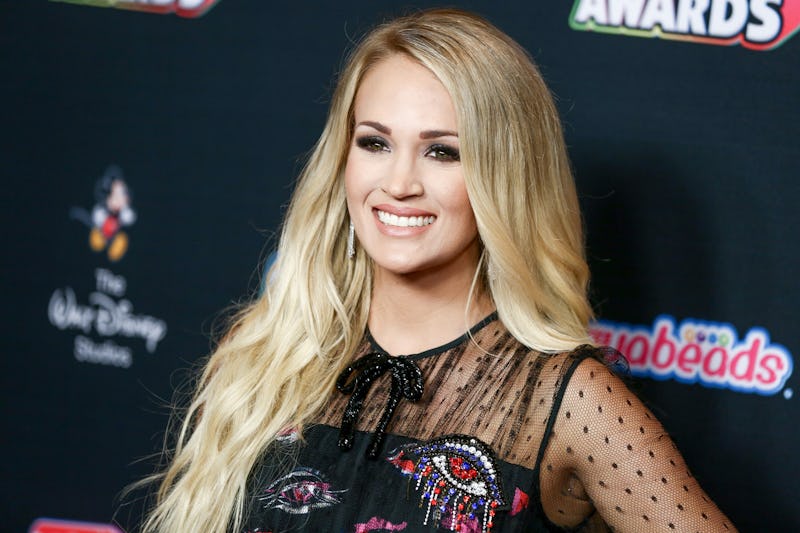 Rich Fury/Getty Images Entertainment/Getty Images
She was catapulted onto the national stage when she swept the fourth season of American Idol, and since then, the accolades and hit songs have kept on coming. But while her professional life has soared, her personal life hasn't been easy recently; in a candid and emotional interview, Carrie Underwood revealed that she suffered three miscarriages over the past two years, as she opened up about pregnancy difficulties.
Underwood has a three-year-old son with her husband Mike Fisher, a 38-year-old hockey player for the Nashville Predators, but the family of three are expecting one more to join: Underwood is currently pregnant, according to People. But her journey to this point has been a rough one. The "Cry Pretty" singer detailed her fertility difficulties and heartbreaking miscarriages, tearing up as she spoke about it on CBS Sunday Morning.
"I'd kind of planned that 2017 was, you know, going to be the year that I work on new music, and I have a baby," said Underwood, who is 35, during the interview. "We got pregnant early 2017, and didn't work out."
After that first miscarriage in early 2017, Underwood suffered another one later on in the year and then another in early 2018. But she said she found some form of solace in writing, which some fans have pointed to as a reason for the sadness tinged throughout her latest album.
"Right after finding out that I would lose a baby, I'd have a writing session," Underwood said in the interview. "I'd be like, 'Let's go,' I can't just sit around thinking about this, because I would literally have these horrible things going on in my life and then have to go smile and do some interviews or do a photo shoot or something, you know? So it's just ... therapeutic, I guess."
During the interview, Underwood also talks about her faith and how she depended on it to get through the heartbreak of her miscarriages.
"I had always been afraid to be angry," Underwood said. "Because we are so blessed. And my son, Isaiah, is the sweetest thing. And he's the best thing in the world. And I'm like, 'If we can never have any other kids, that's okay, because he's amazing.' And I have this amazing life. Like, really, what can I complain about? I can't. I have an incredible husband, incredible friends, an incredible job, an incredible kid. Can I be mad? No."
Underwood also gushes over her son in her interview. In June, Underwood posted a sweet photo on her Instagram account of her son in her arms. "This was about 30 seconds before I went on stage tonight..." Underwood wrote in the caption.
The singer said she came to a point where she had to ask: "Why on Earth do I keep getting pregnant if I can't have a kid? Like, what is this? Shut the door. Like, do something. Either shut the door or let me have a kid."
Underwood continued, "And for the first time, I feel like I actually I told God how I felt. That was like a Saturday — and the Monday I went to the doctor to, like, confirm, another miscarriage. And they told me everything was great."