Chelsea Clinton Low-Key Roasts Donald Trump Jr. & Twitter Is HERE For It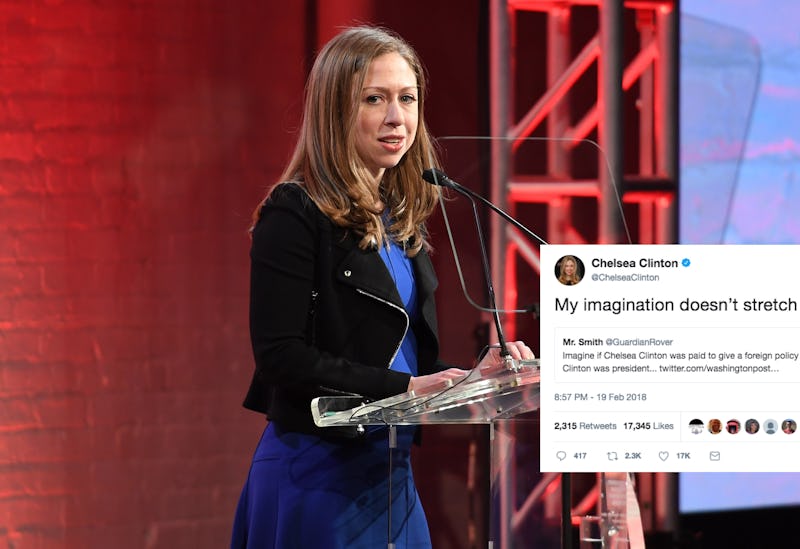 Thanks to her deadpan humor and words of wisdom, former first daughter Chelsea Clinton has developed quite the Twitter following. As of Tuesday, she's done it again, in response to the current first son — and head of the Trump Organization — using a business trip to India as an excuse to give a foreign policy speech. Clinton low-key roasted Trump Jr. on Twitter over his decision to give the speech, and her followers loved it.
Twitter user @GuardianRover started it by retweeting the Washington Post's article on Trump Jr.'s upcoming foreign policy speech in India along with a caption: "Imagine if Chelsea Clinton was paid to give a foreign policy speech while Hillary Clinton was president..."
Clinton, then, responded to that idea. "My imagination doesn't stretch this far," she tweeted.
The pair of tweets, of course, refers to the inevitable reaction that would explode if Clinton had tried to mix business and politics this way with her mother in office. Clinton is a Vice Chair at the Clinton Foundation, which is a A-rated charity from the most trusted organizations that judge charitable foundations — and yet the Clinton Foundation became one of the biggest controversies of the 2016 election.
The same right-wing media, however, hasn't taken issue with the fact that Trump Jr., as the head of his father's organization and without an official role in the Trump administration, often mixes politics and business. This trip in particular is highly questionable in the eyes of many ethics experts, as he's going to India ostensibly to promote Trump real estate projects in the country, and yet he'll also be giving a speech on Indo-Pacific relations along with Indian prime minister Narendra Modi. The Washington Post also reports that ads for the real estate also said that after buyers handed over a booking fee of about $38,000, they'd be granted the opportunity to meet Trump Jr. "for a conversation and dinner."
This, ethics professionals say, is another instance of a member of the Trump family using the Trump presidency to personally profit. The overlap of a potential Trump presidency and the very much existing Trump business was a big concern during the 2016 campaign, but the Trump family has repeatedly claimed that the decision to hand business operations over to Trump Jr. and Eric Trump created a big enough divide between the two entities.
Clinton, however, has gathered that a hypothetical decision of hers to promote both a Hillary Clinton presidency and any other Clinton-connected organization would have provoked a maelstrom of ire, and it seems that she's not alone in thinking that. Many people loved Clinton's response.
Despite the fact that Clinton holds a Doctorate in international relations from Oxford and would surely be capable of giving a fine speech on foreign policy, it's entirely a given that the idea wouldn't have gone over well if her mother had indeed won the presidency.
The subtlety of Clinton's response to Trump Jr. is also a marked departure from the way the Trump Jr. frequently talks about Hillary Clinton on his own Twitter account. "The more Hillary goes on television the more the American people realize how awesome it is to have ‪@realDonaldTrump in office," he wrote, about her appearance at the Grammys.
Chelsea Clinton, however, seems determined to take the high road. She's been roasting the Trumps on Twitter ever since Donald Trump took office, and all that practice has made her pretty good at it. It's unlikely that Trump Jr. would ever modify his behavior based on what a Clinton says on Twitter, but Chelsea can give her two million followers a bit of joy.
Disclosure: Chelsea Clinton's husband Marc Mezvinsky joined Social Capital, an investor in Bustle Digital Group, in mid 2017 and joined the Board of Bustle Digital Group in early 2018.