Chris Pratt & Anna Faris Were Spotted Hanging Out Recently, But It All Seems Very Chill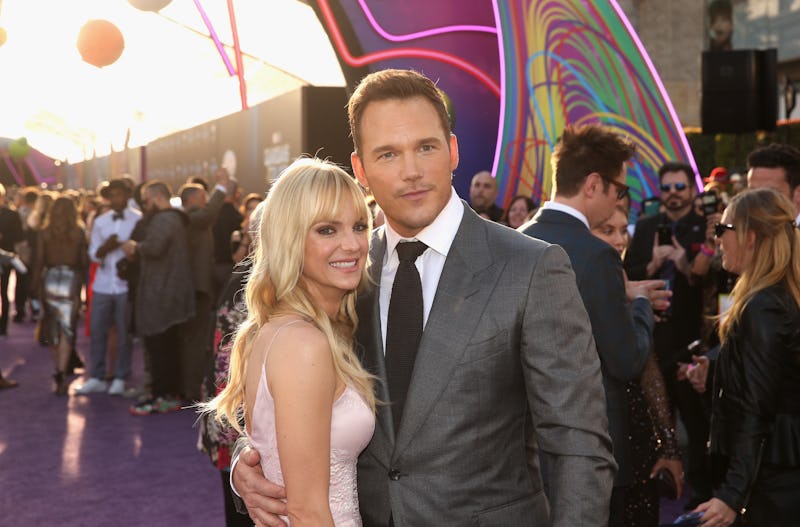 Jesse Grant/Getty Images Entertainment/Getty Images
Just over a year after announcing that they'd be parting ways, Chris Pratt and Anna Faris reunited in Santa Monica this week, according to multiple reports. The two look like they're on amicable terms in the photo People shared, but it doesn't seem like they'll be making a romantic reconciliation anytime soon.
People reported that Faris and Pratt were seen together in Santa Monica on Tuesday. And on Monday, the two actors were seen walking through the city with their son, Jack. As Us Weekly pointed out, the outing came days after Jack's sixth birthday. During their walk, the two co-parents were seen talking with one another, though the paparazzi photos don't show either of them smiling.
Last August, Pratt and Faris announced that they were separating after eight years of marriage. In a statement posted to Pratt's Facebook page, the two of them shared the news, writing,
"Anna and I are sad to announce we are legally separating. We tried hard for a long time, and we're really disappointed. Our son has two parents who love him very much and for his sake we want to keep this situation as private as possible moving forward. We still have love for each other, will always cherish our time together and continue to have the deepest respect for one another."
Faris shared a similar version of the statement on her Twitter account.
Pratt and Faris' statement about their split mentioned wanting the best for Jack. So it's clear that co-parenting is a huge focus for them as they navigate their lives apart from one another. It's likely that the time the two of them spent together this week was for Jack's sake, especially with his recent birthday. It shouldn't come as a surprise, then, that the two of them were seen walking around California together.
After announcing their legal separation last August, Pratt and Faris filed for divorce in December. According to TMZ, the two of them listed "irreconcilable differences" as a reason for the split. The outlet also reported that the two parents requested joint custody of Jack.
Still, it seems like the two of them have been on OK terms ever since the split. Back in April, Pratt told Entertainment Weekly that while "divorce sucks," they're making things work for Jack. He told EW,
"Divorce sucks. But at the end of the day, we've got a great kid who's got two parents who love him very much. And we're finding a way to navigate this while still remaining friends and still being kind to one another. It's not ideal, but yeah, I think both of us are actually probably doing better."
Since announcing their separation, Faris and Pratt have reportedly been seeing new people, too. Reports that Faris was dating Michael Barrett, a cinematographer, started in October. And Pratt has been seen with Katherine Schwarzenegger, sparking dating rumors there as well. The two of them may be moving on in their personal lives, but it looks like they're still able to team up for Jack when the occasion arises.