Chrissy Teigen Writes About Postpartum Depression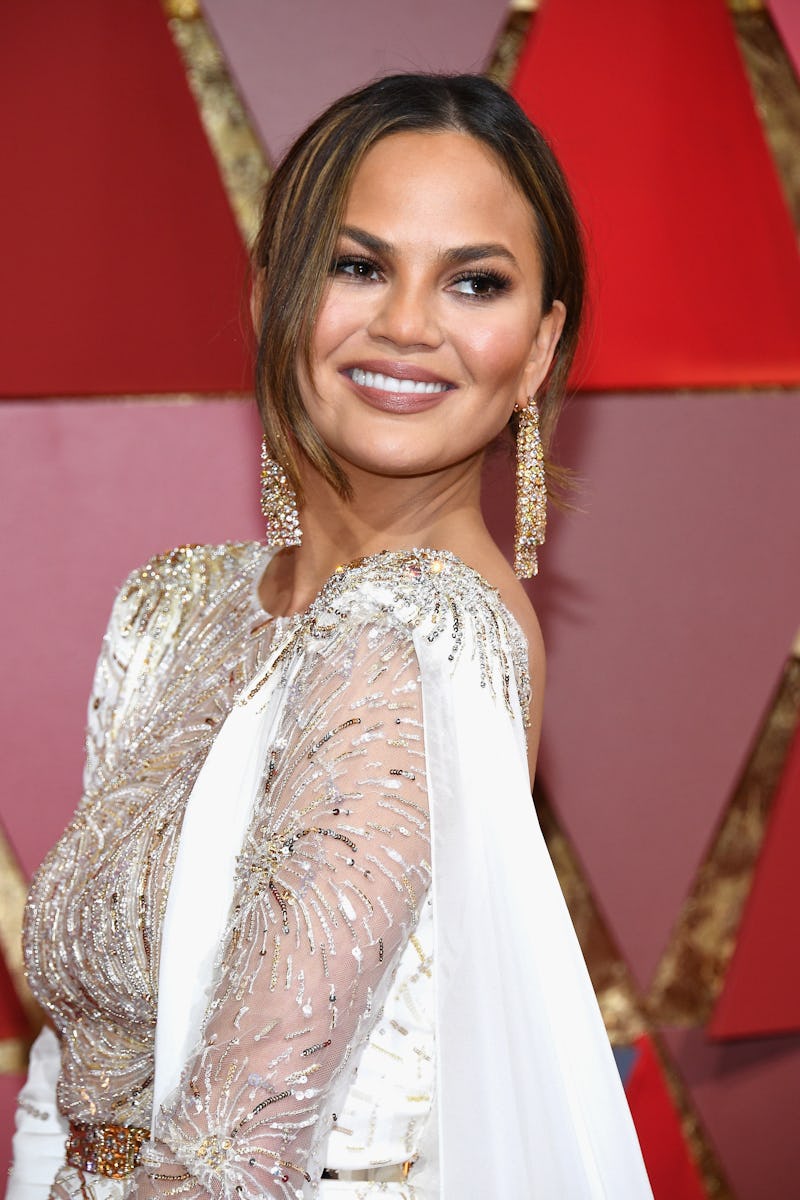 Kevork Djansezian/Getty Images Entertainment/Getty Images
In my head, Chrissy Teigen is my best friend, and I know I'm not the only one who feels this way. She's hands down my favorite celebrity to follow on Twitter and Instagram, I am devoted to her cookbook, Cravings, and I love seeing her little family grow. But there's so much more to her than the tweets she shares, and her new piece for Glamour proves in. Teigen's essay on postpartum depression is incredibly brave, especially since it's so different from what we're used to seeing from her on Twitter. And the way that she's shared her struggle is so important for women who have experienced the same thing after giving birth.
Last year, Teigen and husband John Legend welcomed their first child, Luna, into the world, and according to what they share with their fans, it seems like her first year of life has been nothing but bliss for her proud parents. But in her essay, Teigen opened up about the part of becoming a mom that many women never talk about. And although she addresses the fact that she could face backlash for being so honest, she told her story anyway.
Teigen began by explaining how much she loved pregnancy and how happy she was when Luna was born, but after coming home from the hospital, it all went downhill. She and Legend were moving from place to place while their house was being renovated, and she was balancing her career with being a new mom. It's enough to put anyone under stress — even without living as a public figure.
Her list of symptoms will sound familiar to anyone who has dealt with depression — crying, a lack of energy, suddenly losing interest in things she once enjoyed, never wanting to leave the house, and even physical pain. She questioned if she should stay on her current career path and lost her love for cooking. It wasn't until she saw a doctor that she realized that what she was actually struggling with was postpartum depression.
She wrote:
Before this, I had never, ever — in my whole entire life — had one person say to me: "I have postpartum depression." Growing up in the nineties, I associated postpartum depression with . . . people who didn't like their babies or felt like they had to harm their children. I didn't have anything remotely close to those feelings. I looked at Luna every day, amazed by her. So I didn't think I had it. I also just didn't think it could happen to me. I have a great life. I have all the help I could need: John, my mother (who lives with us), a nanny. But postpartum does not discriminate. I couldn't control it. And that's part of the reason it took me so long to speak up: I felt selfish, icky, and weird saying aloud that I'm struggling. Sometimes I still do.
It's easy to look at Teigen and think that her life is perfect — she has a beautiful baby, an insane career and a talented husband who is so obviously in love with her. But like she said, postpartum depression can happen to anyone, and it's far more common than it seems.
I may not be a mom yet, but I have suffered from the more classic form of depression since my teenage years so a lot of what Teigen is saying rings true for me. When you're struggling like that, one of the hardest things to do is to ask for help, and even harder than that is talking about what you've been through. Now, Teigen has done both of those things, and I love her even more for sharing her journey.
Fortunately, it sounds like Teigen has gotten help since then through antidepressants and plans to start therapy soon, and she ended her essay with so much hope for the future. She added:
Like anyone, with PPD or without, I have really good days and bad days. I will say, though, right now, all of the really bad days—the days that used to be all my days—are gone . . . More than anything, I always want to have enough energy for Luna—to run up the stairs with her, to have tea parties with her. As she gets older, she's becoming more and more fun. Her eyes are getting so wide, and I want to be there for those wide eyes. And I will be.
It had to be difficult for Teigen to be so honest and raw about something this personal, but I love that she did it for the purpose of helping other women who struggle with the same problem feel less alone. As a longtime fan, I hope that many happy days are ahead for her and her adorable baby girl. She deserves it!