David Bowie's Hometown Plans A Perfect Memorial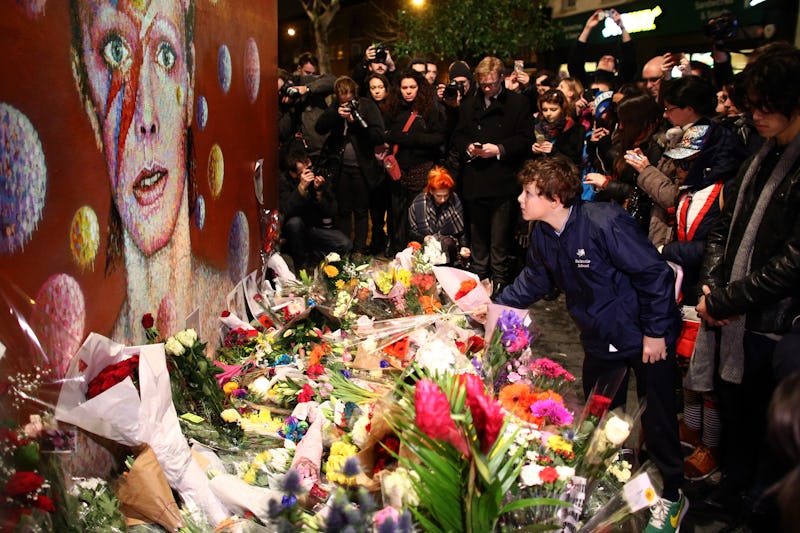 Carl Court/Getty Images News/Getty Images
To be honest, the world still feels incomplete since the fabric of the universe tore and David Bowie died at the age of 69 in the beginning of 2016. How do we go on without Bowie? Has anyone figured it out? It honestly doesn't seem so, but one thing fans of the legend have figured out is how to memorialize Ziggy Stardust. David's Bowie's hometown, Brixton, is planning a perfect memorial for the late singer according to Brixton Blog. Brixton, a district in London, is where the artist was born and lived until the age of 6, when his family headed to the suburbs.
The 9 meter (29 ft-ish) monument will be located across from the Brixton tube stop on Tunstall Road, which is close to a Bowie mural. The steel plate sculpture will be a 3-dimensional red and blue lightning bolt, a reference and homage to Bowie's iconic makeup flash on the cover of his album Aladdin Sane (AKA "A lad, insane" — my mind will never not be blown by that word play).
But this extravagant tribute to an extravagant man isn't going to pay for itself. On Tuesday, Feb. 21, the people behind the "ZiggyZag" launched a crowdfunding campaign with a goal of raising £990,000 (a little more than a million U.S. dollars) for the project. The caption describe the structure as "unexplained, yet utterly familiar; a poignant reminder that life does exist beyond the everyday. That music and art and curiosity are vital, positive contributors to our collective existence."
The ZiggyZag comes from a team including This Ain't Rock'n'Roll, a Brixton and Bowie-obsessed creative consultant team who previous designed the Bowie-starring currency used for the Brixton Pound, a local currency adopted for small businesses in Brixton in 2009. Also involved is metal artist and now project manager Tom Carter, co-producer and Curator of Brixton Design District Binki Taylor, and architect Zac Monro.
Charlie Waterhouse of This Ain't Rock'n'Roll described the future monument as, "totally Brixton, utterly Bowie. Where the Man Who Fell to Earth fell to earth, a heartfelt tribute, from one London character to another." The whole thing truly seems to be a love message to our favorite Starman, and a thank you to his hometown. Not bad for a day's crowdfund!
You can donate to this beautiful piece of local art here.