'Rogue One' Didn't Get Many Oscar Nods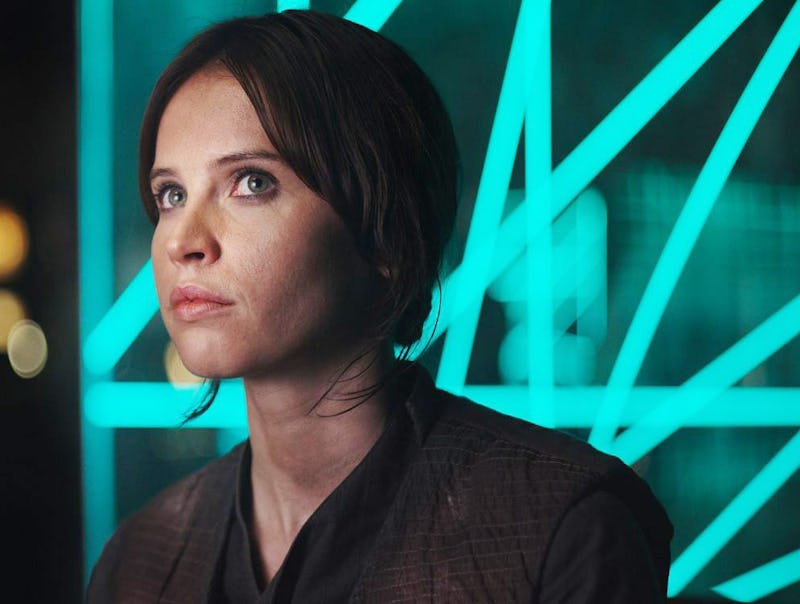 Lucasfilm/Walt Disney Pictures
Well, in the midst of a national revolution, you may have missed the announcement of the 89th Annual Academy Awards nomination Tuesday morning. All the usual suspects were given props — Moonlight, La La Land, Manchester By The Sea — but, with the release of the sensational, gritty Rogue One: A Star Wars Story, there was low hope that perhaps there could be a dark horse contender in 2017. So, was Rogue One snubbed by the Oscars this year? Not entirely, but another Star Wars film down, another sea of missed opportunities.
As of right now, Rogue One is nominated for two nominal technical achievements, garnering nods for Best Sound Mixing and Best Visual Effects. This feels like easy throwaway nominations suited for a Star Wars flick. However, some may have held out hope that Felicity Jones could've at least gotten tapped for Best Actress, or that the film could've gotten maybe a screenplay nod. Something.
After all, it's an exceptionally powerful story, especially as we enter an era that's marked by resistance in real life. But there's a definite reason why we shouldn't expect Rogue One to grab the big league awards, and, at this point, it has largely to do with the connection to the franchise as a whole.
Truth be told, the Academy isn't particularly big on the Star Wars films, its interest dwindling over the decades. Nominations for Sound Mixing and Effects is very consistent, and John Williams has often gotten accolades for his score, winning for its first go-around back in 1978. But acting was never the series' strongest category. In fact, the last time a Star Wars actor got a nomination, it was for Alec Guinness' portrayal of Obi-Wan Kenobi in A New Hope, which snagged the Best Supporting Actor category. That's literally like 40 years and two Obi-Wan Kenobis ago.
A New Hope was the most Oscar-friendly film, probably because that installment was fresh, new, entirely different than what everyone expected. After that, it probably felt silly to keep awarding the same (timeless, magnificent, but the same) score. After the prequels, there was nothing to really acknowledge except for that CGI.
Arguably, the debut of 2015's Force Awakens has amped up the quality of the series to where it should rightfully be, even surpassing it. However, even critics will relent that a lot of Force Awakens' success equates to a love of nostalgia and giving the fans what they want. More than ever, the franchise is all about balancing pleasing their audience and making money; accolades aren't really a priority, because, either way, they're at least going to accomplish the latter.
So there's all this, and the sheer fact that, ultimately, the Academy doesn't want to give a random chapter in a long-running space opera anything substantial. There are movies — often dramas, bonus points for historical drams — that are specifically built to win Oscars. Obviously, there are notable exceptions to this (see: La La Land), but, with those kind of Oscar Dramas, the Academy loves nominating them, and they love feeling good about nominating them. Historically, they would rather give an award to a strong straightforward story with socio-political undertones than another one of those movies with the laser-swords, even if there are those undertones all over the galaxy.
In short, while Rogue One takes a clever divergence from the typical tale of the Jedi and manages to be a poignant, striking film in it's own right, its connection to the franchise as a whole probably hurt it. Star Wars has just too big a legacy and too many ties to pop culture (many of them based in parody). Consider the part when Darth Vader thrashes a bunch of rebels toward the end. It's horrific, it's cool (I mean, mass murder isn't cool, though it makes for a great scene), there's an electric charge that runs through the audience when he breaks out the lightsaber... and yet there's still a hokeyness to it. It's fan service. The Academy sees that.
This isn't to say that a Star Wars film won't ever win one of the big league awards... hell, the Lord of the Rings franchise nearly did a clean sweep of the Oscars with its third movie. It just means that, while you can create a deep, powerful, arresting movie within that universe that speaks directly to the current political climate, it's still going to have to overcome the hurdle of the Star Wars name and everything attached to it. But even if there are casualties on the way, it's plausible that one day these films will be triumphant during awards seasons. Don't lose hope.