The GOP Isn't Super Interested In Impeaching Trump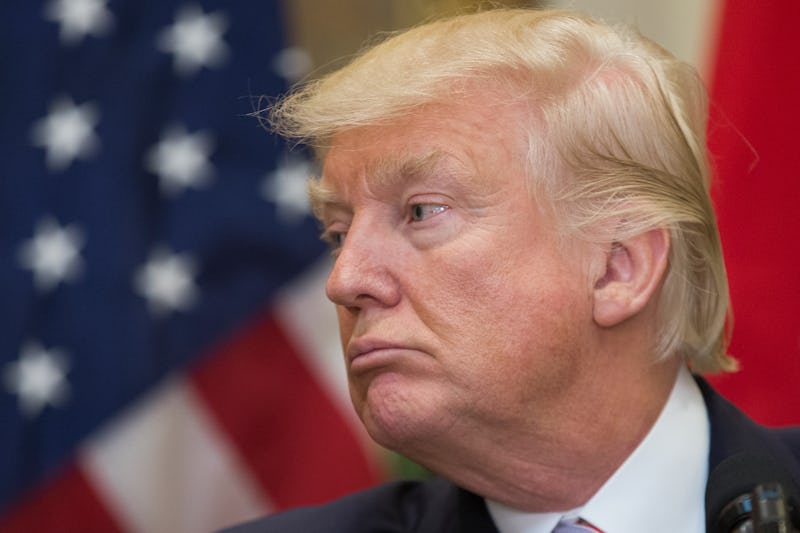 Pool/Getty Images News/Getty Images
The list of crises rocking the White House is growing by the day. From the possible Russia collusion to the firing of James Comey, it's getting harder and harder to keep track. Now, The New York Times reports that Trump may have tried to order Comey to abandon the investigation altogether, although the White House denies it. Nonetheless, Trump will be staying in power unless Congress does something about it, and the GOP will have majorities in both houses until at least 2018. So do any Republicans want Trump impeached? Elected members of the GOP are not pushing for it yet, but there are three representatives pushing for a special prosecutor.
On Tuesday, Rep. Steve Knight joined Reps. Darrell Issa and Tom McClintock in calling for the Justice Department to appoint a special prosecutor to look into the ties between the Trump campaign and Russian officials. That brings the total to three, and all of them are from California. Clinton did well in their districts, and Knight and Issa will be in the Dems' targets come 2018. Knight likely kept that in mind when developing his statement:
It is time for an investigation of Russia's intervention in the U.S. election. There is too much at stake at home and abroad to not take this step. There is so much conflicting information from many sources; Americans deserve the opportunity to learn the truth.
Unfortunately for the American people, the majority of Republicans are sticking with Trump — at least for now. As The Washington Post reported, as much as the Democrats may talk about impeachment, it all comes down to the Republicans' support for the president. Despite his more ridiculous musings of late, it's arguable whether he has committed "Treason, Bribery, or other High Crimes and Misdemeanors," as set forth in the Constitution.
For impeachment charges to move forward, 25 Republican representatives would have to vote with Democrats. Currently, there are three calling for a special prosecutor — and that's a far less serious step than moving straight toward impeachment. Then, the trial would take place in the Senate. To actually remove Trump, two-thirds of the chamber would have to agree.
The question then is why Republicans are being so loyal to the president. Emily Cadei in an analysis for Newsweek argued that many in the GOP are more focused on achieving conservative policy goals like repealing Obamacare and lowering taxes. On top of that, Cadei points out that the majority of Republicans still approve of Trump, amazingly some 82 percent of them according to the Quinnipiac University national poll taken from May 4 to 9.
The fact that the president can fire the man in charge of investigating him and now share classified intelligence with Russia without permission (also something Trump's team first denied but then Trump tweeted defending his decision), is certainly troubling. But what's even more troubling is elected Republicans' willingness to overlook both of these incidents. House Speaker Paul Ryan and Senate Majority Leader Mitch McConnell are willing to sweep just about anything under the rug to get their way.
That means it's up to you, and the American people, to hold Trump accountable.