So, ITV Just Debunked Those 'Love Island' Secret Salon Rumours - Exclusive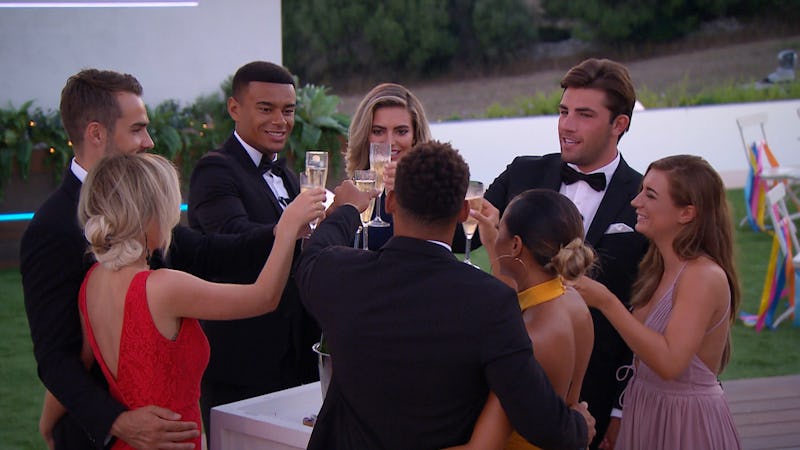 Love Island/ITV
Looking glamorous is a full-time job. A job I definitely don't have time for but one that the female stars of Love Island have really excelled at. However, some eagle-eyed viewers were left wondering if the ladies had some professional assistance with their personal maintenance. A recent throwback post from finalist Kaz Crossley had many wondering: do Love Island contestants have a hairdresser in the villa? With those incredible manicures and salon quality hairstyles, it is easy to understand why people would be a little suspicious.
As the finalists bask in the post show glory, adjusting to life outside the villa must be both exciting and terrifying. It's no surprise that their whole existence is likely to change, becoming household names in a matter of months. So regular trips to super posh salons will become their new normal, unless it already is their new normal.
It was the photo that Kaz posted on her Instagram account, with Megan Barton Hanson, Dani Dyer, and herself sat in salon chairs with their hair in nets and those space like hair hoods that really set tongues wagging. Does this photo reveal how these stars of ITV's number one dating show manage to keep their look on fleek?
This photo was reported by the Daily Mail to be taken in a "secret Love Island salon". I wanted to know more about the salon situation, so spoke to the Love Island team at ITV. They actually countered reports that there is a "secret salon" in the villa. This photo, published on Kaz's Instagram account is captioned:
"Ladies... sometimes you gotta treat yourself!!! 💅🏼💁🏻 @danidyerxx@meganbartonhanson_"
ITV confirmed that the gals largely maintain their own beauty routine while resident on the show. The photo in question was actually from just the other day.
"There isn't a secret salon in the villa. That picture was taken when the girls were having their hair done on the day of the final," a representative told me.
But how do they look so polished? I had to ask, how did they keep so glam and manicured throughout the series? ITV confirmed that while the cast keep themselves looking on point, they did have some treatments done, in the villa, by relevant professionals.
"Most of the time they do their own but on occasion they have hair or beauty treatments (usually inside the villa)".
Hmm, so like a mobile beauty situation? We can totally get on board with that. This means that hair and beauty professionals did come to the villa to assist the ladies but like, was it on a daily basis? Our source went on to explain that it wasn't a regular occurrence, only happening rarely.
"...that happened I think once, maximum twice this series".
The fact that these women managed to look this great with only some assistance from the outside world is pretty darn impressive if you ask me. Well, I guess they didn't have a day job to worry about and could take a little longer to get ready as opposed to super quick morning routines. Meh, I'll take the extra hour in bed.