What You Should Know About Trump, The "Manhattan Madam" & The Mueller Investigation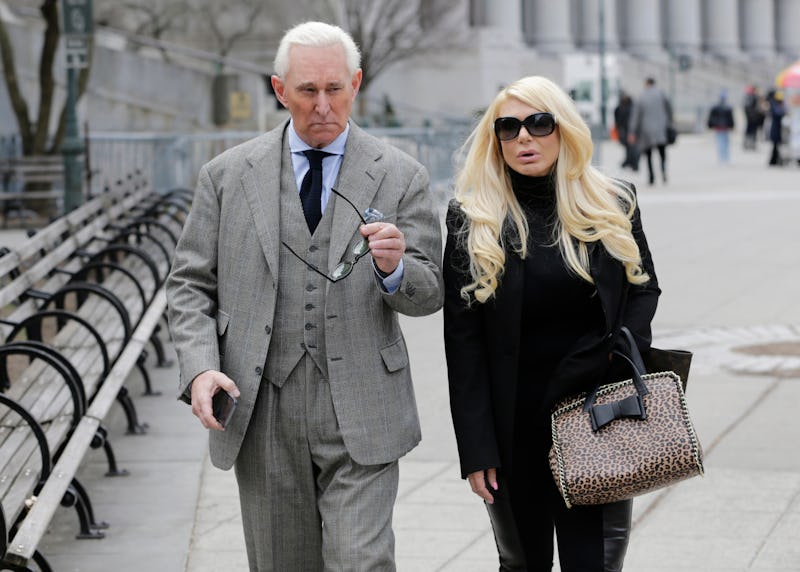 AP/Shutterstock
No, we're not talking about the Sex and the City actress. There's a new person of interest in the Robert Mueller investigation, and her name is Kristin Davis — the former "Manhattan Madam" and a longtime associate of Roger Stone, who advised Trump during his 2016 presidential campaign. Even though Davis could be getting involved in the investigation, though, it seems as though Trump and Kristin Davis don't know each other.
TMZ reported on Friday that Davis, who was previously imprisoned after being caught running a prostitution ring, had received word that she would soon be issued a subpoena by the Mueller investigation. According to the New York Times, though, she still isn't fully sure of why she is of interest to the investigation.
"I'd like to know as much as you'd like to know," she told the Times in a phone interview.
Davis first rocketed to national prominence in 2008, when she claimed that she was the madam who had helped former New York governor Eliot Spitzer get access to prostitution services, as the Times reported at the time. In the tabloids, her nickname was the "Manhattan Madam," and she was sentenced to several months at Rikers Island prison because she had been in charge of a prostitution ring, according to the Times. In 2014, then, she ran for city comptroller in New York, but her campaign was disrupted when she was arrested for selling prescription drugs.
Now, though, her past really does appear to be in the past. The subpoena, she told the Times, "would not relate to [her] work as a madam because that was so long ago and [she hasn't] been involved in that work for many years." According to CNN, Mueller's team is more interested in her connection with Trump advisor and political consultant Roger Stone.
The Times reported that Stone and Davis have a longstanding friendly relationship, and that Davis has done some work for Stone over the past decade or so, in the area of I.T. and web design. However, there's been no mention of any connections between Davis and Trump himself.
"Kristin Davis and Roger Stone are very good friends and she has worked on and off for him for the last 10 years," read a statement that Davis' publicist released to the Times. "Roger is the godfather to her son. She is currently in the cosmetology business and she knows nothing whatsoever about Russian collusion with the 2016 election."
Stone has been of great interest to Mueller for a while, and as CNN noted, he was also mentioned as a contact person in the recent indictment of 12 Russian intelligence officers. In an interview with Anderson Cooper, Stone said that questions about himself were the only thing that he could see Davis facing.
"I cannot imagine anything other than that question. She has been associate of mine for over 10 years. She is someone I have great affection for," Stone told Cooper.
While Davis and Trump are both people whose names have shown up a fair amount in the New York tabloids, no news organization has uncovered any information linking the two of them directly. Given her longtime connection with Stone, it seems as though this is just another case of Mueller attempting to be as thorough as possible in his investigation.