This Activist Is Fighting For Gender-Neutral Passports In The U.K.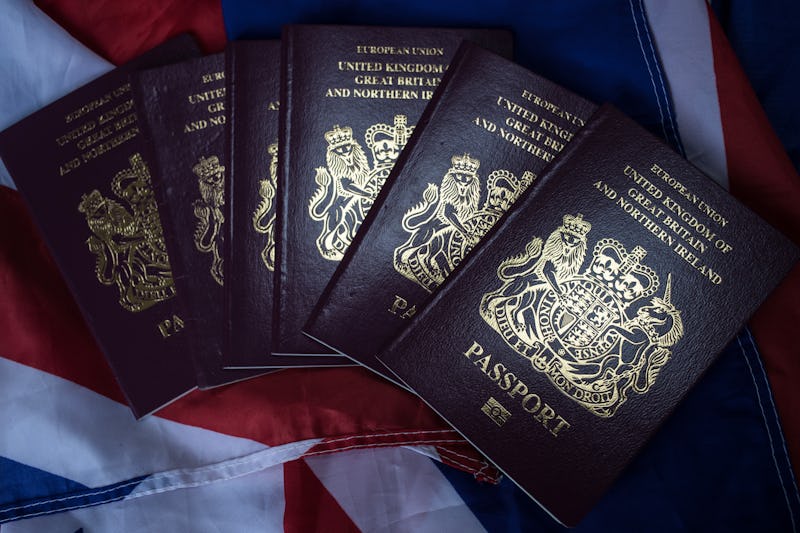 Matt Cardy/Getty Images News/Getty Images
On Wednesday, activists who want the United Kingdom government to offer gender-neutral passports will make their case before the country's high court. Christie Elan-Cane is challenging the U.K. government to offer a third gender option on passports for those who don't identify as male or female, arguing that the current policy is discriminatory on multiple levels.
The High Court of Justice will hear an appeal for judicial review by Elan-Cane, who identifies as non-gendered and wants U.K. citizens to be allowed to select a third gender option — "X," or non-specified — on their passports. If the case is successful, the U.K. would become the 11th country in the world to allow a third gender option on passports.
The UN International Civil Aviation Organization, which establishes international standards for machine-readable passports, has allowed for "X" field on passports since 1996 as well; because of this, the U.K. accepts passports from foreign citizens with gender-neutral listings on their passports.
Elan-Cane hopes to convince the court that the current policy discriminates against trans, gender neutral, and otherwise non-binary U.K. citizens on two different levels. First, it forces non-binary citizens to misrepresent their own gender on government documents. In addition, the U.K. government already accepts foreign passports with gender-neutral listings as legitimate; by refusing to issue such passports to non-binary folks in the U.K., Elan-Cane argues, the government is discriminating against its own citizens.
"This is the first legal challenge against the UK Government's discriminatory passport policy administered by HM Passport Office," Elan-Cane said in a press release. "Despite my cautionary notes, there is reasonable possibility that the case for 'X' Passports will be viewed favourably, given there is evident and persistent inequality of treatment given towards UK passport holders who define as neither male nor female."
Elan-Cane testified in front of parliament on the subject two years ago. The activist's attorneys, who are working on the case pro-bono, will argue that the U.K.'s existing passport policy violates articles 8 and 14 of the European convention on human rights, which prohibit discrimination and mandate the right to private and family life.
After Elan-Cane's parliamentary testimony, more than 40 U.K. lawmakers signed a letter in support of gender-neutral passports, and the parliament's Women and Equalities Committee issued a report concluding that the government "must look into the need to create a legal category for those people with a gender identity outside that which is binary and the full implications of this."
Although the U.K. doesn't allow non-binary citizens to select an accurate gender identity on their passports, it does allow trans citizens to change the gender listing on their passports. Initially, the government required such citizens to present a letter from their doctor confirming that they had undergone, or soon would undergo, irreversible gender confirmation surgery; however, it dropped this policy in 2016 after uproar from gender rights activists.
Meanwhile, the U.K. Office for National Statistics, which is responsible for the country's census, has recently acknowledged the "need amongst a number of data users for information about gender identity for policy development and service planning; especially in relation to the provision of health services," and has said that it's debating how to fulfill this need in the 2021 population survey. Currently, the U.K. census does not distinguish between biological sex and gender identity.
The U.K. court will not hear the bulk of of Elan-Cane's case on Wednesday, nor will it issue a ruling one way or the other. It's more of a preliminary hearing, at which the court will hear the broad strokes of Elan-Cane's challenge and determine whether or not it will go forward to a full judicial review.
The countries that already allow citizens to list a third gender option on their passports are Australia, Denmark, Germany, Malta, New Zealand, Pakistan, India, Ireland, Nepal, and Canada, which instituted the change in August.