Don't Forget, Otto Warmbier Wasn't North Korea's Only U.S. Prisoner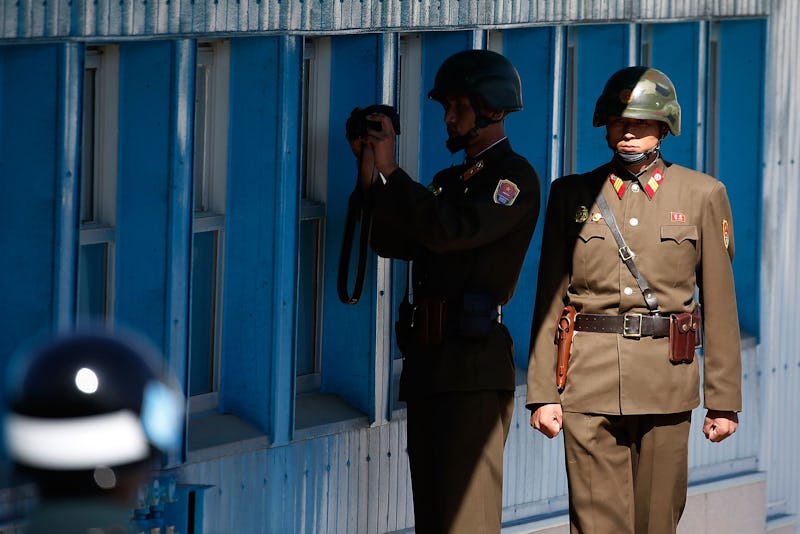 Pool/Getty Images News/Getty Images
Otto Warmbier's return to the U.S. and to his family was short lived. After spending more than a year in detention in North Korea, the University of Virginia student was sent back home to his parents in Ohio in a coma. On Monday, his family released a statement that he had died. "Surrounded by his loving family, Otto died today at 2:20 p.m.," his mom, Cindy, wrote in a statement. The end is a tragic one, and yet sobering when you consider that Warmbier isn't North Korea's only American prisoner; three others could face similar fates.
When Warmbier was first detained in Pyongyang airport allegedly for a "hostile act" — which turned out according to his conviction to be stealing a propaganda poster — there was already another American in North Korean custody. In the 17 months since Warmbier was taken, another two Americans have been detained, both in the airport under similar circumstances. That brings the total number of American detainees in the country to three.
Given the mystery behind Otto's condition, there's a real possibility that they could wind up in the same situation. The North Korean government said that Warmbier had contracted botulism and then taken a sleeping pill. That led him to fall into a coma, and he remained comatose the rest of his time in the hostile country. But medical officials in Ohio have said they see no evidence of botulism, and his father, Fred, says he doesn't believe that's what killed him.
Instead, one doctor explained to NBC News that lack of oxygen to the brain could be the cause — something that happens after someone's heart stops beating. "His neurological condition can be best described as a state of unresponsive wakefulness," one of his doctors said last week. Experts told NBC News that recovery from such an experience is highly unlikely.
That makes it all the more important to focus on the Americans who remain in the country. What exactly happened to Warmbier — or what was done to him — remains a mystery. That same mistreatment could apply to the other Americans in North Korean hands, even though past experiences have pointed to a fairly non-hostile prison treatment, all things considered.
The remaining Americans in North Korea all have ties to the country. The first captive, Kim Dong Chul was a businessman who was born in South Korea. According to a CNN interview, he lived a Chinese town bordering North Korea and worked in a special economic zone between the two countries. He was arrested by North Korean officials back in October 2015 on accusations of spying and has since been detained. He has sought out the help of the South Korean and American governments but to no avail.
The two other detainees, both arrested after Warmbier, have ties to Pyongyang University of Science and Technology. Both Kim Sang-Duk, who also goes by the name of Tony Kim, and Kim Hak-Song were arrested this spring, both for unspecified "hostile acts." They have not been shown again publicly, nor have they been sentenced in trials.
There is no way to know how the detained Americans are doing. It's also quite some time since Kim Dong Chul has been seen. Given the recent experience with Warmbier, the United States could well increase pressure for their release.