One Of Eminem's New Songs Claims That Trump Sent The Secret Service After Him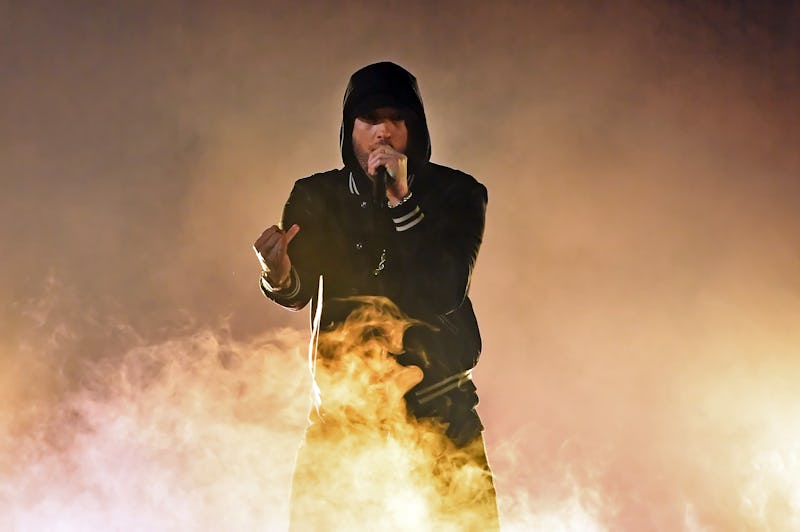 Kevin Winter/Getty Images Entertainment/Getty Images
Eminem has been vocal about his opposition to President Donald Trump. His new album, released on Friday, suggests that this antagonism has had some curious consequences. On the lyrics to Kamikaze's "The Ringer," Eminem claims that Trump has sent the Secret Service to visit him.
Referencing his previous criticism of Trump — he delivered a tirade against the president at BET's Hip Hop Awards in October — Eminem raps:
He's too scared to answer me with words
'Cause he knows that he will lyrically get murdered
But I know at least he's heard it
'Cause Agent Orange just sent the Secret Service
To meet in person to see if I really think of hurtin' him
Or ask if I'm linked to terrorists
I said, "Only when it comes to ink and lyricists."
It's a felony to threaten the president. Eminem did (seemingly jokingly) say he'd like to hurt Trump in his BET Awards rant: "That's an awfully hot coffee pot / Should I drop it on Donald Trump? Probably not / But that's all I got 'til I come up with a solid plot."
The Secret Service will often treat threats as dangerous even if they're likely to be facetious. In 2016, Mashable reported on a number of Twitter users who had posted jokes about killing Trump and then received visits from the agency. Bustle reached out to the White House and the Secret Service about whether the agency did, in fact, contact Eminem.
"The Secret Service does not confirm or comment on the absence or existence of specific investigations," the agency said. "We can say, however, the Secret Service investigates all threats against the President."
"When brought to our attention — whether in person, electronically or written, the Secret Service takes every threat very seriously," an agent said to ABC at the beginning of last year. Agency Director Randolph Alles told NBC in June 2017 that around six to eight threats against the president are detected every day. He added that that number has been fairly constant for about 10 years.
Eminem continues reflecting on his BET Awards rap elsewhere in "The Ringer" and remembers how he drew a "line in the sand" in which his supporters had to choose "who you should stand beside" (i.e. him or Trump). Now he seems to feel that statement might have been a mistake:
That line in the sand, was it even worth it?
'Cause the way I see people turnin'
Is makin' it seem worthless
It's startin' to defeat the purpose
I'm watchin' my fan base shrink to thirds
And I was just trying to do the right thing, but word [...]
If I could go back I'd at least reword it
And say I empathize with the people this evil serpent
Sold the dream to that he's deserted
It's true that the rapper lost some fans because of the BET Awards. Billboard reported on a wave of social media users who said they would no longer support Eminem after his remarks. "I used to like Eminem's music but if you have to trash the President to stay relevant, I'm done!" tweeted one user. Another wrote: "I was a fan of Eminem. He drew a line in the sand. I'm out."
Eminem may regret the way he phrased that rant, but in "The Ringer" he also makes it clear that he wouldn't take back its underlying message: "I'm determined to be me, critique the worship."