Glittering Gift Ideas For The Bright & Brilliant Women In Your Life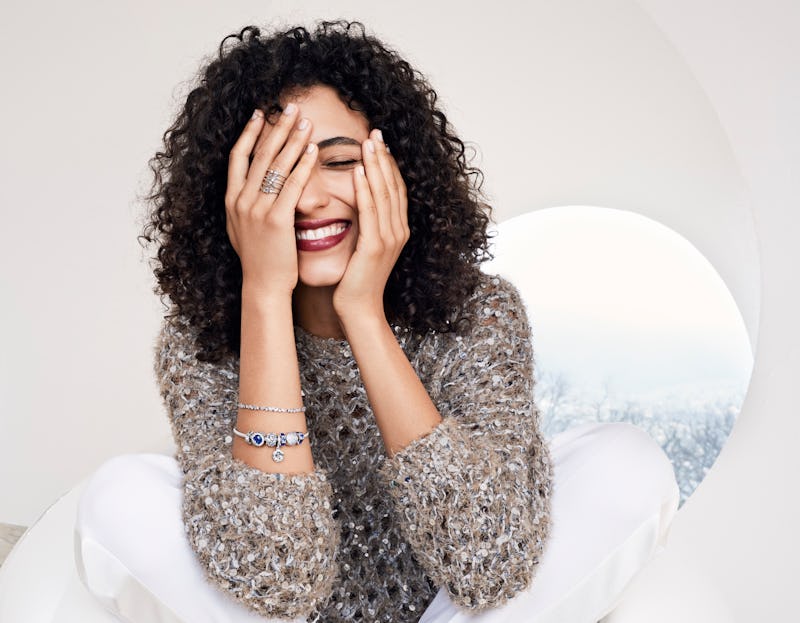 Courtesy of PANDORA
Let's be totally real: There are so many amazing women in our lives. From our mums who always find the right thing to say when we're down, to our besties who know how to make us laugh (even when we're trying to be serious), we're pretty lucky to have them. With the festive season here, it's the perfect opportunity to show them how you feel, but it's hard to know where to start.
What if your BFF is a full-on glamour queen, while your mum prefers something more subtle? And then there are the women who march to the beat of their own drum. They each deserve a gift that's as uniquely special as they are, and in partnership with PANDORA, we've found three collections of stunning jewellery that'll make each of them feel like they're one in a million.
If you're looking for something your glamorous gal pal will fawn over, the iced-out Glacial Beauty Sliding Bracelet will put a twinkle in her eye (and on her wrist). For the more classic woman in your life, sleek pieces like the Classic Beads Stud Earrings are an effortlessly chic addition to her wardrobe. There are even cosmic charms like the PANDORA Santa in Space Charm that'll make the best gift for your friend who has a style all her own. Ahead, the festive faves that are sure to make each of the women in your lives feel special this season.
Glacial Glamour
Sparkle, glitter, glamour — that's what she's all about. Take it to the next level with iced out bracelets, the PANDORA Shards Of Sparkle stacked ring, and even a pair of PANDORA Rose Luminous Ice studs.
Cosmic Creative
Simple is not in her vocabulary, so take this opportunity to gift something unique and memorable. From the PANDORA Cosmo Tommy Charm, to the PANDORA Lunar Light Stud Earrings, these intergalactic-inspired must-haves are just as unique as she is, and are sure to become one of her favourite statement accessories.
Classic Cool
There's a chance that she's one of the most chic women in your life, so the clean styling of this classic collection fit right in with her style. Pair timeless PANDORA Contemporary Pearl Hoop Earrings with a complementary necklace, or try something different with an open PANDORA Contemporary Pearl Ring.
In partnership with PANDORA.
This article was originally published on