Adam Rippon & Gus Kenworthy Just Took A Stand For LGBTQ Representation At The Olympics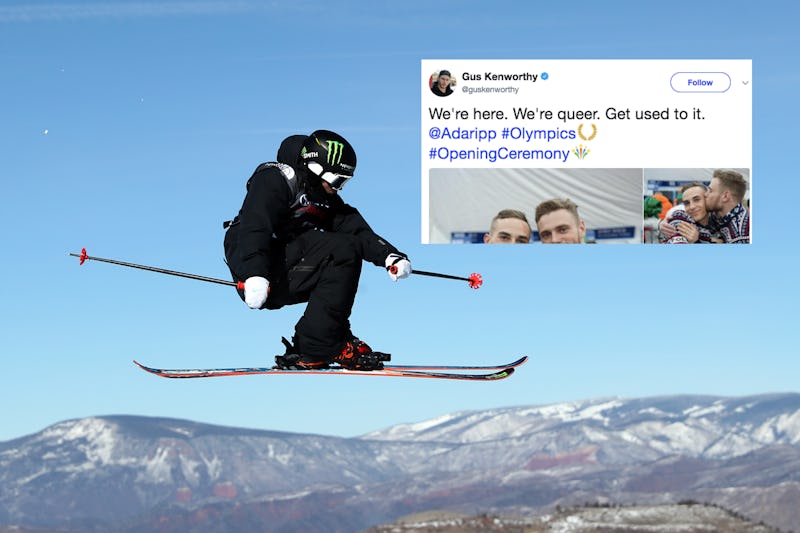 The 2018 PyeongChang Games are officially underway, and on Friday, two gay athletes on the Team USA made a powerful statement about their participation in the international sporting event. Olympic athletes Adam Rippon and Gus Kenworth are the first openly gay Americans to compete in the Winter Games, and they posted a series of photos of each other on social media before their events to express their pride.
"We're here. We're queer. Get used to it," Kenworth wrote on Twitter. Attached to the post were several pictures of the two skaters, grinning and hugging and wearing matching clothes on the rink ahead of the games.
Rippon also celebrated his and Kenworth's participation in the games as openly gay men, posting a picture of the two on Instagram.
"Tonight I walked in the #OpeningCeremony and got to watch my old friend @yunakim light the Olympic flame," Rippon wrote, referring to South Korean figure skater Yuna Kim. "Representing the USA is one of the greatest honors of my life and being able to do it as my authentic self makes it all so much sweeter 🇺🇸🏳️‍🌈🏆🌎❤️🔥"
Although gay American athletes have participated in the Winter Olympics before, Rippon and Kenworth are the first to do so openly.
Rippon, a figure skater, came out in a 2015 interview with Skating magazine, explaining that "when athletes come out and say that they're gay, it makes it a little more normal and less of a big deal — especially in the athletic community."
"When you go out and compete, you want to represent [the organization] to the best of your ability, and you want to represent your true, authentic self," Rippon said. "When you're honest with yourself, you can do that. I want to be a relatable example."
Kenworthy also came out in 2015, a year after skiing in the Winter Games in Sochi. He told the Associated Press that he dreamed of landing all of his tricks in his final run, winning a medal, and then running into his boyfriend's arms.
"The idea of kissing my boyfriend at the bottom of my run would've been, in addition to me coming out, a silent f*ck you to the anti-gay legislature in place in Russia," Kenworthy told the Associated Press.
However, the timing simply didn't feel right to him, so he waited until the next year to be open about his sexual orientation. Using language similar to Rippon, Kenworthy said that he wanted to "live authentically and not feel like I need to hide anymore."
"I felt like I was already being so courageous with my body and my actions and the things I was doing in order to try to win and be the best," he told the Associated Press. "Then, I was being such a coward in this other way, where I wouldn't let anyone know [that I was gay]. So they were battling each other."
Rippon became embroiled in a spat with Vice President Mike Pence when it was announced that Pence, who's been hostile to LGBT rights for his entire political career, would lead the U.S. delegation to the Winter Olympics. In an interview with USA Today, Rippon said that he wouldn't meet with Pence before the games if given the opportunity.
Later, USA Today reported that Pence's team had reached out to Rippon to propose a sit-down meeting between the two, and that Rippon had declined. Pence's communication director said on Twitter that the "did not try to arrange a meeting with Mr. Rippon," although another White House official said that same day that Pence's office did offer to meet with the figure skater. Rippon later said that he would consider meeting with Pence after his competition was over.
Either way, Rippon and Kenworthy made it clear with their twin social media posts that, regardless of what the vice president thinks, they're proud and delighted to be the first athletes to represent the U.S. flag at the Olympics as openly gay men.